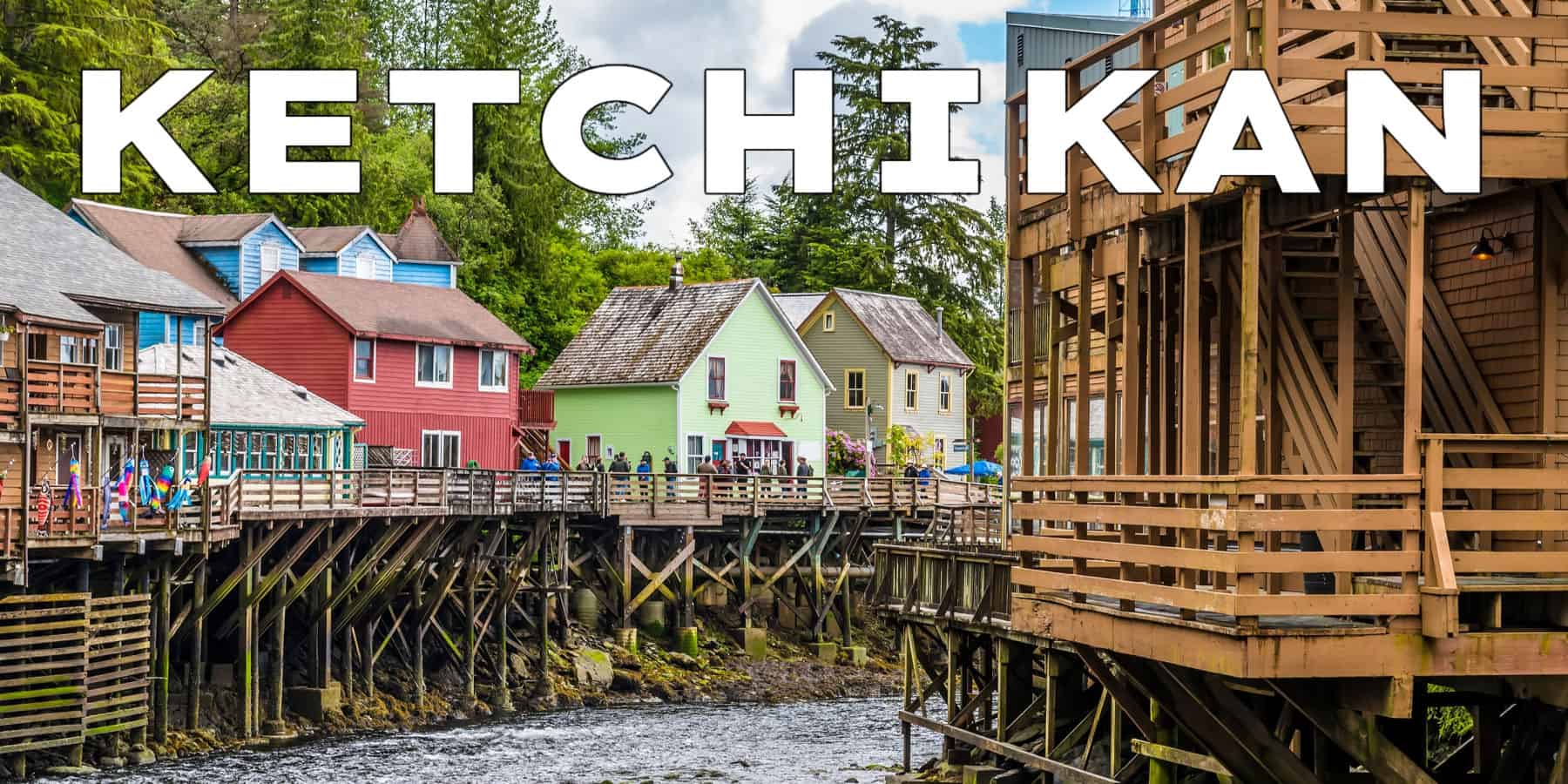 Ketchikan, Alaska
Ketchikan is a city of about 8,300 people on Revillagigedo Island in the Southeast Alaska panhandle.
It was named for Ketchikan Creek, which derived its name from the Tlingit "Kitschk-hin," whose exact meaning is unknown, but may mean "The Thundering Wings of the Eagle."
Tourism is the principal industry in Ketchikan, which receives nearly one million visitors per year. Fishing and seafood processing are also important contributors to the local economy.
Ketchikan has a total area of about 5 square miles, although the suburbs of Saxman and other outlying locations and residences are considered by locals to be part of the city
General Background
Revillagigedo Island was named by Captain Vancouver of the British Royal Navy during a survey expedition after Count Revillagigedo, who was the Viceroy of New Spain (now known as Mexico).
Ketchikan's nickname is "Alaska's First City," because it is the first city that major cruise ships and other boat passengers visit on the Alaska side of the Inside Passage.
It is also the oldest remaining continuously incorporated city in the state, as every earlier city either folded or was absorbed into other cities.
It is also called "The Salmon Capital of the World," due to the high number of salmon and other fish that swim not only in the Tongass Narrows outside of town but in the many creeks and streams that flow throughout the city.
Several films and television programs have been filmed in Ketchikan, including the 1954 film noir "Cry Vengeance" and an episode of Baywatch. The city is also mentioned in Arthur Miller's famous play "Death of A Salesman."
Things to Do In Ketchikan
Ketchikan has four major Totem Pole parks, including the one whose image is found on most US passports. It takes four parks to hold all of them, as it has the largest number of standing totem poles in the world!
There are also many popular excursions in Ketchikan to be had, including fishing charters, Rainforest Canopy and Zipline Expedition, and many others.
There are also Ketchikan-based tours of nearby attractions, including the Metlakatla Indian Community on Annette Island, Misty Fjords National Monument, and Herring Cove, among many others.
There are also several museums in town, including the Tongass Historical Museum and the Tongass Heritage Center. A $9 per person pass will grant you access to both museums on the same day.
Totem Bight State Historical Park, a 20-minute drive from downtown, has totem poles, a beach, and amazing views of nearby islands in the narrows.
Ketchikan also has a variety of walking trails located throughout town, as well as a few beaches on the Tongass Narrows.
Getting to Ketchikan
Of Ketchikan's roughly one million visitors per year, over 90% arrive via one of those cruise ships.
For the approximately 100,000 who don't, many of them fly on either Alaska or Delta Airlines to Ketchikan International Airport.
It is important to note, however, that the airport is on Gravina Island, which requires a $6 barge ferry ride each way in order to get there.
There was once a plan to build a bridge between the two islands, which became the national controversy known as "The Bridge to Nowhere" in the late 2000s.
Independent travelers who wish to visit Ketchikan can also take an Alaska Marine Highway Ferry from either another city in Alaska or from Bellingham, Washington.
The ferry from Bellingham takes about a day and a half, but it does allow riders to bring their personal vehicles with them instead of renting one in town.
Where to Stay, Shop, and Eat
There are many hotels in Ketchikan, although perhaps none are more well-known or conveniently located than The Landing downtown, which also features the famous Jeremiah's Pub.
Other hotels include the MyPlace Hotel, located next to the Alaskan and Proud Market grocery store, or the Super 8 Hotel, located by Safeway in the Plaza Mall.
As for places to eat, McDonald's and Subway are the two nationwide chains available here, which are exceedingly rare in Southeast Alaska.
There are many gift shops downtown that sell t-shirts, souvenirs, Billikens, and many other items.
Shoppers who want a bit of familiarity and lower prices for their souvenirs can take a city bus or a shuttle to Southeast Alaska's only Walmart.
History of Ketchikan
Revillagigedo Island was used by the Tlingit people as a summer fishing village for thousands of years.
There are reports that some chose to stay, but ended up rejoining the rest of their tribe on nearby Cape Fox.
In 1885, Mike Martin was sent by an Oregon cannery to scout for new locations, which led him to the Tongass Narrows on Revillagigedo Island.
When Martin arrived, he spoke with the Tlingit leader, Chief Kyan, who sold him 160 acres of land.
Along with George Clark from Nova Scotia, the two opened a cannery on the island with the intent of creating a full settlement on the island, which of course is today known as Ketchikan.
By 1936, there were seven canneries operating in Ketchikan, with over 1.5 million cans of salmon being produced each year.
During World War II, the most popular type of wood used for designing aircraft was the Sitka Spruce, which grows natively in the Ketchikan area.
To meet the high demand, a pulp mill was built in Ward Cove, just a few miles from Ketchikan, which then became an area hub for supplies.
The mill went out of business in 1997, but its creation led Ketchikan's population to skyrocket and is a big part of the reason why Ketchikan is Alaska's sixth most populous city.
If you're looking for a beautiful place to enjoy some amazing scenery and a rich Native Alaskan tradition, look no further than Ketchikan. We look forward to seeing you on your next Alaskan experience!
Related Articles