I've always felt that Seattle doesn't quite get the chops it deserves when it comes to food.
Despite having no Michelin Star restaurants (through no fault of its own) Seattle can hold its own in nearly every genre of restaurant.
Except one. All-you-can-eat places.
For some reason, buffets and AYCE places are in short supply in Seattle. This isn't very helpful in an overpriced city.
After all, how am I supposed to enjoy the supposed world-class seafood of the PNW if I can barely afford my $2400 apartment? Enter all-you-can-eat sushi.
Seattle has a few decent all-you-can-eat sushi places although you have to stay up to date as they seem to come and go regularly.
So, as of now, these are my favorite places to get all-you-can-eat sushi when I'm in the city. I should also mention that they're the only places I know of.
Also, if you're a sushi fan, don't come to Seattle and think that you will get excellent bargain sushi. Seattle has excellent sushi, but the lower level of sushi is the same as everywhere else.
Add in the fact that most AYCE sushi places are $30 or so and it gets harder to justify instead of just going and getting good sushi somewhere else.
However, if you won't be deterred, let's get to it!
Best AYCE Sushi Restaurants In Seattle
Trappers (Multiple Locations)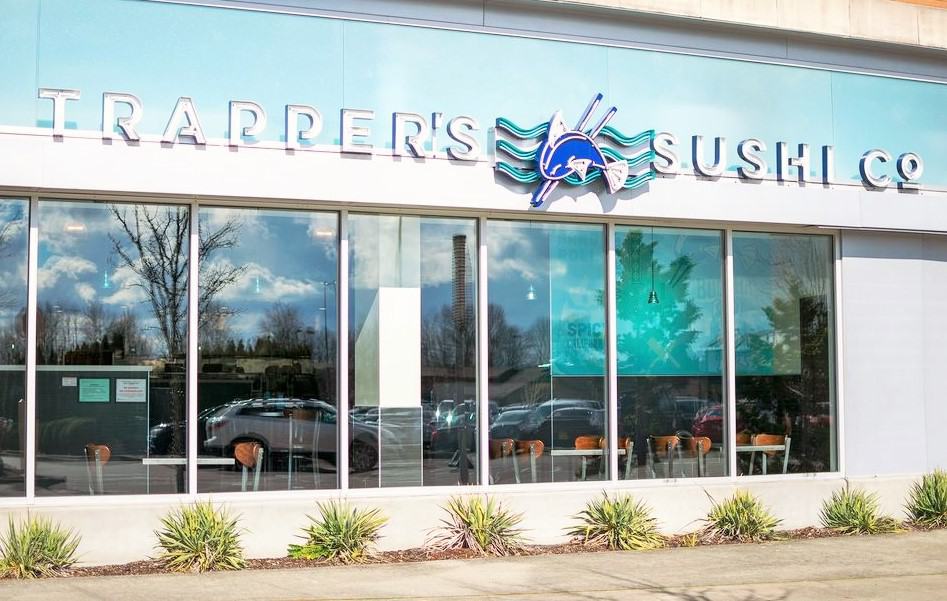 Trapper's is first on this list for a couple of reasons. First off, it's the best. Secondly, it's the only actual Sushi house I know of that does all-you-can-eat.
Most places have a lower-grade (or size) all-you-can-eat option but at Trapper's you have access to pretty much the whole menu and get rolls the same size.
The biggest drawback at Trapper's is that the service can be a bit slow at times, especially if you're looking to stuff yourself. The reason for this is that you can only do the all-you-can-eat option if you're seated at the bar where there is limited seating.
You can typically get a seat pretty quick if you're just ordering off of the menu but we've waited up to an hour before for a seat at the bar.
Prices vary (as does the menu) based on the time of day that you go but, on my last visit, it was around $25 per person for lunch and $35 per person for dinner.
So unless you're pinching pennies or need to appease someone in your group that need a more expansive (non-sushi) menu, Trapper's is where it's at in Seattle!
I will also let you in on a secret, if you're willing to drive, the best location of Trapper's actually isn't in Seattle, it's 30 minutes away in North Bend.
Mandarin Buffet (14850 NE 24th St Redmond, WA)
So Mandarin Buffet (and the rest of the places on this list) are not necessarily sushi-centric places. Yes, they offer all-you-can-eat sushi but they're all actually Asian buffets that also offer a decent selection of sushi.
This means that you can eat all of the average sushi that you can handle! (As well as shrimp, crab legs, and even lobster if you go at the right time).
Having given that disclaimer, I will say that Mandarin is actually a solid choice for all kinds of food, not just sushi. If fact, I'll go out and say that it's Seattle's best Asian buffet at this price point…even though it's in Redmond.
Feast (485 Renton Center Way SW Renton, WA)
Feast Buffet is another option in the Seattle area where you can get your sushi fix.
It's not the best opinion but I've been here a couple of times and will probably end up here again.
The main problem here is that, if you just want sushi, it doesn't really make sense. I wouldn't say that I have particularly high standards but, with a $35 entrance fee I did have some standards.
If I want sushi and am willing to pay $35, I'll probably go to Trapper's. If I want a buffet with sushi, I'll probably go to Mandarin. If I'm down the street from Feast and someone I'm with wants to go there, I guess I'll go to Feast.
Mizuki Buffet (17950 Southcenter Pkwy Tukwila, WA)
To round out the list, Mizuki Buffet is the last option I know of that has AYCE sushi.
I've mostly just included them here to round out the list as I have never actually been to Mizuki (friends advised me not to) so take that for what's it worth!
The current price breakdown is $21 for lunch, $30 for dinner, $37 for weekends, and "more" seasonally and on holidays.
Non-AYCE Sushi Recommendations
Now, if you aren't totally set on AYCE you can probably spend the same amount of money (or less) and get better sushi. In a city known for having decent food, buffets probably shouldn't be on the top of your list.
If you need your fix but don't want your shoes sticking to the floor in the buffet line, here are a couple of other options.
If You're Looking To Save Money – Sushi Blossom
In the "best sushi for the price" category we have a relative newcomer to the Seattle food scene: Sushi Blossom.
Sushi Blossom is a takeout-only place but they do generous service of very fresh sushi and sashimi for around $25.
Sushi Blossom actually does have a couple (like 4) seats at a narrow bar that is available if you ask. Otherwise, there are quite a few spots in the area where you can relax if the weather is nice.
If you don't want a take-out or AYCE place, just go to Trapper's and don't sit at the bar.
If You Want Seattle's Best Sushi Experience
I won't get into any spats about what the "best" sushi place is in Seattle as my palate simply isn't discerning enough to know.
However, in any conversation about Seattle's sushi, you'll be respected if you can name-drop either Sai or Taneda.
Both are in ultra-high demand so you'll have to get reservations well in advance and pay a pretty penny for the evening. However, it's probably the best sushi you'll find anywhere in the PNW and has to be up there on the west coast as a whole.
Conclusion
I hope I didn't burst your bubble too much but, in reality, the AYCE options in Seattle aren't great in general and are fairly dismal for sushi.
While I can heartily recommend options 1 and 2 above, it might just be better to order an entre wherever you decide to go.
Is there somewhere else that you've tried in the area and would recommend? Let us know!