Bellingham, Washington, a charming coastal city nestled along the shores of Bellingham Bay, boasts an array of stunning beaches that cater to various interests.
While they may not be the idyllic sandy beaches that you'd find in other coastal cities they're amazing in a way that is unique to the PNW.
From serene, secluded spots to bustling waterfront parks, our beaches offer visitors picturesque views, relaxation, and fun-filled activities (beyond just getting a tan). In this article, we'll explore some of the best beaches to discover and enjoy in Bellingham.
In close proximity to downtown, there are a variety of easily accessible beaches that the whole family can enjoy. Some favorites include Little Squalicum Park, Locust Beach, and Teddy Bear Cove. With their unique features, these beaches provide the perfect opportunity to soak up the sun, take a peaceful stroll, or partake in waterfront activities.
Moving farther from the city center, less crowded options like Wildcat Cove and Clayton Beach also provide a relaxing retreat for beach lovers. These spots promise beautiful views, pristine sands, and crystal-clear waters.
So let's get to it so you can start planning your next beach day!
The 7 Best Beaches in Bellingham
Larrabee State Park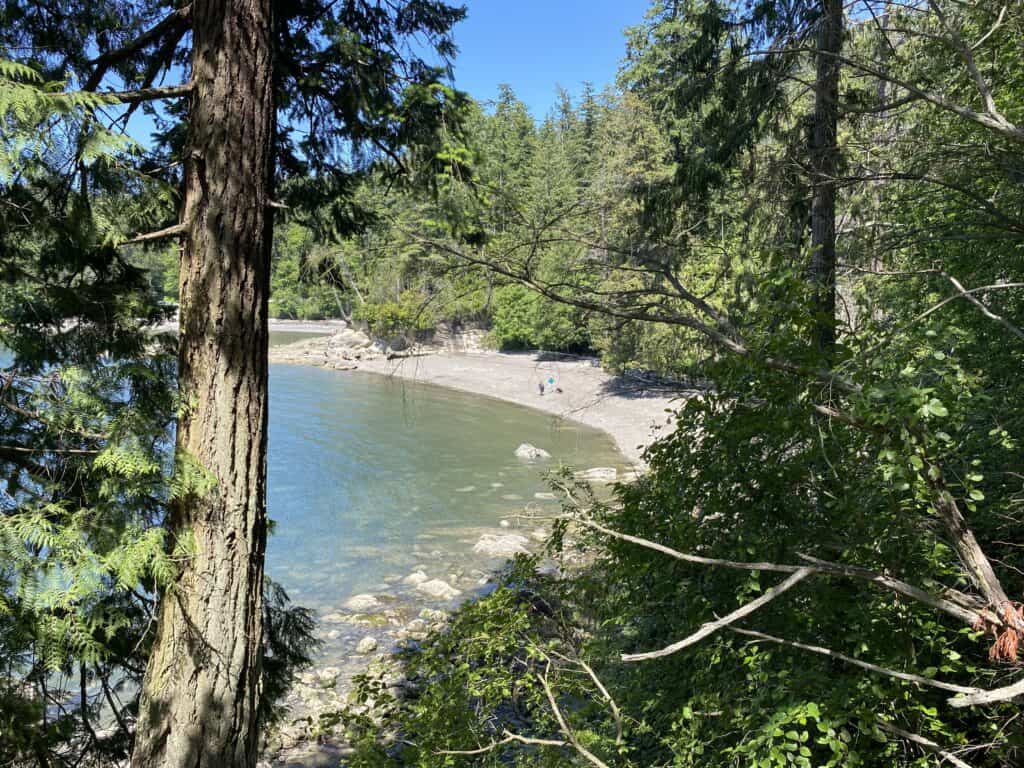 Larrabee State Park is one of my favorite beach spots in all of Washington and sits about 10 minutes south of Bellingham.
It offers stunning views of Samish Bay as well as two great beaches.
The first beach is simply known as "Larrabee State Park Beach" and has two sections. After parking at the main parking lot, follow the horde of people past the playground/picnic area and down the trail. The left fork of the trail will take you to a beautiful but very rock section of shoreline and the right option will take you to a longer and more pebbled beach where you can actually put out a blanket, swim, etc.
If you need more space, you can head a bit south to Clayton Beach. The trailhead is just a bit south of the main entrance to Larrabee and it's about 3/4 of a mile to the beach. The trail has been closed for a while but is slated to be open with a brand new (and safer) trail in the coming months so be sure to check before you try to go!
Locust Beach
Nestled quietly on Bellingham Bay, Locust Beach is one of Bellingham's hidden gems. Known for its long rocky shoreline the beach is often less peopled than other options in the area which can be a nice break.
Located on the north side of Bellingham Bay, the beach trail is easily accessible from Locust Avenue, and features stairs down to the shoreline.
Bellingham Bay (Boulevard Park)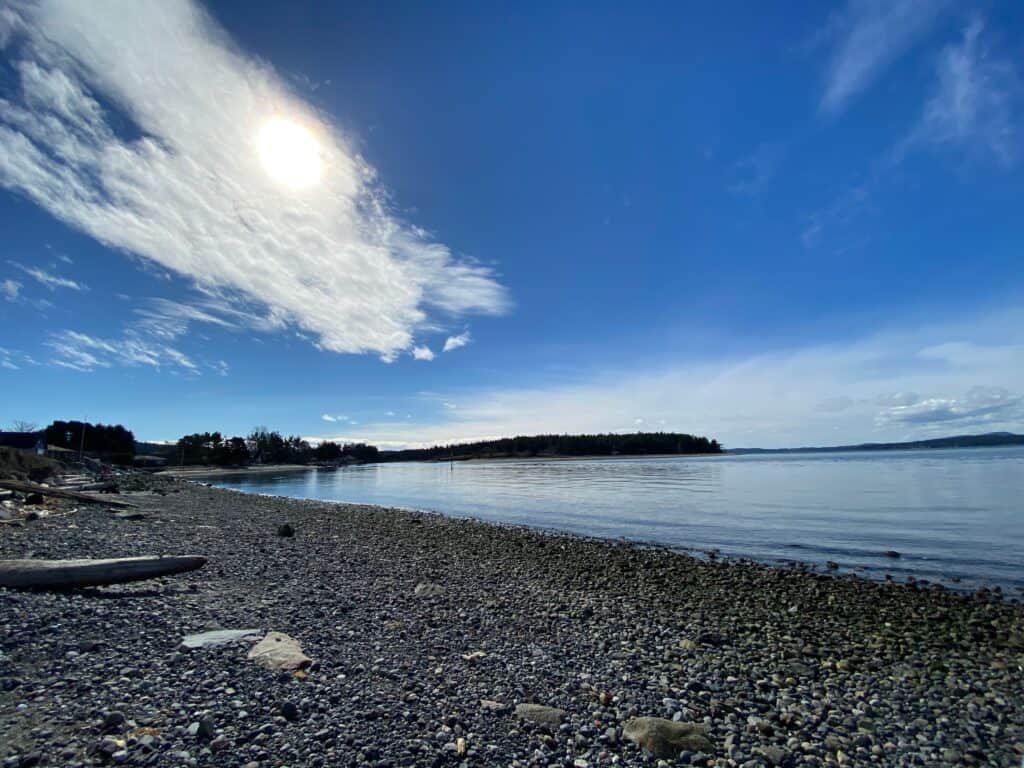 While it's not quite a specific spot, Bellingham Bay offers several beaches that a picturesque and very close to downtown.
One of the most popular options is Boulevard Park where you'll find boardwalks, playgrounds, improved beach access, and hordes of people.
Chuckanut Bay
Chuckanut Bay is home to some spectacular beaches, including Teddy Bear Cove where you can see some of the coolest bioluminescence in the PNW if you're lucky. This popular spot is accessible by hiking and features two beaches that are perfect for relaxing and taking in the incredible views of the surrounding bay.
If you're less interested in just sitting on the beach and throwing rocks at the ocean, one of my favorite "beaches" near Bellingham is actually the Chuckanut Bay Shorelands, located in the South and Edgemoor neighborhoods of Bellingham.
The Shorelands are Bellingham's richest and most biologically diverse estuary and provide a place to see wildlife (including sea birds) and even harvest shellfish (just be sure to check regulations first).
Point Whitehorn
Point Whitehorn Marine Reserve, located near Bellingham, Washington, is a pristine beach destination ideal for nature enthusiasts. With 54 acres of mature forest, sandstone cliffs, and over 3,700 feet of sandy shoreline, this natural reserve offers reviews of the Salish Sea, the San Juan Islands, and even the Strait of Georgia on clear days.
Beach access is from a .75 mile ADA-accessible trail that weaves through the forest and wetlands, leading right up to the beachfront.
At the shoreline, the views open to expansive vistas of marine life. It's an excellent site for bird watching and possibly spotting seals, orcas, or grey whales (if you're really lucky…I haven't been that lucky).
Lummi Island
A short ferry ride from Bellingham will take you to Lummi Island, where you can explore several beaches along the island's shoreline. Enjoy the peace and quiet of this quaint location while taking in the incredible views of Bellingham Bay and the surrounding islands.
Two of my favorite beaches on the island include Sunset Beach and Legoe Bay, both of which are a bit rocky but make for excellent beachcombing and wildlife-watching spots.
Nooksack River Delta
The Nooksack River Delta, located near Bellingham, Washington, is a prime spot for fishing enthusiasts and beachgoers alike. While it's not quite what most people think of when they say they want to go to the beach it checks all of the boxes for me!
The area provides opportunities for salmon fishing, while also offering beautiful views of Bellingham Bay and the Nooksack River.
The 4 Best Beaches Beyond Bellingham
There are a ton of awesome beaches in the PNW and, if I'm honest, the best ones aren't in Bellingham. If you're willing to drive just a bit you can get to a few other beaches which are better for most beachy types of things.
Here are a few of my favorites in the area that are worth the drive (I tried to limit myself to an hour or less so they would make good day trips).
Alki Beach
Alki Beach, located in Seattle, is a popular destination boasting gorgeous views of Puget Sound and the Olympic Mountains. This beach is often crowded, especially during the warmer months, but offers various amenities like picnic tables and a walking path. The beach's proximity to bustling Seattle makes it an excellent choice for those looking to explore the city before or after their time on the sand.
Cape Disappointment State Park
Situated on the southwestern tip of the Washington peninsula, Cape Disappointment State Park is an expansive area offering a mix of forests, cliffs, and saltwater shoreline. Visitors to the park can enjoy over 27 miles of trails, including the scenic Discovery Trail. The beach boasts views of the Grays Harbor lighthouse and is an ideal spot for observing boats entering and leaving the harbor. While it may not be as frequented as other beaches on this list, Cape Disappointment's natural beauty is sure to impress.
Deception Pass State Park
Deception Pass State Park, found on Fidalgo Island, is a stunning destination that features a unique blend of forests, saltwater shoreline, and dramatic cliffs. The park provides a less crowded alternative to some of the other nearby beaches, giving visitors more space to enjoy the breathtaking views of the Olympic Peninsula. In addition to its picturesque scenery, Deception Pass State Park is also known for its proximity to Orcas Island, where you might catch a glimpse of the majestic orcas that frequent the area.
Birch Bay
Just a short drive north of Bellingham, you'll find Birch Bay, a coastal enclave known for its unique, crescent-shaped waterfront. This relaxed, family-friendly beach is perfect for clamming, birdwatching, or simply soaking in the stunning panoramic views. At low tide, the sandy beach becomes a vast playground where you can stroll, build sandcastles, and explore tide pools teeming with life.
Just be sure to be out of the park soon after sunset or you'll get locked in like my (now) wife and I did on our first date…
Beach Conservation In Bellingham
Bellingham, Washington, boasts numerous beautiful beaches known for their diverse wildlife, recreational activities, and scenic views. Maintaining these beaches' natural beauty and ecosystems requires ongoing conservation efforts, so visitors and locals can enjoy them for years to come.
Beach conservation in Bellingham involves preserving and protecting sensitive ecosystems, such as the bird habitats found in many coastal areas. Enthusiasts can spot various bird species, including seabirds and shorebirds, which depend on these habitats for nesting, resting, and feeding. Some of these prominent birds include orcas and a variety of seabird species.
Kayaking and exploring tide pools are popular activities among beachgoers in Bellingham, providing unique opportunities to appreciate the region's natural beauty. To minimize disturbances to marine life, visitors should adhere to proper paddling practices and leave no trace while exploring tide pool areas.
Boulevard Park and Clayton Beach offer family-friendly amenities and activities, ensuring kids can enjoy a day on the beach while learning about conservation. A well-maintained RV park and several hiking trails along the shorelines make it easy for families to extend their stay and continue exploring the region's natural wonders.
Besides Bellingham itself, nearby gems like Lummi Island, Rosario Beach, and Point Whitehorn add to the area's beauty and recreational offerings. For outdoor enthusiasts, trails in these areas provide opportunities for hiking and birdwatching, while waterfront locations like Seabrook Beach, Damon Point, and Half Moon Bay are ideal for kayaking and beachcombing.
The Salish Sea region, which encompasses Alki Beach Park, Point Whitehorn, and the Alki Point Lighthouse, warrants special attention due to its ecological significance. Conservation efforts in this area focus on maintaining the delicate balance between human activities and preserving marine life, ensuring that visitors can continue to enjoy stunning orca sightings and tide pool explorations.
In summary, beach conservation in Bellingham, Washington, and its surrounding areas is of utmost importance to protect the region's rich biodiversity and sustain recreational activities for visitors and locals alike. By following responsible practices and supporting conservation efforts, we can ensure these natural resources remain intact and thriving for generations to come.
Things To Do On Bellingham's Beaches
If you're new to the PNW you might be wondering what exactly people do on beaches that have no appreciable sand.
While there are excellent sandy beaches in Washington, most of the iconic shoreline is craggy and rugged which makes for excellent pictures and less-than-excellent sandcastles.
So what are you supposed to do if you're spending a day on the rocky beaches of Bellingham?
Well, here are some of our favorite things to do, some obvious, and a few less so.
Swimming
The beaches of Bellingham Bay offer fantastic opportunities for swimming. For example, Locust Beach is a popular spot known for its picturesque views and calm waters. Keep in mind that the Pacific Northwest can have colder water temperatures, so be prepared and check the weather before heading out for a swim.
Volleyball
While you might not find traditional beach volleyball courts like those at Long Beach in Southern California, Bellingham's beaches still offer plenty of room for setting up your own net and enjoying a game of beach volleyball. Driftwood and logs often dot the coastline, so use these natural obstacles to challenge your skills.
Kayaking
Bellingham boasts many kayaking options, thanks to its location on the Salish Sea and proximity to both the Olympic Peninsula and Vancouver Island. Many beaches, like Locust Beach, have calm waters perfect for kayaking, as well as stunning views of the nearby mountains, like Mount Baker. Keep an eye on the tides and waves to ensure a safe excursion and wear appropriate gear as the water can be cold.
Hiking Trails
In addition to swimming and water sports, Bellingham is home to numerous hiking trails. The area's beaches can often be accessed or connected by scenic coastal trails offering stunning views of the Pacific Northwest's natural beauty. For example, you can hike along the nearby Chuckanut Drive, a scenic roadway that connects several beaches such as Teddy Bear Cove and Clayton Beach. Be mindful of the fall and winter seasons, as these can make some trails muddy and slippery. Don't forget to bring adequate gear and always respect the natural environment.
Beachcombing
Bellingham's rocky beaches offer another unique leisure activity – beachcombing. Beachcombing refers to walking along the beach and collecting interesting items washed ashore. The area's beaches, due to their rocky and craggy nature, often yield interesting finds such as beautiful driftwood pieces, seashells, sea glass, and occasionally, artifacts from the local Native American tribes. Remember to respect local laws and traditions – don't remove anything historical or culturally significant and always leave living creatures in their natural habitat.
Picnicking
Despite the rugged nature of Bellingham's beaches, there's still plenty of space for a relaxing picnic. Many of the beaches have designated picnic areas, complete with tables and public grills. Pack a picnic basket with your favorite foods and enjoy a meal with the tranquil sound of the waves in the background. Remember to clean up after yourself to help preserve the natural beauty of the area. For a unique experience, consider timing your picnic around sunset to enjoy the breathtaking colors reflecting off the water and the mountains.
Photography
The Pacific Northwest's coastline is a photographer's dream, and Bellingham is no exception. The rugged shoreline, coupled with stunning sunsets, wildlife, and the backdrop of mountains and forests, provide endless opportunities for both amateur and professional photographers. Whether you're using a top-notch DSLR or just your smartphone, the landscapes can yield incredible pictures. Wildlife, such as bald eagles, herons, seals, and occasionally whales, can also be spotted from the beaches. Do remember to respect the wildlife and maintain a safe distance while capturing these majestic creatures.
Conclusion
While Bellingham may not have the beaches that some people expect, we do have some great spots to get away from it all and enjoy some waves and the smell of the ocean.
You'll just probably want to bring a chair or thick blanket rather than a beach towel if you plan on doing any relaxing…