Echo Beach – General Information
Open: Fall to Spring
Type Of Beach: National Forest
Approach: Easy
Main Activities: Camping, Swimming, Hiking
Popularity: Low to Moderate
Services: Pit Toilets, Picnic Benches
Accommodations: Echo Beach Campground (Camping), Grant's Pass (Lodging)
Up next in our series of less popular beaches in Oregon is Echo Beach and its campground, which are both parts of the Rogue River–Siskiyou National Forest.
It is such a hidden gem that it's difficult to find a lot of information about it unless you've found someone who has actually been there (like I have!).
There are dozens of Echo Beaches around the world (including the famous one in Bali), the unrelated city of Echo in the eastern part of the state, and the 1980 hit "Echo Beach" by Martha and the Muffins, all of which are more popular than this hidden gem.
That shouldn't be the case, though, because Echo Beach, Oregon, deserves a better reputation and I'm going to do my best to make sure it gets its day in the sun.
What to Expect
It is somewhat different than many of the other beaches on this list, as it is not part of the Oregon Coast and does not touch the Pacific Ocean. Instead, this beach lies on the Illinois River, a tributary of the larger Rogue River.
However, it is still one of my favorite places to go backwoods camping and enjoy a beach next to a river, instead of the ocean.
If you're a fan of primitive camping, you'll love staying at Echo Beach Campground and visiting the Sixmile Recreation Area. If you prefer a day trip and prefer a warm hotel bed to the great outdoors, that's a great option as well!
Where is Echo Beach Located?
Echo Beach is one of four designated camping sites in the Rogue River-Siskiyou National Forest and it is located approximately 28 miles southwest of Grant's Pass.
From Grant's Pass, take Highway 199 South for just under 20 miles, until you see a sign for either Illinois River Road or Forest Service Road 4103. Turn right onto this road and continue for a few miles until you see the sign for Echo Beach Campground.
It is also eight miles west of Selma, a town of about 600 people, in case you decide you didn't bring enough snacks and need to stop by the Speedy Mart!
Getting to the Beach
The beach and campground are just a short walk from Illinois River Road. There are at least two parking lots here, or you can simply park on the side of the road.
It's a short and relatively easy walk down to the beach, although the beach itself is quite small, a couple of hundred yards at best. Still, though, it's a nice place to relax and enjoy a little bit of solitude!
Much like nearly every other entry on this list, the beach is not unpopular because it's a lousy place to visit. It's simply that there are other, more popular locations nearby that draw a lot more visitors.
Things to Do on Echo Beach
Camping
Being that Echo Beach's main draw is the campground, it makes sense that camping is the most popular activity here. There are also several other campgrounds along Illinois River Road, in case this one is full.
Rock Jumping
I'll be honest, I'm not brave enough to jump off of rocks into the river, so I've never done it. However, if you have and you enjoy any sort of cliff jumping, this is a great spot for it, as well as other locations nearby.
Swinging Bridge
The famous Swinging Bridge is located a few miles down the road and is one of my favorite sights in the area. It's a 60-foot-high wooden suspension bridge that spans the Illinois River and was built in 1960 for a now-closed Boy Scout camp that once stood here.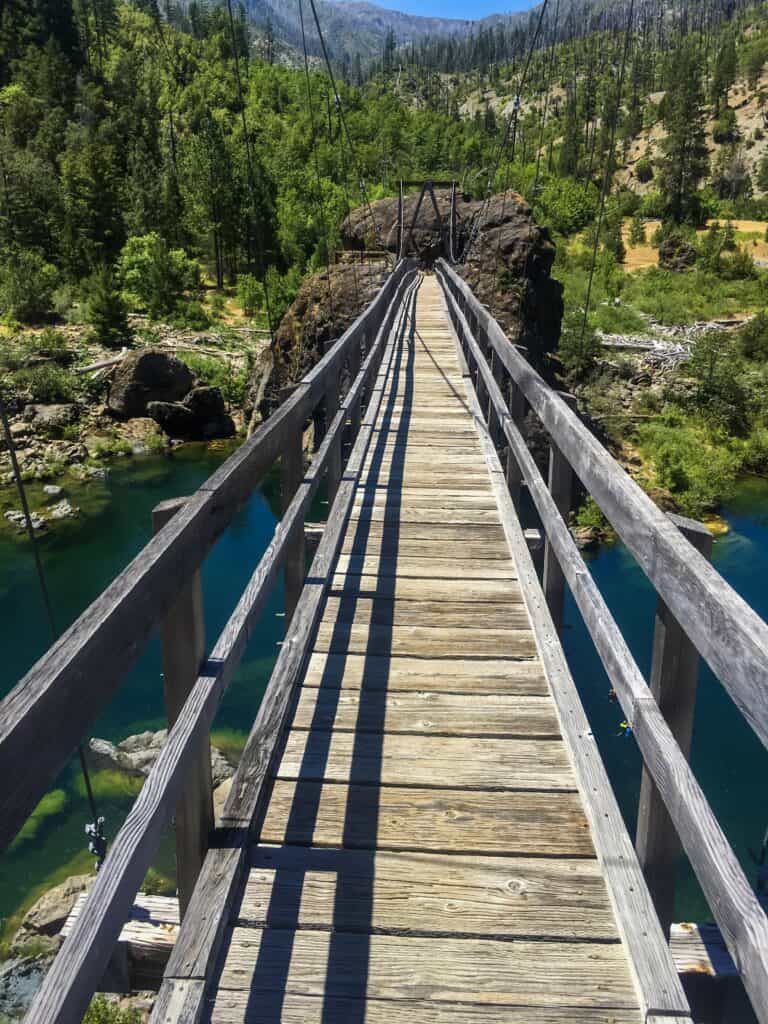 It does sway in the wind, though, so if that makes you uncomfortable and you don't want to feel like a character in Indiana Jones and the Temple of Doom, you might be better off observing from a distance rather than walking over it.
I have heard of people jumping off the bridge and into the water, although I personally don't think it's a particularly good idea. There are rocks that are between 20 and 30 feet high along the riverbed, which seems safer to me!
Iron Ring Picnic Area
It seems like an oversight by the US Forest Service to me that they'd have a place called a "picnic area" on their land that doesn't actually feature any picnic tables. I don't know who to talk to about fixing that.
I still recommend it, however, because sometimes I like to get a red and white checkered tablecloth or blanket and spread it out on the grass like a cartoon character while eating a picnic lunch.
Where to Stay
The Echo Beach Campground is the perfect spot for backwoods camping, with three designated spots with burn pits available. This is important because campfires are only allowed in pre-existing pits inside the forest.
If those three spots are taken while you're planning your trip, the River Bench, Store Gulch, and Sixmile Campgrounds are located just a short distance away. All three have more camping spots than Echo Beach, which is actually the smallest of the four.
Hotels and other similar lodging accommodations are available in Grant's Pass, which is about 45 minutes away. There are no official lodgings in Selma, although you might be able to find an Airbnb.
Other Activities in the Area
Sixmile Recreation Area is the most visited of the day-use locations along Illinois River Road, all of which feature swimming holes, rock jumping, and diving, as well as several locations for fishing in the river.
Hiking is another common activity here, with the extremely popular Fall Creek National Recreation Trail nearby. There are five trailheads in the area that connect up with the trail, which is designated as "hikers only" and does not allow bicycles or other vehicles.
Store Gulch nearby also sees heavy traffic, as it features a pretty decently-sized swimming hole. Note that the approach here from the road can be rather difficult and there are no handrails, so you'll want to exercise caution.
The Rogue River (of which the Illinois is a tributary, as noted above) was one of the featured filming locations for Rooster Cogburn, the 1975 sequel to True Grit that starred John Wayne and Katherine Hepburn.
There are no signs (that I'm aware of, at least) denoting where the filming actually took place but many western fans come to visit the area to see where Wayne and Hepburn traveled on horseback during the movie's climactic third act.
Final Thoughts
Forest fires are extremely common here, so you'll want to check the conditions before setting out for the beach.
If you love camping, you won't want to miss this opportunity to enjoy the amazing outdoors at Echo Beach Campground! If you don't like camping, it's still a great place to enjoy a semi-secluded beach. Start planning your trip today!