Located in the Snoqualmie Valley, Franklin Falls is one of the most beautiful hikes in Washington State.
With stunning views of the surrounding Cascade Mountains, a rushing waterfall, and plenty of other things to do nearby, we always have a hard time leaving the area.
Apparently, though, so does everyone else. Franklin Falls is incredibly popular and you're almost always going to run into dozens of people doing nothing but trying to ruin your pictures.
However, there are a couple of things you can do to make the hike enjoyable regardless!
So let's take a look at the Franklin Falls hike and how we do it these days!
If you're used to pretty hikes to mediocre waterfalls, this one isn't it. Franklin Falls is actually made up of 3 separate tiers of waterfalls that total 135 feet. However, only the last (and largest) of the three can be seen on this hike.
Getting To Franklin Falls
Franklin Falls is just under an hour east (ish) of Seattle which makes it the perfect distance for a day trip that puts a bit of space between you and the city.
From Seattle, you'll want to hop on I-90 and head east for about 50 miles. Take Exit 47 toward Denny Creek and turn left off the exit ramp to use the overpass.
Continue straight for a quarter mile before turning right onto Forest Road 58.
Cross under the freeway and then turn left. Continue for 3 miles until you reach a large parking lot for the falls.
If you're feeling lost, look for signs for Denny Creek Campground and the trailhead is about half a mile beyond that.
Once parked, you'll find the trail off to the side next to the bulletin board.
Hiking Franklin Falls
Franklin Falls is a relatively easy hike with a moderate elevation gain of just under 400 feet.
It's considered an out-and-back trail (with the option for a loop) and is just about 2 miles.
Because of its popularity, the trail is well-maintained and easy to follow. In fact, it's more of a well-worn path than an actual trail. There are handrails in many spots and steps where there are inclines.
There are some washed-out areas (especially in the spring) but we haven't seen anyone really struggle when we've been on the trial.
You'll have tree cover for the majority of the hike but, if it's a clear day you'll probably catch a glimpse of Mount Si and other Cascade Peaks.
If the trail is already testing your walking abilities there is a viewpoint where you can see the falls but you probably won't be able to get right up close.
Most people, however, continue past the viewpoint down a narrow (and sometimes slippery) trail to the creek and falls.
you'll also see dogs (which are allowed but must be leashed)
Is It A Good Hike For Kids?
In my opinion, Franklin Falls is the ideal family hike. We did it with our daughters (4 and 6) and they had a blast.
The majority of the path gently rolls through the forest and there is plenty of areas to explore without significant fall danger.
If you choose to continue past the viewpoint getting down to the falls requires a bit of mountain-goating down the narrow path but most kids won't have a problem.
We typically eat lunch and let the kids play around in the pool for a bit before heading back toward the car.
When To Visit Franklin Falls
There's a catch to this question. What you want out of your hike will totally change the answer.
Personally, we tend to prioritize solitude so we visit during off-seasons (or at least less popular times) and will also head on a waterfall hike (or to the beach for that matter) if there's rain in the forecast.
If you're like us you'll want to visit in winter or very early spring when the snow is just melting. This is an especially great time for photography as the fall's flow peaks between April and July.
However, the most popular time to visit the falls is summer and early fall. The summer temperatures make it a bit of a hot hike but everyone flocks to Franklin Falls to enjoy the fall air and colors.
On a day-to-day level, the weekdays tend to be less crowded so go at a strange time if you're looking for great pictures.
While a rainy time can be a good time to go, just be aware that, if there has been heavy rain, the falls and Denny Creek can swell which affects how close you can safely get to the falls.
Can I Hike Franklin Falls In The Winter?
The short answer is, yes, you can hike Franklin Falls during the winter.
It's not as simple as putting on a coat and snowboots but, if you're up for an adventure, it's beautiful and it's even possible (although not likely) that you'll have the falls to yourself.
The main thing to be aware of is that you probably won't be able to park at the actual trailhead. The road is typically closed during the winter meaning that you'll have to park much farther down around the turnoff and start your hike from Denny Creek (Exit 47).
What's more, since you can't park at the trailhead you can't use your Discover Pass but will, instead, need to spend $25 for a Sno-Park pass to legally park.
This turns it into an 8-mile hike through the snow rather than a short jaunt of dirt. However, if you're lucky, the road won't have closed and you'll be able to use the typical trailhead and parking lot.
Either way, you'll definitely need some warm (and probably waterproof) boots but most people also opt for some sort of spikes on their boots.
When we hiked it in the snow we did see several people wearing Converse or other gym shoes but remember, just because people do it doesn't mean that it's smart.
We did see two guys with snowshoes but unless there's a ton of fresh powder they're typically overkill.
When you come up to the falls, be extremely careful on that last steep slope. It's a bit treacherous without snow but most people end up carefully sliding down it during the winter. Just remember that you have to come back up it as well!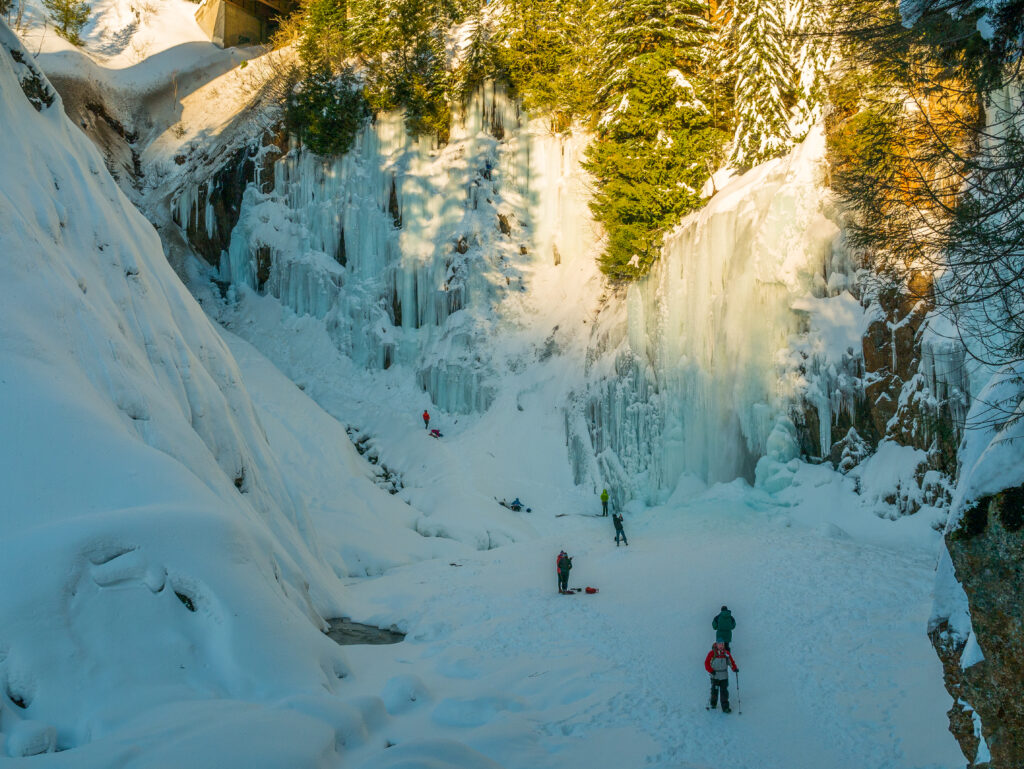 I'd recommend that you also take a headlamp as it tends to get dark extremely early during the winter and hiking out in the dark when it's snowy is not my idea of a fun time.
As a final warning, be aware of avalanche potential. When we got down to the falls there was an avalanche blocking part of the creek that looked to have come down a couple of days before.
Tips For Photographing Franklin Falls
As this doesn't apply to every hiker, I'll be brief. However, I will say that Franklin Falls is an amazing subject for photography. Which is probably why you'll see a million of the same shots. However, if you can let go of the hope of doing something completely unique, here are my tips:
Get there early. Light makes all the difference and, if you get here early enough, you can capture the morning light coming over the edge and lighting up the falls. The majority of photographers show up in the evening for the typically dark and moody shots that the PNW is famous for.
Bring filters. Using ND (neutral density) and polarizing filters can help bring out colors and reduce reflections.
Slow way down. Long exposure is really the only way to photograph a waterfall (and the main reason people show up when it's darker). I typically use exposures of up to 5 seconds for the best results.
What I wouldn't recommend is trying to climb up the edges of the falls to get a unique angle. I tried and found nothing special except some really slippery rocks.
Other Waterfalls Hikes Nearby
Snohomish County boasts some other truly spectacular waterfalls including Snoqualmie Falls (26 miles east) and Twin Falls (18 miles east).
Each one offers unique opportunities for hiking and photography so if you enjoy chasing waterfalls then this area should definitely be added to your list.
Snoqualmie Falls
Snoqualmie Falls is (in my opinion) the Niagra Falls of Washington. It's huge, has several paved viewing platforms, and it is incredibly popular.
However, if you're willing to talk a bit to the lower viewing areas you can avoid much of the crowds and get some cool shots.
While not quite on the level of the Franklin Falls hike, Snoqualmie Falls is an iconic view that everyone who visits the state has to see at least once.
Twin Falls
If you're looking for something a bit more unique and rewarding then Twin Falls is probably the best option for you.
Not only does this trail offer breathtaking views of the North Cascades, but it also gives hikers access to two falls— one just shy of 75 feet and the other roughly half that size.
The trail is a 2.6-mile-long moderately difficult jaunt that most will find well within their comfort zone.
One of the main draws for Twin Falls is that (with two falls to choose from) you're more likely to great some great shots that aren't full of people looking to cool off.
Other Things To Do Nearby
There are plenty of other adventurous activities available near Franklin Falls such as camping, fishing, or rafting down the Middle Fork Snoqualmie River.
If you're looking for something more low-key, take a stroll through Rattlesnake Lake or take advantage of one of the many excellent restaurants in nearby North Bend (I'd recommend the Iron Duck Public House).
Conclusion
If you haven't visited Franklin Falls, you're only of the three people in Washington who are missing out.
One of these days you'll have to join the throngs and join us on the trail. Just don't forget your camera!