What do you do if drug dealers are taking up residence under a bridge in your neighborhood?
You build an 18-foot behemoth troll to scare them away.
If you're really lucky you'll even attract millions of visitors which will make the area safer, bring attention to the arts, and even get your troll featured in dozens of movies!
Such is the life of the Fremont Troll in Seattle.
I have visited the Troll a couple of times in the past but when I took my wife and daughters there for the first time this year I figured it was time to let people know what it's really like and what they can expect when they visit.
Trolls can be scary after all (although not as scary as parking in Seattle…)
Visiting The Troll – What To Expect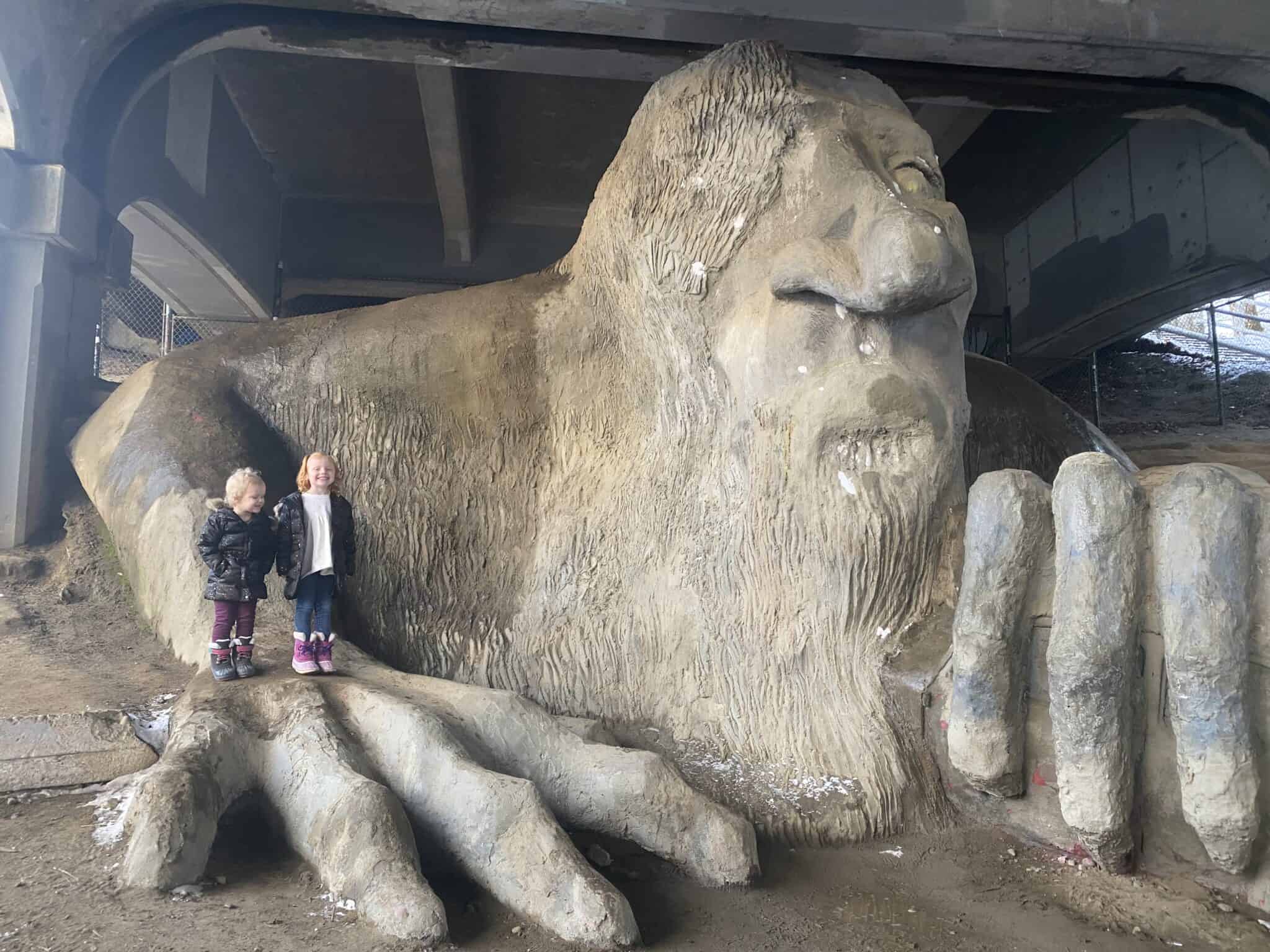 The Aurora Bridge which the troll is located under, (the reason that some old-time locals call it the Aurora Bridge Troll) was constructed in 1932. For more than 50 years it served double duty as a bridge and as a haven for drug dealers.
In an attempt to reclaim the bridge from its unsavory side hustle, the City of Fremont sponsored an art competition from the Fremont Arts Council. Competitors put forward their ideas for artistic methods to turn the area under the bridge into something "better."
The winner, Steve Badanes (now a professor at the University of Washington), had the honor of erecting his troll-ish vision under the bridge!
Over the next 7 weeks, the 18′ troll was constructed using over 4,000lbs of concrete over rebar and steel mesh. Oh and don't forget the shiny metallic eye and a real VW Bug.
The main drawback to the Troll is not the design but the actual location. He was never destined for popularity. The underside of the bridge is literally just a small road in the middle of a neighborhood.
You'll have to park on the side of the road (somewhere) and wander up the sidewalk until you get to the bridge. If it's busy you'll be wandering for a long time.
There's no fence or enclosure of any sort so you're free to walk right up to the troll. Just be aware that there will probably be a bunch of people around, all trying to take a picture with just them and the troll.
Join the picture line and picture-trade with someone if you want to be successful. Or do what we did and visit at an odd time.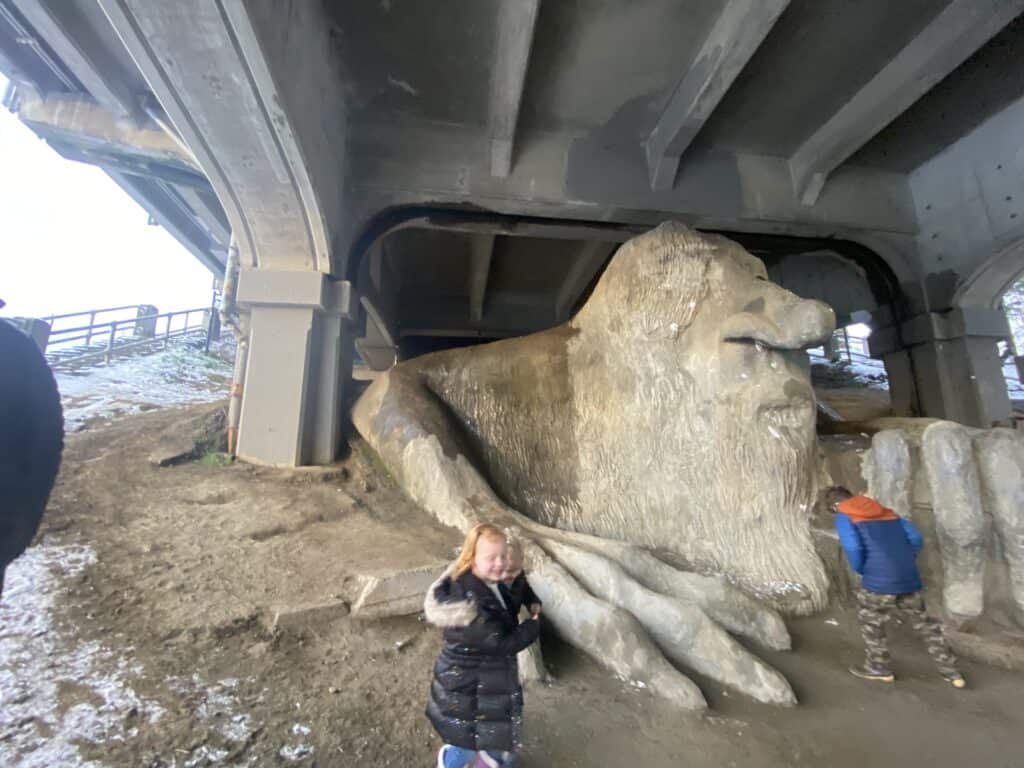 If there is no one trying to take pictures you're free to go around behind the troll and climb all over him. Just be aware that you're still under a bridge and the troll/surrounding area is pretty nasty and not somewhere to let your kids run around and pick things up.
If you have small kids also be aware that the troll usually has some level of graffiti or "artistic" additions. It gets cleaned off every once in a while but you'll still have to see whatever is on it which sometimes isn't pretty.
Some FAQs About The Fremont Troll
Is The VW Bug Real?

The VW Bug held by the Freemont troll is, in fact, a real car.

Originally it sat there in its full faded orange glory with a time capsule (and bust of Elvis Presly) sealed inside. However, repeated vandalism resulted in flattened tires, broken windows, and extensive dents and damage. After the time capsule that was sealed inside was destroyed the Freemont Arts Council make the decision to fill the car with concrete (and cover it with ferroconcrete) to avoid continued destruction.
Is The Troll Save To Visit?

The Freemont Troll is considered entirely safe to visit during daylight hours. Large numbers of visitors, as well as a cleaner community, have helped to lower the level of danger in Freemont that was true in previous years.

In years past residents would warn others away or at least tell them to stay away at night as the troll was taken over by drug dealers and vagrants.

Due in large part to the troll's popularity, those days are mostly past.

While you would be wise to be cautious if visiting during off times or at night there are so many people around that visiting the troll is very safe.

Another area of "safety" that is rarely addressed however is the cleanliness of the poor troll.

If you're a germophobe you might want to steer clear of actually touching the troll. Apparently, it is something of a right of passage for homeless people and punk teens to pee on and around the troll. Not to mention the constant tagging.

If you visit in the summer in the summer (when it's warm) you'll likely detect a urine smell under the bridge. This is one of the reasons that we visited in the winter.

While locals often share grimaces when they see people climbing all over the troll we just made sure to stay out of puddles and used a bunch of hand sanitizer afterward.
Does It Cost Money?

Visiting Seattle's troll under the bridge is free and you do not require tickets or reservations. There is a lockbox on site where you can donate (cash only) to the arts if you wish.
Where Do I Park?

Seeing as how the troll is located in a random Freemont neighborhood there isn't actually any dedicated parking.

If you are visiting during an off time or season you might be able to park on the side of the road. Just be sure not to block anyone's driveway.

The nearest parking lots to the troll are:

3615 Fremont Avenue North (free street parking)
U Park 66 at 910 N Northlake Way (Paid, $7 for two hours)

Both are less than a 5-minute walk to your destination.
Is It Worth Visiting?

If you're going to be in the Seattle area for several days then the Freemont troll is absolutely visiting. If your trip only lasts a day or two you'll probably get more enjoyment from iconic Seattle attractions such as the Space Needle, Great Wheel, and Pike Place Market.

For what it's worth I've been there multiple times and will always make a point to visit again if I'm in town with people who haven't seen it. At the end of the day, it's just a lumpy statue under a random bridge in a slightly out-of-the-way place…but it's still pretty darn cool.
The Fremont Troll In Media
Since it took up residence under the bridge the Fremont Troll has been featured in dozens of mainstream movies, tv shows, and songs.
Many people who see the movies are shocked to find out that it is a "real" troll and not simply CGI or a prop.
If you're a cinephile you might look for the troll in:
Twilight
Death Note
Sleepless In Seattle
Love Happens
10 Things I Hate About You
The troll has also been prominently featured in songs and album art for many bands!
Myths & Mysteries About The Troll Under The Bridge
Since the troll's creation, there have been some very strange happening around Aurora Bridge. While the same could be said of really any part of Seattle, there are a few worth mentioning here.
Next time you're visiting the troll, break out of these to creep out the people around you!
Gorey Animal Sacrifices
For a time, locals were afraid that the troll was encouraging some strange local cults to engage in animal sacrifice. In 2013, police on a late-night patrol noticed that someone had arranged 10 freshly skinned animal heads (possibly goat heads) on the lawn and porch of the house directly across from the troll.
Nobody had any idea where they came from although the home's residents did say that they had to "run off some kids" that were hanging around the troll and acting strangely the night before.
There are actually some pictures of them on imgur…just don't click on it unless you're ready to see freshly skinned animal heads. You've been warned.
The Troll Comes Alive On Trolloween
While "Trolloween" isn't an actual thing, there is always a large ground that gathers under the bridge on October 31st to celebrate the troll's birthday.
While I can't comment on whether the troll comes alive that night, I'd probably leave the kids at home…just in case.
How To Get To The Fremont Troll (easiest ways)
The fastest and easiest way to get to the Fremont Troll is to simply get directions from your phone or car. Seattle streets are not the easiest to navigate as they tend to shoot off at odd angles whenever they want (and many of them are one way…)
The Fremont Troll is located at N 36th St, Seattle, WA 98103.
If you don't have your own car you can find a tram or take an Uber. It's a popular destination and fairly cheap to get to from anywhere within the city.
While there is no close Light Rail station you can get there on public transport. If you really want to get some fresh air, the closest station is the U District Station but you'll be in for a 30-minute walk.
Conclusion
If you're visiting downtown Seattle you'll be in for a bit of a drive. Without traffic, it's about 15 minutes across the Fremont bridge of the 99. So, while you're over there, check out a few other interesting things in the area!
Oh, and did you know that the Troll has his own Facebook Page? You can find not only info there about the troll but other cool things and opportunities in Fremont. Check it out!