After spending time in the eastern United States I'm always a bit surprised when I come back to the PNW and find out how recent "history" is here.
The oldest towns in the PNW aren't much older than the house I lived in while in Virginia. However, that's now to say that the PNW doesn't have a good deal of interesting history and that the historic towns that survive aren't incredible.
In fact, it's just the opposite.
Because the west is, in general, a newer territory a ton of history survives and is evident in many town centers, hotels, and even railways.
While there are many historic towns in Washington (and the PNW at large) these are the ones that I think are the most steeped in history and are worthy of a visit.
Do note that I've done my best to avoid listing any pseudo-historic tourist traps such as Leavenworth. As cool as some of those towns are I tried to stick to towns that have a history in and of themselves.
5 Historic Washington Towns That Are Worth A Visit
1. Fairhaven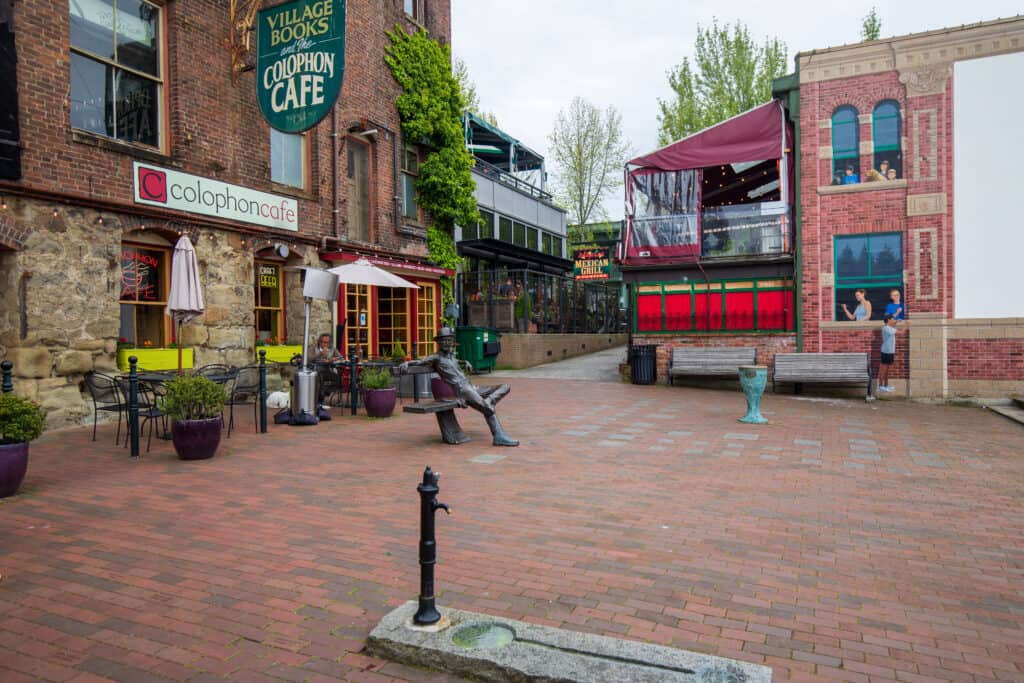 If your love for historic towns is based on an appreciation for architecture then Fairhaven should be high on your list. The Fairhaven Historic District to be exact.
Unless you really enjoy being outdoors there aren't many reasons to make the trek up to Bellingham. Fairhaven is the exception. Fairhaven is located in the very southernmost part of Bellingham's city limit and is one of only 4 of the original pioneer settlements in this area.
The city itself dates back to 1883 which puts it among the oldest historical districts in the state. While only a few pieces of architecture that date to that time are still standing the whole district has a historical feel. This is mainly due to the fact that the six blocks that makeup Fairhaven has strict building codes in the area and even new businesses have to match the old style.
Here you'll find shops similar to nearly every historical small town in the PNW, namely art galleries, pubs, restaurants, and bookstores (including Village Books, one of the best independent book stores in Washington)
Fairhaven has become a city center of sorts and tons of events, gatherings, live music, etc. While it does mean that this small chunk of the historic town is more crowded than I would like it does bring money into the area and provide a reason for upkeep!
If you're going to be staying the night in Fairhaven, the Fairhaven Outdoor Cinema is a cheap and awesome opportunity to see some current movies outdoors! You can check out the schedule on their Facebook page.
Once you're done in Fairhaven it's just a short drive to the Mt. Baker Recreation Area, some Island Towns, Vancouver B.C., or the Puget Sound. All within day-trip distance!
2. Oysterville
If you're one of the 3 people in the world who fancy the idea of vacationing in a town that is surrounded by a literal mountain of oyster shells then you'll want to visit the docks in Oysterville.
If you're not one of those people, there are still a bunch of historic places of interest we can find in the area!
Oysterville was virtually a non-existent blip on Washington's Long Beach Peninsula until the discovery of some particularly rich oyster beds in Willapa Bay. Once the money started flowing Oysterville was proclaimed the county seat and eventually had two hotels and its own weekly newspaper!
Thankfully, tourism stepped in in recent years and the entire town was placed on the National Historic Register. If you're a serious history buff you'll be happy to visit the original one-room schoolhouse of the old-time church, both of which are still standing and currently used for gatherings and community events.
Oysterville is especially enjoyable to visit as a historic town because, when you get tired of the dusty-and-musty there are a ton of other attractions in the area. There is a plethora of hotels, lodges, beach towns, and restaurants in the area that will bring you back into the modern world.
3. Poulsbo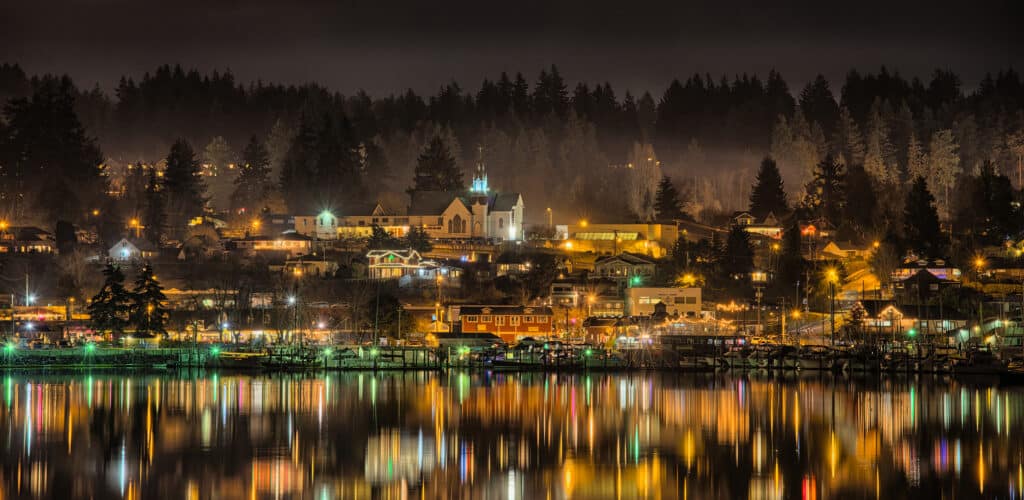 Washington's history and historical towns are incredibly diverse. Many historical towns have very strong cultural backgrounds (think of Leavenworth) and Poulsbo is no different.
The town was originally nicknamed "Little Norway" because of the number of Norwegian Americans who settled here in the 1880s when the town was in its infancy. This influence is still enjoyable today with the eclectic array of local shops and expansive dining options which includes a measure of traditional Scandanavia food.
Poulsbo is a fun walking ton with several Museums (including the Poulso Maritime Museum), shops, galleries, and restaurants.
If you're in the area for brunch, be sure to stop by Sluys Bakery which has been making bread and doughnuts in the same location for more than 50 years!
4. Steilacoom
Every year millions (or at least what feels like millions) of people pass through Steilacoom, the location of the Washington state ferry terminal. Nearly all of them are on their way to more "interesting" places and are totally unaware that they are passing through one of the best historical towns in Washington State.
Located just a few miles south of Tacoma, Steilacoom stands on its own as a tourist destination so, if you were planning on passing through, slow down!
As far as the oldest towns in Washington go, Steilacoom is a definite contender. It was the first incorporated community in the area back when Washington was still a territory, had the first protestant church building in the state, and also boasts of having the first brick building to be built north of the Columbia River.
The town is nearly 170 years old and is one of the first towns on the Puget Sound that survive that era.
As a seaport, Steilacoom thrived until everyone realized that Tacoma and Seattle both had better ports. When the ships left, so did the money. However, with its nomination to be placed on the National Register of Historic Places in 1975 Steilacoom has received a second chance at life.
If you're in the Tacoma area be sure to trek just a bit south and take a gander at the many historic buildings that still remain from yesteryear!
In 1975, the Steilacoom historic district was nominated for the National Register of Historic Places and today history buffs will enjoy taking the time to look around town at the many historic buildings that remain.
5. Winthrop
If you're looking for a true Wild West town but you're heading to the PNW instead, you're in luck. Winthrop (in North Central Washington) has the feel of a real western town.
Just like its gold-rush cousin towns to the south, the promise of gold brought the first white settler to the area in the early 1880s. Also like most early shoddily-built gold rush towns, it burned to the ground and had to be rebuilt in 1893. While nearly everything from the original town is gone, much of the town from the 1890s rebuilding is still standing.
If it's the gold rush instead of the architecture that interests you, much of that is visible at the Shafer Museum in Winthrop.
When the North Cascades Highway was finally finished in the 1970s there were several historic towns in Washington that started seeing a trickle of new visitors for the first time in nearly a century. At that time several towns decided what kind of front they wanted to project to potentially money-carrying tourists. Leavenworth went Bavarian, Winthrop went western.
The western makeover was mainly aimed at attracting tourism into the town but much of what was emphasized is a legitimate part of Winthrop's history and culture. So if you want an authentic (but slightly dolled-up) western experience in a historic Washington town, try Winthrop!
Are These The Oldest Towns In Washington State?
Well, no. The oldest towns don't necessarily make the best tourist destinations.
However, there are a couple of towns much older than these that make great places to visit.
Let's start with the oldest town in Washington State.
Steilacoom is the oldest town in Washington State with a claimed incorporation date of 1854. It is not the oldest settlement, however, as that honor belongs to Oysterville which was first settled in 1841 but was not incorporated until the end of 1854.
If you're willing to widen your net, the oldest settlement in the PNW is Astoria, Oregon which sits in north-western Oregon where the Columbia River meets the ocean. Astoria beats out the oldest towns in Washington by a considerable margin as it was founded in 1811.
Conclusion
Many tourists who are aiming to visit Washington State and the PNW expect exceptional scenic beauty. Few, however, realize the scope of history that is in the area.
So visit a few of these historic towns and get a feel for each area! They are all wildly different but wonderful in their own way.