No matter how much I like Everett, Washington, I do have to admit that it isn't known for its beaches.
However, that doesn't mean that we're totally bereft of any chance to enjoy some sun and sand (or rocks…this is the PNW after all).
There are a couple of decent beaches in the area and Howarth Beach is probably my favorite of all of them. What's more, it comes complete with a park full of hiking trails, a playground, and a dog park!
So if you're up for the short drive from downtown, Howarth Park just might be the perfect spot for a day outdoors.
Whether you're looking to have a picnic, take a stroll along the water's edge, sit back and relax while taking in beautiful views of Puget Sound, or let your dogs get out their wiggles, Howarth Park has something for everyone.
Here's how we plan out our trips there to make the most of it!
The Main Areas Of Howarth Park
Howarth Park has been around since 1919 when it was donated to the city by Col. Charles Howarth. Since then it has been continually improved and amenities have been added.
It is now one of Everett's most popular parks and enjoys tons of daily visitors. Too many in my opinion…
However, people usually end up pretty spread out as it covers an area of almost 28 acres and features several different areas where you can explore or just take a break.
Picnic tables are available throughout the park so that visitors can enjoy their lunch with a view of Puget Sound. There are also restrooms conveniently located near the entrance of the park so that guests don't have to worry about finding one when nature calls.
Parking is free at Howarth Beach and Dog Park, making it easy to get there without having to pay extra fees. The parking lot provides plenty of space for cars as well as RV's and trailers if needed.
In addition to these amenities, there are also several benches scattered around the area where people can sit back and enjoy the scenery.
So, starting near the parking lot, here's how we spend our day:
1. The "Park" (Kid's Playground)
While it's not big, the Howarth Park Playground is usually not very busy and our kids can spend an hour or two on the structures that there are.
It's mainly suited for smaller kids and our youngest has enjoyed it since before she was walking.
The playground is located down a short trail from the parking lot. There are several picnic tables around and many people come to the park just to enjoy the playground or to have a green spot for lunch.
2. The Trails
If you're looking to stretch your legs on your lunchtime or weekend there is space at Howarth to make it happen.
While the main trail at Howarth is more of a casual stroll than a significant hike, it's a great way to spend 20-30 minutes (or an hour in our case since we have young kids).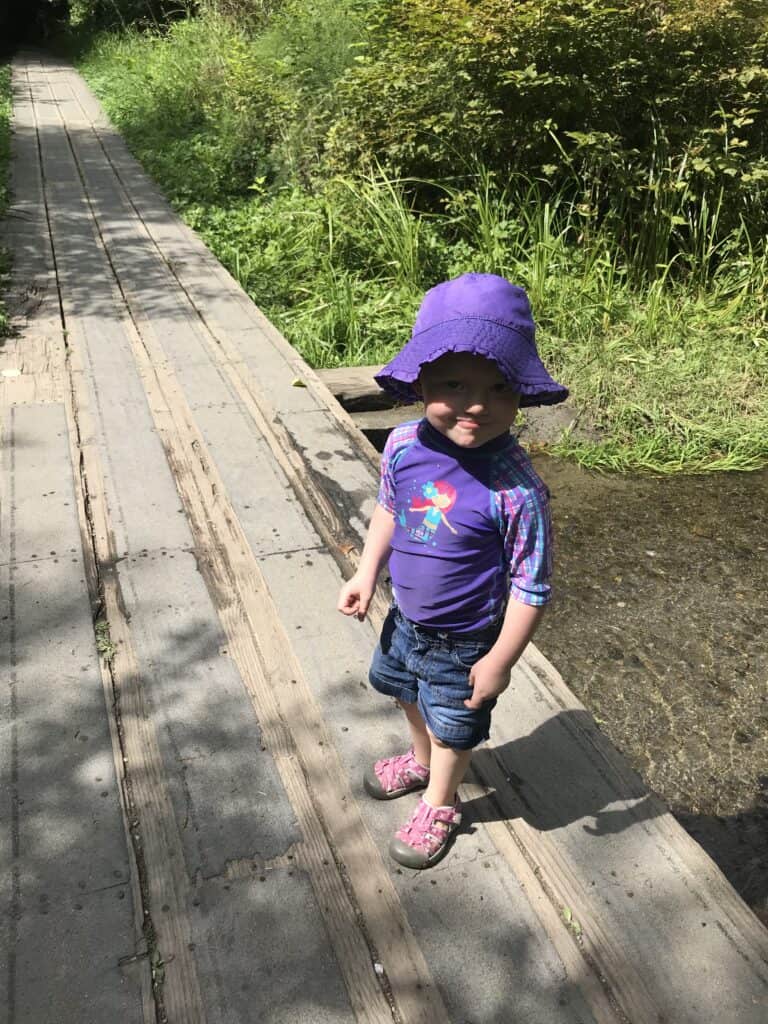 The trail itself is a one-mile loop that starts (and ends) at the main parking lot. There are also several other spots to hop on/off the trail as it goes around so it's not necessary to do the whole thing.
It's a fairly tame trail with minimal elevation gain (only 114 feet) that is suitable for just about everyone. Despite this, it's not a very popular trail and we haven't met many people while on it. The majority of people come for the beach and dog park and bypass the little hike altogether.
Don't be one of those people!
If you do have dogs with you, they are welcome on the trail but have to be on a leash.
3. Howarth Beach
Okay, I love Howarth Park but I'm going to do my best to be objective here and tell you the truth.
Howarth Beach is not the best.
It's a great place to take a walk and we have spent many afternoons here playing around and exploring. However, whenever we travel a bit further away from home we're reminded how nice (and picturesque) other beaches are.
However, it's still one of the best beaches in the Everett area so we keep coming.
As you can see above, it's a smallish rocky beach that tends to be quite muddy near the water. There isn't much sand to relax on or large rocky areas to explore unless you're here at low tide.
Likewise, the mostly flat beach doesn't really provide much in the way of tidepools or streams.
However, it's still a beach and we still manage to enjoy the view of the Puget Sound. In fact, on a clear day, you can also enjoy views of the Olympic Mountains and Whidbey Island.
I don't mean to dissuade anyone from visiting the beach but just temper your expectations before you go and you'll have a great time! Just be sure to go at low tide so you can actually enjoy some of the sandy areas.
4. Howarth Dog Park
The dog park at Howarth is probably the most popular part and there are always some canine friends running around.
The "dog park" is a bit of a misnomer, however, as it's really just a dog-friendly beach rather than an actual park.
The majority of the park has leash laws but there is a posted off-leash area if you have a well-behaved pup. If your pup is not well-behaved you'll want to keep them under control as there are train tracks right at the edge of the off-leash area where they can get into trouble.
You should also bring your own water for your dog (as you should every time you go to the beach) and check their paws regularly as the rocks and shells can be hard on them.
Some people have recently expressed their concerns about the water quality and how it affects their dogs so we've kept our pup out of the water when at Howart (who wants a wet dog in their car anyway?)
Oh and don't forget that your pup is also welcome on the trails if you keep him/her on a leash.
Rules & Regulations
All dogs must be kept on a leash until they enter the designated off-leash area within the park boundaries; once inside this area they can be let off-leash but must remain under voice control at all times. Additionally, all owners must clean up after their pets; failure to do so could result in fines (or other people really giving you the stink-eye).
Leash Laws
Visitors to Howarth Beach and Dog Park must abide by the leash laws. All dogs must be kept on a leash no longer than 6 feet at all times while in the park. This is for both the safety of your pet, as well as other visitors and wildlife that may be present. Failure to comply with this rule can result in fines or other penalties from local law enforcement officers.
Pet Waste Disposal
Okay, pick up after your pets you heathens!
I will also rant for a second here and say that bagging your dog's poop and then leaving the bag on the side of the trail is not enough. Someone is going to have to carry your dog's poop to an actual can. It's your dog, do it yourself and help keep Howarth halfway decent!
Not to mention that it's actually a legal requirement to clean up after your dog in public places…
Alternatives – 2 Other Great Beaches By Everett
If you're been to Howarth enough that you're feeling the need to branch out, there are a couple of other good options in the area for getting outside and enjoying the beach.
Jetty Island
Jetty Island is a two-mile sandbar located just off the coast of Everett. The island is accessible via a free ferry ride from 10th Street and W Marine View Drive and makes for a great day trip or weekend getaway. Jetty Island is known for its calm waters and sandy beach (the longest along the Puget Sound) which make it ideal for swimming, kayaking, stand-up paddle boarding, bird watching, and more. It's also a popular spot for photographers looking to capture stunning sunsets over Puget Sound.
Edgewater Beach Park
For those seeking an even more secluded spot away from city life, Edgewater Beach is another great option near Everett. This beach park features stunning views of Puget Sound and surrounding islands as well as plenty of activities including swimming, canoeing/kayaking, fishing, hiking trails, and more!
Conclusion
No matter what type of outdoor activity interests you most, Howarth Park offers something for everyone!
With its beautiful waterfront views, decent dog-friendly beach, and plenty of activities ranging from relaxation to adventure this hidden gem should not be missed out on!
Whether you plan on spending just an hour or two at Howarth Beach and Dog Park or making it part of a longer vacation itinerary, make sure you take advantage of all the park has to offer.
Oh, and you'll probably see us there.