Portland has been garnering lots of attention lately but, unsurprisingly, none of it has been for its fine dining opportunities.
Whenever the Pacific Northwest is lauded for its fine dining opportunities, Portland is noticeably absent. Seattle gets mentioned, all the cruise stops in Southeast Alaska get mentioned, and heck, even Spokane has gotten some love.
Whenever the Portland food scene is mentioned it's to recommend a quirky new grilled cheese or (more likely) a 97th coffee variety that a random coffee shop is marketing. Not bad, but probably not what you're looking for on a special night out.
So what the heck is wrong with the dining scene in Portland? Are there actually any Michelin Star Restaurants in Portland?
Actually, are there any luxurious fine dining experiences available at all? Well, the answers are no, and yes, in that order.
There are no Michelin Star Restaurants in Portland (or any Pacific Northwest city) because the Michelin Group has not written a guide for the area. Because of this no restaurant, no matter how good, has had the chance to earn a Michelin Star.
That's not to say that there aren't any dining experiences worth having.
In fact, Portland has quite a few eateries that can compete with the best in the world (okay, maybe the best on the west coast) and I feel like it's time that someone sheds a bit more light on them.
5 Most Luxurious Restaurants In Portland (Michelin Worthy)
While none of these Portland restaurants have had the opportunity to order a Michelin Star or recommendation of any sort, these are the regulars on any list of luxury dining in the city.
If you're familiar with the local food scene you may notice that a few big names didn't make the cut. Typically, this is because I found the experience to be good, but not unique or enticing enough to earn a recommendation.
These are the places where, after my wife and I were done, we felt that we had been given an unusually great experience that was legitimately enjoyable. Fine dining was only a part of that.
So, if you're in the Portland area and want a Michelin-quality experience, here are the places I would suggest you try:
1. Coquine
Cuisine: American (New)
Reservations: Via Tock
If you're looking for a Michelin Star Restaurant in Portland (or that level of refinement) then Coquine is about as close as you're going to get.
While Coquine identifies as a "neighborhood restaurant" they offer a true 7-course tasting menu or a prix-fixe four-course meal.
If you're not up for a full-service menu you can also enjoy Coquine's famous "Oyster Hour" and enjoy shucked-to-order oysters, drinks, and an a la carte bar menu.
I won't claim that Coquine's service is quite up to par (it's good, not great) and they often lose points from discerning patrons on the timing of their dishes. However, if you're all about the food then you'll still enjoy your experience.
While they're not traditional fine-dining fare, don't leave Coquine without tasting their cookies (or taking some to go). Their cookies are made with "smoked almonds, salted caramel, and really good chocolate" and are a must-try if you're in the area.
2. Quaintrelle
Cuisine: American (New)
Reservations: Via OpenTable
I had a difficult time deciding who to play first on my list (even though it's not in any particular order). In short, any of the top three are excellent choices. But Quaintrelle holds a special place in my heart (and my wife's).
If you're looking for creative and unique dishes in a luxurious setting then this is a spot for you.
There is a menu you can order from but I recommend that everyone opt for the 7-course tasting menu to get a taste of chef Ryley Eckersley's genius. Everything you eat is connected as closely as possible to the farm, ranch, or ocean but often comes with a unique and beautiful twist that you won't find elsewhere.
I also have to mention that you should not, under any circumstances, miss out on Quintrelle's cocktails. They will be some of the best you've ever had.
3. Le Pigeon
Cuisine: French, American (New)
Reservations: Via Le Piegon's Website
Headed by Chef Gabriel Rucker (winner of two James Beard Awards), Le Pigeon is widely considered the best restaurant in Portland. Unless you're in the city on Sunday when it's closed! Seriously, who is closed on Sunday?
However, if you're in the area on a Tuesday-Saturday and can manage to get a reservation (a feat in and of itself) then you're in for an excellent dining experience.
Le Pigeon doesn't offer an a la carte menu at the moment but, let's face it, you're paying the money to experience the chef's unique viewpoint so you should just be getting the tasting menu anyway.
If you really want to complete the experience you can make reservations directly at the chef's bar and watch each of your course's being prepared.
Besides the incredible food (supplement for the Seared Foie Gras…) we enjoyed the non-alcoholic drink pairing options which were a perfect compliment to the meal.
Weekday reservations are the easiest to get if you're just looking to experience some great food and don't want to wait a month for a table.
4. Arden
Cuisine: American (New), Wine Bar
Reservations: Via OpenTable
Many people who watched Sara Hauman go onto fame on Top Chef wished they had the chance to sample her culinary expertise when she was at running the Kitchen at Arden. Perhaps they should have been tipped off on her two James Beard Rising Star nominations.
However, that chance is gone.
Instead, Arden is now under the captainship of Chef Van Kley, and he has raised the bar even further.
Arden is a small unassuming place that you might pass by if it weren't for its fame as a wine bar. However, the food is now on par with the impressive wine selection and it is someplace you should seek out whether you're looking for a relaxing glass or not.
While the dining area may not be reminiscent of a luxury restaurant the food experience is just as good. Whatever you choose to imbibe, be sure not to miss the cheesecake at the end as I've never had its equal.
5. Langbaan
Cuisine: Thai
Reservations: Via Resy
Langbaan is something a rarity in the world and is certainly unique in Portland.
Portland has many find places where you can get delicious Thai food but Langbaan is the only one I'm aware of that has taken it to an art form.
While their new location leaves something to be desired (let's just say the ambiance doesn't match the level of food) it is still an experience worth having if you're never experienced Thai food of a high caliber.
6. Ox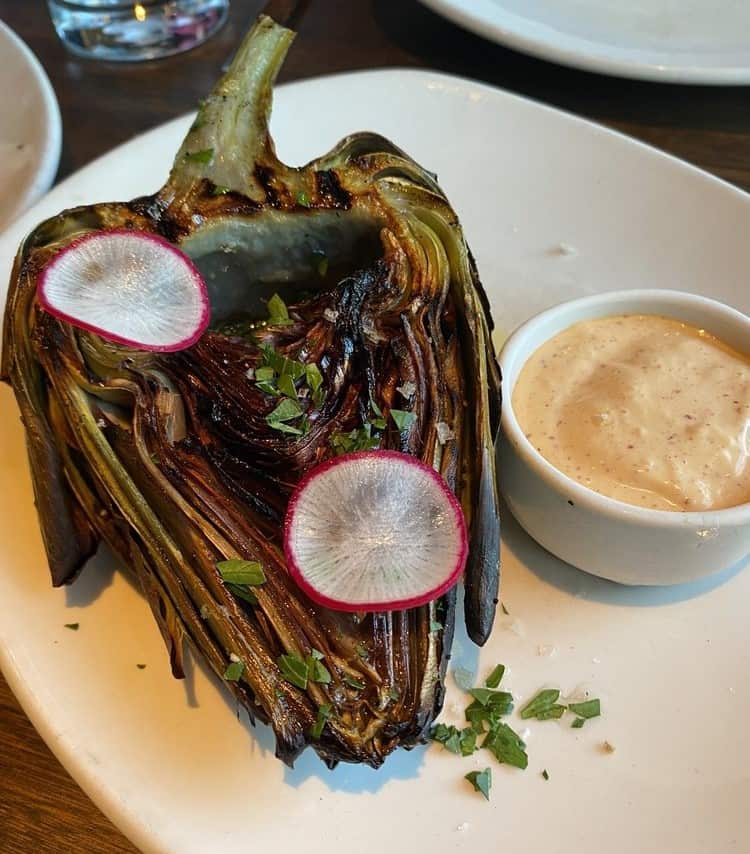 Cuisine: Argentine Steakhouse, Wine Bar
Reservations: Via Resy
Ox is the brainchild of two James Beard Award-winning chefs: Greg Denton and Gabrielle Quiñónez Denton.
If they had envisioned a unique and fun steakhouse with incredibly flavorful dishes then their vision has become a reality.
Ox is probably my favorite place on this list to take family when they come into town as they are a bit more casual, the portions are big, but the food is good enough to impress even my mom's stubborn palette.
No matter what type of meat you get go big or you'll leave wishing you had more!
3 Honorable Mentions
Like most people, I consider fine dining a rare treat. Most days I have no desire to deal with the pretense, a 2+ hour meal, and a bill that's as much as my car payment.
Besides, it makes it that much more special when I do dress up.
So if you're looking for some Portland dining that offers great food but prides itself on not being "fine dining" then here are some options for you.
One of my favorite aspects of dining at restaurants like these is that you always remember what city you're in. Many fine restaurants allow you to entirely forget the locale but these three restaurants all feel distinctly Oregonian in some way.
Andina
Katchka is a gem for date night. They provide a taste of fine Peruvian food to the Pacific Northwest and we've never left dissatisfied.
Kachka
If you're looking for something adventurous that is still filling and enjoyable. Kachka styles itself as "Russian food" but seems to put a modern twist on tons of soviet era dishes.
Be sure to try the fried dumplings and sprat buterbrodi if you're adventurous!
Why Are There No Michelin Star Restaurants In Oregon?
Long story short, you can only earn a Michelin Star if the Michelin Group decides to write a guidebook for your area.
For whatever reason, there are only guidebooks for a select number of regions and the Pacific Northwest is not one of them.
Well, actually, the reason there isn't a book is well-known. It wouldn't be profitable enough. Because each Michelin Star is good only for the year in which it was issued, the Michelin Group must travel, experience, and re-rate each restaurant for which they produce a guide.
If the guide doesn't sell as expected, it isn't repeated. In 2008-9 there was a Michelin Guide for Las Vegas but, when it didn't sell, it was not republished the next year. This means that any restaurant that had earned a star (or more) in that guidebook had their star expire at the end of 2009 and is no longer considered a Michelin Star restaurant.
While there don't seem to be any current plans to provide dining recommendations in the Pacific Northwest, we'll have to revisit this list if there ever is such a guide published. Until then, we'll just have to pretend that I'm French enough that my list is legitimate.
Conclusion
If you want the experience that a Michelin Star promised but don't care about getting accolades on Instagram, any of the restaurants on this list can provide an enjoyable experience. While the ambiance and types of dining vary greatly I found each to be enjoyable in its own right.
The added bonus of having fine restaurants without a Michelin Star is that you won't be waiting a month (or several) to get a table. Most restaurants in Portland have reservations available only a week or two out so if you forgot your anniversary, you can still pull it together at the last minute.
If, however, a Michelin Star is a necessity and you simply cannot dine unless you have the status and prestige, California is the closest option. A two-hour flight will provide you with some excellent dining and you can still be back to Portland to sleep when you're done.