The Pacific Northwest is home to snowy peaks and frigid winters. In fact, the words "Pacific Northwest" are often associated with cold and can bring up mental imagery of Alaska. That's why some people find it hard to believe there could be a volcano in the PNW. In reality, dozens of active volcanoes exist in the Pacific Northwestern states.
Mount St. Helens is the most dangerous active volcano in the Pacific Northwest, which last erupted in 2008. It is also one of the most studied volcanoes in the United States because of the prominence of its activity. However, Mount St. Helens is not off-limits because it covers a vast area.
In this article, you will learn more about the top 10 most dangerous active volcanoes, their notable surroundings, and the states where they are located. But first, let's go over their threat scores at a glance.
| | | |
| --- | --- | --- |
| Volcanos in the Pacific Northwest | Threat Score | Last Erupted |
| Newberry Volcano | 126 | 690 AD |
| Glacier Peak | 155 | 1700 |
| Mount Baker | 156 | 1880 |
| Crater Lake | 161 | 2850 BCE |
| Lassen Volcanic Center | 186 | 1917 |
| South Sister | 194 | 440 CE |
| Mount Shasta | 210 | 1786 |
| Mount Hood | 213 | 1866 |
| Mount Rainier | 244 | 1894 |
| Mount St. Helens | 267 | 2008 |
Most Dangerous Volcanoes In Washington & Oregon
1. Mount Shasta
Mount Shasta is high enough to have a snowy peak despite being in a sunny state like California. The height of this peak enables it to stay cold despite having swirling magma at its base. It draws the attention of hikers who want to enjoy the experience and the view.
But some of its most frequent visitors are spiritualists interested in the sacred springs located at multiple spots on the mount.
Despite all the positive attention it draws for being close to the epicenter of new age thought and having mysteries associated with it, Mount Shasta has an active volcano with a threat score of 210. It last erupted over 230 years ago in 1786. The 210 threat score is serious, given that America's highest-rated volcano threat is 267.
2. Mount Baker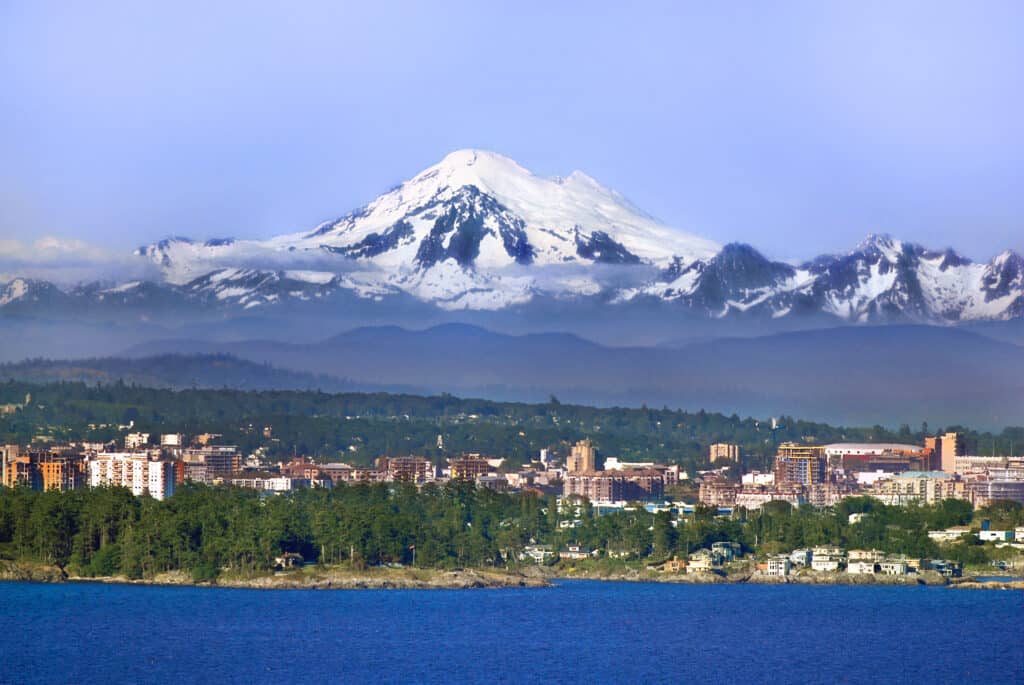 Located in Washington State, Mount Baker is considered one of the snowiest places on Earth. Despite that, it is more famous for having one of the youngest active volcanoes.
Its volcanic field is described as "multi-vent," which means there are multiple openings for this volcano. It also has one of the largest volcanic fields, indicating the damage this volcano can inflict upon its surroundings.
However, Mount Baker's surroundings are not highly populated.
The closest city is 17 miles away from it, which reduces Mount Baker volcano's threat level to 156. And that is despite the fact that its last eruption was more recent than the Mount Shasta volcano. The Mount Baker volcano last erupted in 1880, just north of 140 years ago.
3. Crater Lake
Crater Lake is the deepest lake in the United States and is known for its deep blue color. However, most tourists who frequent the Crater Lake National Park don't know that the lake formed after a mountain collapse.
Mount Mazama was a 12,000-foot tall mountain that claimed the skies over 7,700 years ago. When the Mount Mazama volcano erupted, the entire mountain collapsed, leaving behind a crater. This is the origin story of the lake that houses an active volcano.
Crater Kake is 1,943 feet deep and is filled entirely with water from ice, rain, and snow since it is isolated from water bodies like oceans or streams like springs and rivers. The Crater Lake volcano is, therefore, pretty far removed from sea level. It last erupted in 2850 BCE, which significantly affects its threat score, leaving it at 161.
4. Lassen Volcanic Center
Lassen Volcanic's name might imply that it is an epicenter of an active volcano one can see with bare eyes, but it is just a mountain for most visitors. It has experienced hundreds of eruptions across three-quarters of a million years, which is quite interesting.
But is it worth being around a place that looks like a regular mountain but had its last volcanic eruption in 1917?
The Mount Lassen Park area is at risk because of this volcano's high threat score of 186. Again it is worth remembering that the highest threat score of an active volcano in the US is 267.
5. Mount Hood
Mount Hood covers 1.2 million acres of land, and you might have had a piece of its products in your house without even knowing. Most retail-grade Christmas trees come from the wilderness that covers Mount Hood.
But aside from being a beautiful place with varying geology and immense size, it is also home to an active volcanic site.
Mount Hood has a very high threat score of 213. This is because of the area that the volcanic eruption can cover and the recency of its last eruption in 1866, barely a century and a half ago.
Mt. Hood also has the distinction of being the largest volcanic mountain that you can see from Portland.
6. Mount St. Helens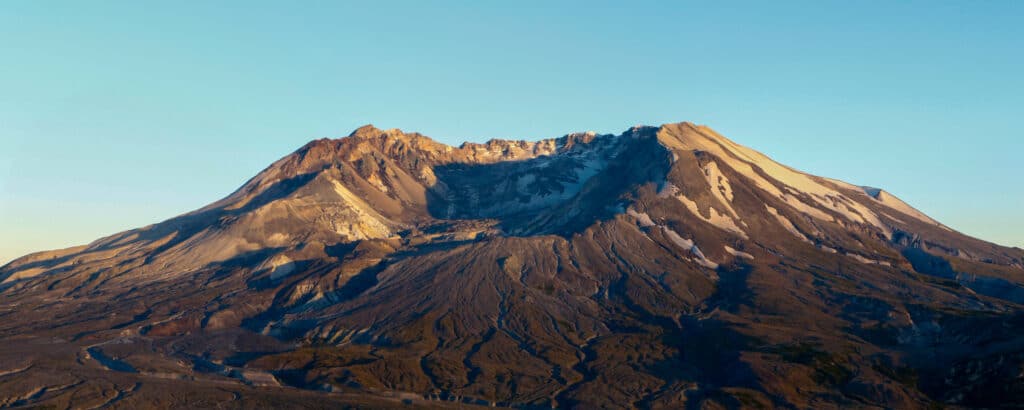 While different mountains covered in this post are famous for other reasons aside from their volcanic underbelly, Mount St. Helens is infamous only for all things volcanoes.
It is one of the most memorable eruptions in recent memory, having erupted as recently as 2008. Its volcanic activity produces smoke plumes far more visible than some other peaks and domes. Its threat score is 267, the highest in the united states.
7. South Sister
The three sisters are volcanic peaks in Oregon that can be spotted very far away. They are sisters, not just in size but also in being atop a magma bed. Despite being close to each other, these volcanoes don't have the same active threat rating.
The eruptions in these volcanoes used to be far more frequent in prehistory. The last known eruption of the southern peak in the trio was 410 CE. The eruptions in the last few centuries have been more individualistic, but these volcanoes used to erupt simultaneously before the Pleistocene (geological period).
8. Mount Rainier
Mount Rainer is best known for having an exciting contrast between lava and ice. It has one of the largest volcanic glacier cave systems, for instance. It is second to Alaska in its alpine glacial network yet is also home to magma and its consequent lava.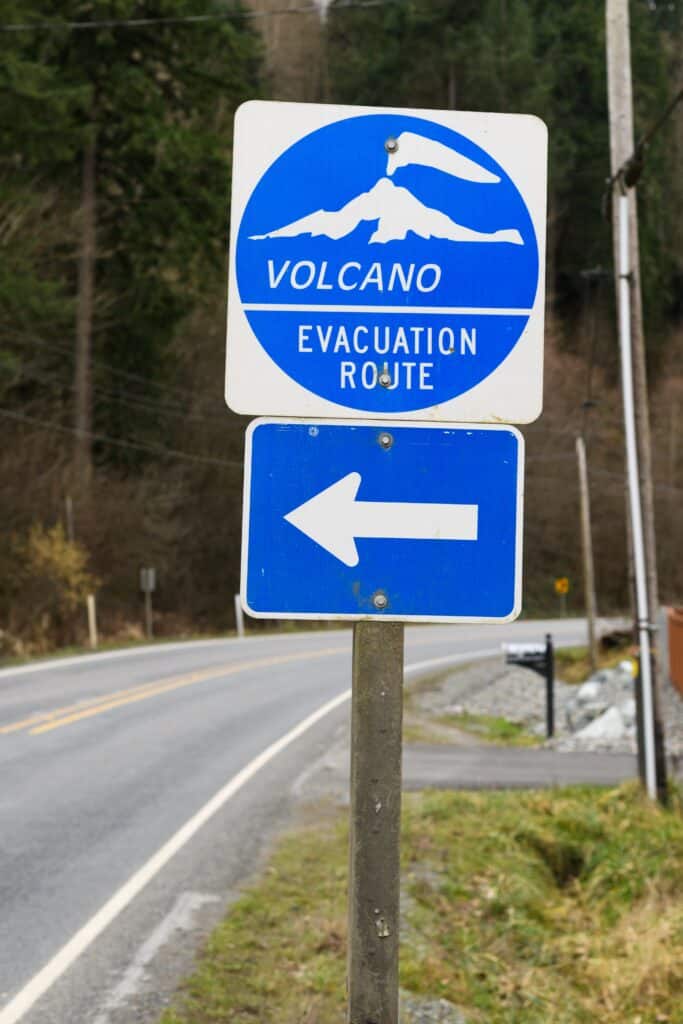 In fact, Mount Rainer is one of the tallest volcanic peaks in the United States, at a height of 14,400 feet. One would assume its eruption odds are low for a peak that high. But in reality, Mount Rainer has a threat score of 244, perhaps because its last eruption was in 1894, barely 127 years ago.
9. Glacier Peak
Glacier Peak has a gray base and a snow-covered top. It is among the most active volcanos in Washington state but isn't nearly as busy as some of the more dangerous volcanoes in the Pacific Northwest.
Glacier Peak has a threat score of 155, and it last erupted in 1700.
10. Newberry Volcano
Newberry is a charming small town that thrives around a very dangerous volcano. Perhaps the fact that it last erupted in 690 AD is somewhat comforting, but whenever it has erupted in the past 15,000 years, it has left its mark in the form of ash clouds.
Newberry Volcano's threat score is 126, the lowest on this list.
Final Thoughts
There are plenty of dangerous volcanoes in the Pacific Northwest. Fortunately, eruptions aren't frequent enough to send shivers throughout the northwestern states.
Generally, volcanoes with a 180+ threat score are not great places to build your home around. And if a volcano has a threat score of over 200, it is perhaps wise to avoid visiting them.