Neptune Beach – General Information
Open: Year-round, 6 AM to 9 PM
Type Of Beach: State Park
Approach: Easy (northern entrance), Moderate (south entrance)
Main Activities: Picnicking, Beachcombing, Tidepooling
Popularity: Low to Moderate
Services: Restrooms, Picnic Tables (south), None (north)
Accommodations: Florence, Yachats (lodging), Cape Perpetua (camping, RV), Searose Beach (cabins)
If you like going to the beach as much as I do, you know how terrible it can be when you arrive at a packed beach and there's hardly any room to do anything without running into another group of people.
That's why we're highlighting some of the hidden gem beaches in the state of Oregon, so you can easily find a place to enjoy your favorite beach activities away from the crowds.
Today's lesser-known beach is part of both Neptune State Park and Neptune State Scenic Viewpoint, the latter distinction which it shares with nearby Bob Creek Beach.
What to Expect
Like many beaches on the Oregon Coast, the beach is made up of two sections that are divided by a creek. In this case, it is Cummins Creek, which is the namesake for the 9,300-acre Cummins Creek Wilderness area of the Siuslaw Forest.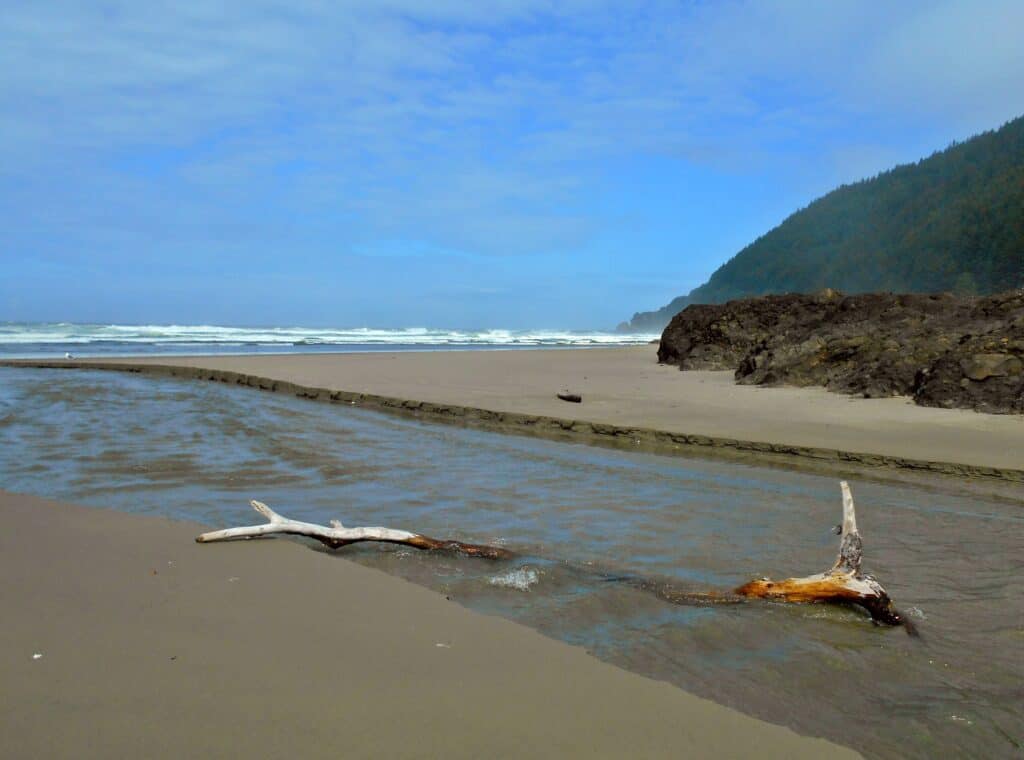 The southern portion is the larger half and the one that most people who have visited associate with the term "Neptune Beach". The northern section has a small parking lot and very few signs, which is why some people don't know that it's actually part of the beach!
If you're looking to relax in the sun, you'll want the sandy southern part of the beach. The northern section is covered with rocks, although there is still a little bit of sand here at low tide.
Where is Neptune Beach Located?
Neptune Beach is located 22 miles north of Florence and four miles south of Yachats on Highway 101. It is also about 28 miles south of Newport if you don't mind a little bit longer of a journey!
From either city, take Highway 101 (north from Florence, south from Yachats) until you reach Cummins Creek Road. If you're headed north, take a left. If you're going south, take a right. This will take you to the larger parking lot on the south end.
If you want to park closer to the north side, there's a small parking lot that's really more of a pull-off from the highway about a quarter-mile or so north of the main lot. It can fit about eight or nine cars, so you may want to get there early if it's nice out.
Getting to the Beach
At the southern parking lot, you'll see the restrooms and a grassy area with picnic tables. There is also a small wooden set of stairs that leads down to the beach. They can be a bit slippery at times, so watch your step!
The northern side has a bit of an easier entrance, although there are no picnic tables or restrooms here. Off to the left, you'll see a short gravel path that leads directly to the rock-covered shoreline.
Cummins Creek, which separates the two halves, can be dangerous to cross at times, particularly during the winter or after heavy rainfall. In most cases, I'd recommend driving to the other parking lot instead.
Things to Do on Neptune Beach
Rockhounding and Tidepooling
Like many beaches on the Oregon Coast (and especially between Newport and Florence), Neptune Beach is a perfect location for agate hunting and tidepooling, particularly around the creek itself.
It is important to note that this beach is part of the Cape Perpetua Marine Reserve, which means that digging, fishing, and taking wildlife or vertebrate fossils from the beach is illegal.
Picnicking
I love a good beach picnic, so any beach with picnic tables nearby is an automatic five stars from me. If the tables are full, you can spread out a blanket on the beach and eat there.
Since it's not very popular, you won't have to worry about dogs or other people accidentally kicking sand on your food, either, which has happened to me more than once at Cannon Beach!
See the Cave
At the top of the northern section, there is a beautiful natural cave that can be seen during low tide. It's not particularly big but is definitely worth checking out if you have time to visit both sides of the beach.
Where to Stay
If you're looking for less expensive lodging, Florence is just a little over 20 miles away and has a population of around 10,000 people. If you don't mind spending a bit more, Yachats (population approximately 1,000) is less than five miles from the beach.
There are several RV parks and campgrounds nearby, although the campground at Cape Perpetua would probably be the easiest option (assuming there are spots available). Backwoods camping is available in Siuslaw National Forest nearby as well.
Another amazing option, perfect for families or perhaps a more romantic getaway, the Beachcomber Cottages are located a few miles south, close to Searose Beach.
Other Activities in the Area
Heceta Head
I've mentioned this a lot but I'm a huge fan of lighthouses and Heceta Head has one of the best on the coast. There is a bed and breakfast at the lighthouse where you can stay in the old assistant lightkeeper's house. It is rather expensive, however.
If you'd prefer a cheaper visit to the lighthouse, you can take a tour and enjoy the hiking trails, amazing scenery, and much more that Hecata Head has to offer.
Hiking
Serious hikers looking for a difficult trail can visit the nearby Cummins Ridge Trail, which is just under five miles each way. It is both well-maintained and lightly used, making it the perfect opportunity to get some solitude while walking through the
Cape Perpetua
Both the Scenic Viewpoint of the same name and Cape Perpetua itself provide some of the most amazing sights on the Oregon Coast. The main highlights here include the campground and RV park, whale watching, over 25 miles of hiking trails, and natural features like Thor's Well.
Siuslaw National Forest
Some of the best hiking trails in the state are found in the Siuslaw National Forest, as well as opportunities for dispersed camping, fishing, mountain biking, and a whole lot more!
Governor Patterson Memorial State Recreation Site
After Governor Isaac Patterson passed away in 1931, his wife Mary sold her land to the state to be used as a recreation site to honor her late husband, who was appointed the first Oregon Parks Commissioner.
It is very popular with agate hunters, as the beach is about three miles long and is filled with many awesome minerals. It's also a great spot for fishing, crabbing, or laying in the sun and watching the harbor seals in their natural habitat.
Little Log Church Museum
In Yachats, a small, brown log cabin was built almost 100 years ago to serve as the town's church. The church body eventually outgrew the small building and they moved down the street. They then sold the old building to the city to be used as a museum.
It is occasionally closed for private events (as it is available to rent) but if you happen to be in town on Valentine's Day, you and your partner can renew your vows as part of an annual ceremony held here.
Final Thoughts
Neptune Beach is an amazing hidden gem on the Oregon Coast and would probably be much more popular if it weren't located so close to the Cape Perpetua and Hecata Head areas.
Whether you prefer the sandy shores of the southern section or the rocky northern area, you'll find something to love at Neptune Beach. Why not start booking your next trip to the Central Oregon coast today?