When it comes to art…I appreciate it. In fact, I love it. However, I'm an absolute ignoramus about what artists are famous (and why).
However, since art is such an integral part of the PNW's identity I felt that it was a gap in my knowledge that was bound to be exposed any day.
So I decided to fix it. I made it a goal to learn about 10 of the most famous and influential artists in the PNW and this article is the natural outcome of my findings.
I obviously don't have the background necessary to come up with this so this will be just a bit of my personal observations fleshed out by the far more professional and knowledgeable opinions of others (mostly the staff at the Seattle Art Museum and the few professionals at U-Dub that responded to my emails).
So, without further ado, here we go!
Famous & Influential Artists of the PNW
I actually have to give two disclaimers about this list before we start. First off, it's not in any sort of order. That would be too much pressure and I don't have the knowledge to stand behind any sort of ranking I would create.
Secondly, not all of these artists are from the PNW. Instead, they've all made what I felt were outsized contributions to the art scene here. Some of them were born here, others were educated here, and others relocated here later in life, but all have influenced (and were influenced by) the area.
First up is a name you'll have definitely heard before…
1. Dale Chihuly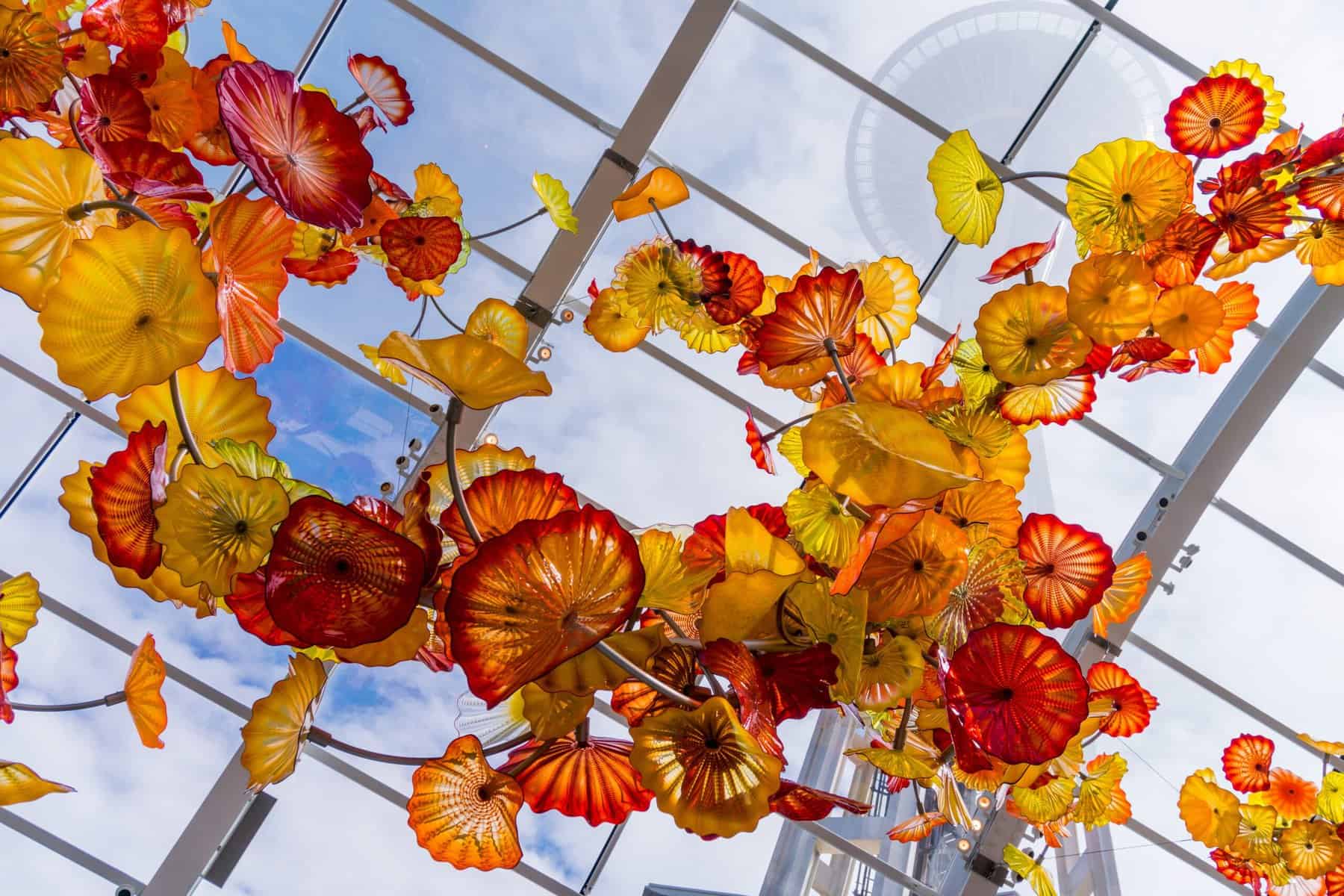 Dale Chihuly is a renowned glass artist from Tacoma, Washington. He is known for his bold, colorful glass sculptures featuring intricate, organic shapes and patterns. His artworks are inspired by nature, art history, and traditional glassmaking techniques.
You'll probably have seen his exhibits around Seattle but he has also had galleries in other locations around the world including the Metropolitan Museum of Art in New York City.
Chihuly has been creating art for over five decades and works with a team of skilled craftsmen to blow large amounts of molten glass into intricate shapes before quickly shaping them with tools.
He also creates blown-glass wall panels composed of hundreds of individual elements arranged in complex designs which are lit from behind to create an even more striking effect. In addition to his sculptures and wall panels, he paints using acrylics on paper or canvas as well as on blown glass forms he has created himself with bright colors like reds, blues, yellows, and greens.
In short, his work revolutionized modern glass art and continues to be influential in the Pacific Northwest today.
2. Barbara Earl Thomas
Barbara Earl Thomas is a critically acclaimed artist, curator, and author from Seattle, Washington. Her work spans several genres, such as painting, sculpture, installation art, poetry, and film. She draws inspiration from African and African-American culture, literature, and her own personal experiences in the area.
Many of her paintings explore themes of race and identity through muted colors and abstract shapes, with several of her pieces being exhibited around the world.
Thomas also creates installations out of found objects to explore themes such as "displacement due to gentrification".
Collectively her work has been internationally displayed in major institutions such as the Museum of Modern Art in New York.
3. Jacob Lawrence
Jacob Lawrence was a renowned painter and printmaker from Atlantic City, New Jersey who spent much of his career in the Pacific Northwest.
His vibrant and narrative works often depict African-American life and history with bright colors and simplified geometric forms. He was exposed to art early on due to his mother's involvement in the Harlem Renaissance and later on moved to Harlem with his family.
After studying at various schools, he taught at the University of Washington for two decades until his retirement in 1986.
Known as one of the foremost artists of the 20th century, Lawrence's artwork captured everyday life with an energetic style that is both captivating and inspiring. He also created series highlighting important events from African-American history such as The Migration Series which depicted the great migration during World War I when African-Americans moved north in search of better opportunities.
These pieces gave viewers vivid insight into history while still being accessible regardless of prior knowledge or experience.
4. Mark Tobey
Mark Tobey was a Pacific Northwest painter and calligrapher renowned for his abstract, expressive works that incorporate elements of Eastern spirituality and calligraphy.
His delicate and intricate lines, as well as his muted color palette, are considered some of the hallmarks of mid-20th-century art. He was born in Centerville, Wisconsin, and spent time in New York City before moving to Seattle in 1921 to teach at the Cornish School for five years.
Tobey's work was heavily influenced by spiritualism, Buddhism and Islamic culture. His use of calligraphic brushstrokes and geometric patterns can be seen in pieces such as "White Writing No. 1" (1956) and "The Mosque" (1959).
He also drew inspiration from nature, featuring trees, rocks, mountains, or clouds alongside intense color palettes to create dynamic compositions full of energy and movement. His artworks continue to be admired today with major institutions like the Museum of Modern Art in New York including them in their collections.
5. Ken Kelly
Ken Kelly is an iconic Pacific Northwest artist, born and raised in Portland, Oregon. He is celebrated for his vibrant oil paintings that feature fantasy themes and have been featured on many music and book covers.
Kelly's talent was nurtured from early on by a father who was an architect and taught him how to draw buildings—laying the groundwork for his artistic ability.
After studying various art disciplines at the University of Oregon, he went on to create dynamic album covers for bands such as Kiss and Rainbow, fantasy illustrations for books like Conan and Elric, and surreal scenes of nature.
His use of colors, textures, and brushstrokes makes his works come alive with emotion (at least in my opinion).
6. Lucinda Parker
Lucinda Parker is an award-winning painter from Portland, Oregon. Her unique style combines elements of realism and surrealism to capture the beauty of the Pacific Northwest.
Through her work, she explores themes related to nature and our relationship with it, often painting scenes from the rural areas near her home in Washington State.
The PNW influence seems obvious and her works are characterized by their dreamy quality, vibrant brushwork, and ethereal atmosphere.
Parker has exhibited in numerous public institutions such as the Portland Art Museum, Tacoma Art Museum, and Seattle Art Museum.
7. Michael Brophy
Michael Brophy is a celebrated painter and artist from Portland, Oregon, specializing in abstract expressionism. His works include bold abstracts and beautiful landscapes that are heavily influenced by the Pacific Northwest and his travels abroad.
Michael has been creating art for over 25 years and continues to share his work with galleries and museums throughout the region. He is best known for his expressive brushwork, vibrant colors, and textured layers that evoke strong emotions in viewers.
Michael's background in fine arts began at an early age, when he developed an interest in art while living in Seattle. He attended Cornish College of the Arts before earning his BFA from the University of Washington.
After graduating, he moved to Portland where his artistic career flourished as he experimented with multiple mediums including acrylic paint, photography, and collage.
Michael's works reflect both nature and personal experiences as well as literature, drawing on his travels to Italy or Mexico for inspiration; this diversity gives each piece a unique character that speaks to its viewers on an intimate level.
8. Morris Graves
Morris Graves (1910-2001) was a visionary artist from Fox Valley, Washington who was one of the leading figures in 20th-century American art.
His bold and mysterious works served as a major influence in the development of modern art within the region of the Pacific Northwest. His paintings were characterized by expressive, abstract forms that often incorporated elements from nature, Eastern spirituality, and European Romanticism. His color palette was ethereal, muted, and subtly refined, making his work distinct from other artists of his time.
Today, Morris Graves is remembered for revolutionizing painting techniques while introducing viewers to a new way of looking at things through abstraction–an innovation that continues to inspire today's generation of contemporary artists striving for creative excellence just like he did during his lifetime.
9. Paul Horiuchi
Paul Horiuchi (1906-1999) was an influential artist from Seattle who created works that explored the beauty and mystery of nature. He combined painting with materials such as wood, glass, fabric, and metal to create vibrant abstract pieces which often evoked natural landscapes.
Some of his most famous pieces include "Rain Forest" (1954) and "River Rhapsody" (1960).
For those looking to explore more about Horiuchi's life or view some examples of his work firsthand there are many resources available online or you can visit one of many public collections where his works are housed around the Seattle area such as Henry Art Gallery or Tacoma Art Museum.
His contribution to art during his lifetime has left a lasting legacy that today's generation continues to appreciate and draw inspiration from.
10. Kenneth Callahan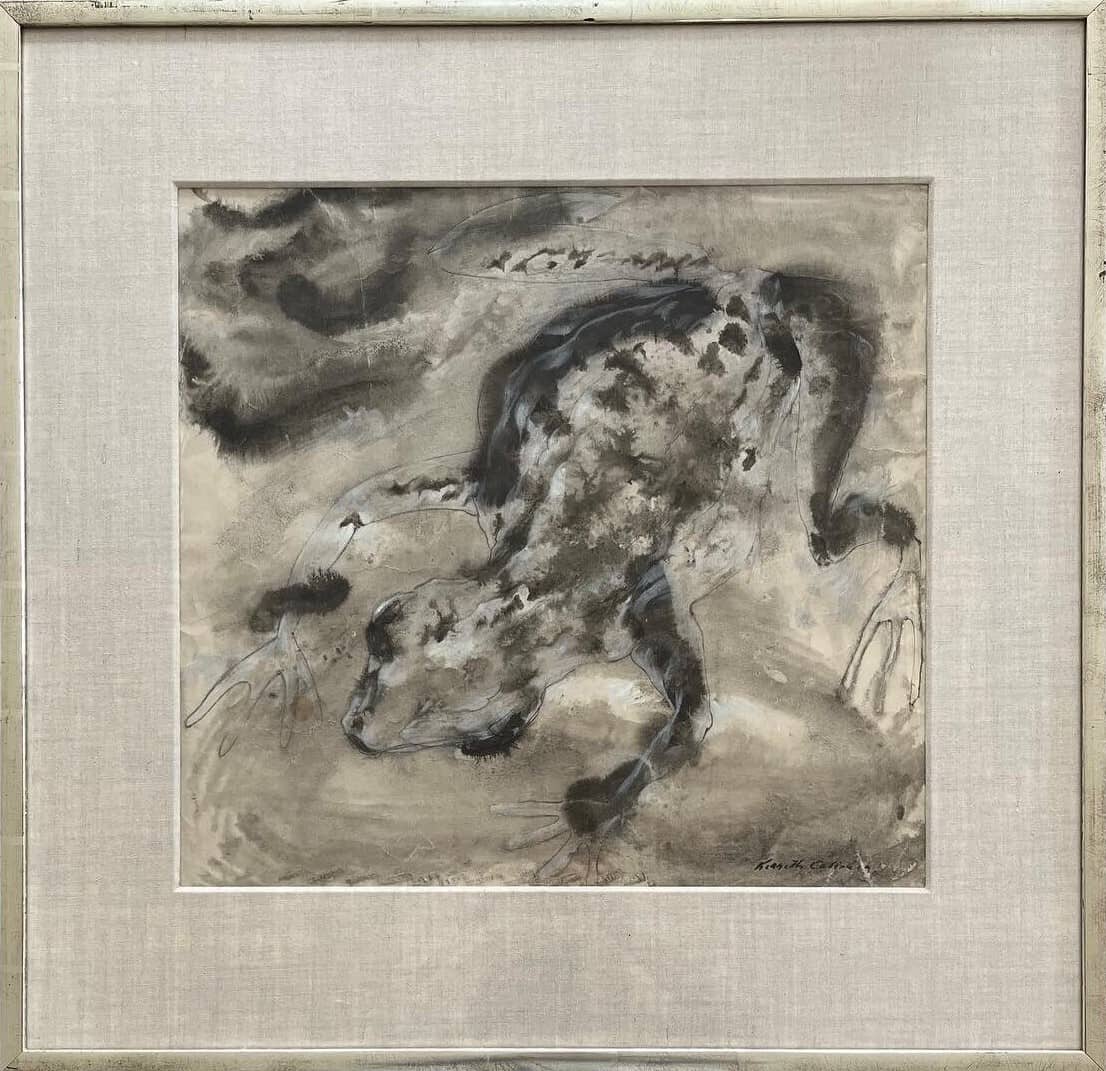 Kenneth Callahan was a painter and printmaker from Spokane, Washington who was a leading figure in the Pacific Northwest School of Art.
He is still renowned for his abstract works which often incorporate elements of nature and the human figure.
His work has been included in the collections of major institutions such as the Metropolitan Museum of Art in New York.
Callahan gained recognition after studying painting with George Tsutakawa and Leo Kenney at the University of Washington from 1928-1930. He then moved to San Francisco where he continued his studies with Otis Oldfield at the California School of Fine Arts from 1930-1931 before returning to Seattle to become part of the Northwest School – a group of influential modernist painters who brought abstract expressionism to the region.
Throughout his lifetime, Callahan created hundreds of pieces featuring landscapes, cityscapes, still lives, and figures that reflected his deep connection to the Pacific Northwest landscape.
He often used oil paint to evoke emotion or convey moods ranging from peacefulness to melancholy by using bold hues such as blues, greens, and oranges. There are also subtle references to elements found in nature such as mountain peaks or rolling hillsides that give his works their regional feel.
Kenneth Callahan's artwork is still relevant today due to its strong connection to the Pacific Northwest region. His bold colors and textures continue to resonate with viewers all over.
Conclusion
In conclusion, the Pacific Northwest is home to a rich array of influential, renowned, and remarkable artists.
While it's unlikely that I'll ever be able to include myself as one of them, I do enjoy art from the viewing side and I hope you've enjoyed learning about some of my favorites!
From painters and sculptors to musicians and authors, this region has produced a plethora of talented creatives who have left an indelible mark on their respective fields.
Hopefull you're inspired to view or create some art of your own. Good luck!