I'm not sure why but every little boy goes through a period when they love trains. Some of us just never grow out of it.
However, convincing my wife and two daughters to spend a day or more on a train or at a train museum requires a pretty good sales pitch. Unless, of course, we're looking for trains in the Pacific Northwest. Then, a train ride through the epic scenery pretty much sells itself.
The scenic and holiday train rides in the PNW are an amazing way to spend a day (or more) if you're in the area.
Train rides allow you to see areas in the PNW that you might never otherwise see (at least without lots of walking). Some of the trains in the PNW offer rides that last a few minutes while some last hours, some offer food in a dining car, and others are just a walkthrough museum.
So, if you can't convince anyone to visit train museums or ride trains with you indefinitely here is my shortlist of the best train experiences in the Pacific Northwest.
5 Best Train Experiences In The Pacific Northwest
1. Mt. Rainier Scenic Railroad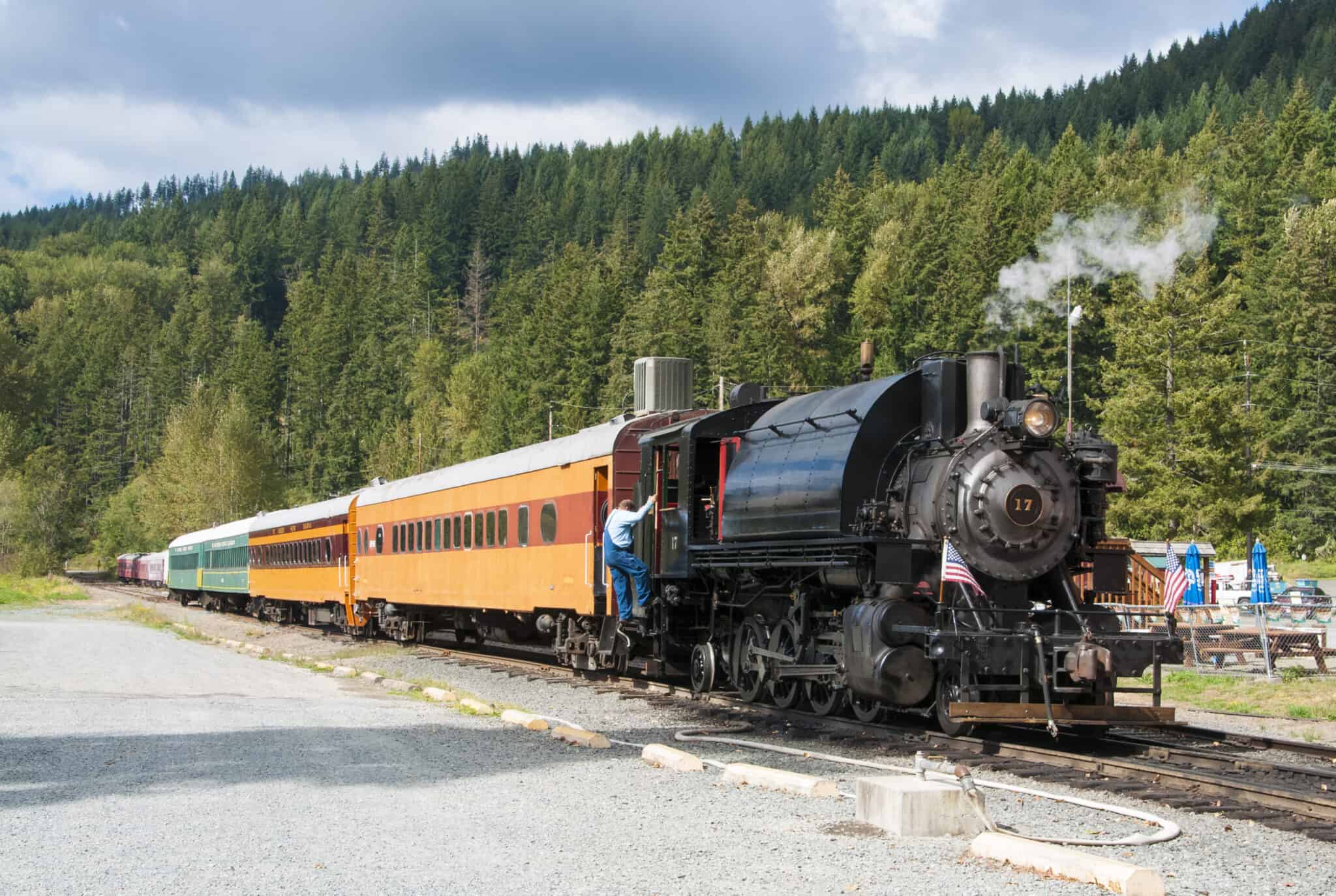 If you're looking to experience a bit of Mt. Rainier without donning a backpack then this short ride is a great way to do it.
The Mt. Rainier Scenic Railroad leaves from its station in Elbe Washington and spends 90 minutes winding 14 miles through the trees until it reaches Mineral Lake.
On the way, you'll enjoy a clear view of the entirety of Mt. Rainier (assuming clear weather) which is typically the highlight of the trip for people.
Depending on the time of year you decide to get tickets there are also themed events (notably Christmas and Halloween) as well as special rides.
You can find out more about the train and its current schedule on their website.
*2022 Update: Mt. Rainier Scenic Railroad has ceased operations due to the Pandemic and does not have a scheduled date to resume.
2. Snoqualmie Valley Railroad
If you're looking for a day trip from Seattle that includes some of the best scenery that the PNW has to offer, this is the trip for you.
The Snoqualmie Valley Railroad traverses over 5 miles of incredible waterfalls, mountain peaks, and pine trees on its way past Snoqualmie Falls.
While the ride isn't long, you can round out your day to Snoqualmie with a visit to the Northwest Railway Museum.
The museum is the operator of the rain line and offers an immersive experience about the antique railroad coaches they own and maintain.
Trains run for most of the summer and fall months (April through October, weather permitting) but you'll want to book a seat well in advance on their website!
3. Lewis and Clark Railroad (AKA Chelatchie Prairie Railroad)
I'll be honest, a trip to Portland these days really isn't up to much. Yes, there's still some great food and a grungy music scene but, apart from that, you might be better off giving the city a pass. Unless, of course, you're a railfan and plan to experience some of the scenery lying just outside of Portland.
A trip on the Lewis and Clark Railroad not only offers just about every type of PNW scenery you could ask for but stops for an hour at Moulton Falls Park. The park is a great place for lunch or a quick hike to Hidden Falls on Big Tree Creek.
There are several themed excursions available throughout the year that are especially fun for kids (we liked the Headless Horseman and the Christmas Train). Otherwise, any time is as good as another and you can get tickets online via their website.
4. Lake Whatcom Railway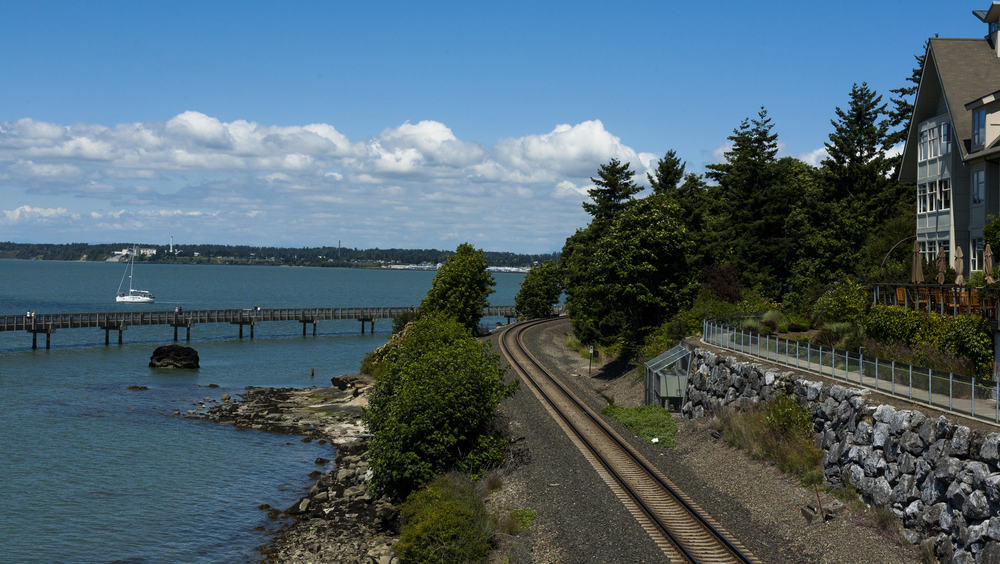 If you're visiting some historic towns in Northen Washington be sure to head to Lake Whatcom and take a ride on the railway. While they now use a diesel locomotive rather than steam you can still have an amazing time.
The Lake Whatcom Railway offers several trips centered around holidays such as Valentine's Day, Christmas, and Halloween.
The 90-minute ride from Wickersman passes through forests (as expected) and several tunnels which is always exciting for both kids and adults.
If you're really put off by the diesel locomotive, don't worry, most of the Pacific Northwest's trains (some from the early 1900s) are still on display.
Check out the Lake Whatcom Railway website for more info and tickets.
5. Chehalis-Centralia Railroad
The Chehalis-Centralia Railroad is so-name because it connects the two cities. However, it's not simply transportation. They offer a dinner ride, murder mysteries, and more.
While this is a rail line that I haven't personally had the opportunity to ride on it does pass through some great naturally scenic areas of old farmlands, forests, etc.
Check out their website here.
*2022 Update: Due to tracks being washed out the CCRR is currently not operational.
Conclusion
When you visit any of these museums or historic railways remember, it's a labor of love. The majority of the workers are volunteers who simply love the machinery, the history, and the atmosphere.
As such, the trains and rain lines seem to be out of operation quite regularly. Regardless, most museums are a good time for all that visit.
The PNW is one of the few historic locations in the United States where you can still enjoy a ride on an antique steam train while passing through rugged and beautiful scenery. So if you're here, give it a shot!