Ah, the Pacific Northwest, a land of stunning mountains, lush forests, and breathtaking coastlines. With so much to explore and experience, it's no wonder that this region is at the top of many adventure seekers' bucket lists.
However, there's simply too much to see to make a realistic bucket list unless you're lucky enough to live in the area.
Before we moved to Washington we could spend an entire week (or more) just visiting a small section of the coast, a single town, or a lake.
So what about the people who only have one chance to take it all in? Well, we've got you.
In just 7 stops you'll be able to get the best of what the PNW has to offer. This bucket list is unique because we'll have seven destinations and you can pick one of the three activities in each one. Don't worry, you can't really go wrong.
So let's get this bucket-list-choose-your-own-adventure started!
Table of Contents
Mount Rainier National Park
Just an hour and a half away from Seattle, Mount Rainier National Park is a must-visit destination for every PNW bucket list. The park offers breathtaking waterfalls, including Snoqualmie Falls, exhilarating train rides, and even scenic hot springs.
August is the prime time to witness the vibrant wildflowers and hike the famous West Coast Trail. Get ready to immerse yourself in the beauty of this stunning park and create memories that will last a lifetime.
Hike the Skyline Trail
Situated in the popular Paradise region on the southern side of the mountain, the Skyline Trail ranks among the best hikes in Mount Rainier National Park. The trail features:
Length: 5.5 miles
Elevation gain: 1,788 feet
Loop trail
Incredible scenery
From July to September, the weather is ideal for hiking the Skyline Trail or exploring the park by mountain bike. Don't miss the breathtaking panoramic views of the Cascade Mountains from Panorama Point, one of the most prominent features of the trail.
Visit Paradise Visitor Center
Nestled on the south side of Mount Rainier National Park, the Paradise Visitor Center is worth a visit for its extraordinary subalpine meadows and the nearby Jackson Visitor Center. This stunning area offers gorgeous views and an array of exciting activities to enjoy during your visit.
Make sure to stop by the visitor center to learn more about the park and its history, and to pick up maps and information about the best trails to explore.
Witness the Grove of the Patriarchs
Situated within Mount Rainier National Park, the Grove of the Patriarchs is a mesmerizing old-growth forest. This ancient forest is home to some of the oldest trees in the Pacific Northwest and is a sacred site for many Native American tribes.
Visitors can access the grove by taking the Skyline Trail from the Paradise Visitor Center and marvel at the towering trees that have stood the test of time. While exploring the Grove of the Patriarchs, enjoy activities like hiking, bird watching, and photography, as you immerse yourself in this awe-inspiring landscape.
Vancouver Island
Off the coast of British Columbia, Vancouver Island is a Pacific Northwest gem, teeming with a plethora of adventurous pursuits. From exploring the charming capital city of Victoria to discovering the lush wilderness of Strathcona Provincial Park, Vancouver Island is the perfect destination for a PNW bucket list road trip.
Prepare to be charmed by the island and to forge unforgettable memories.
Stroll through Butchart Gardens
Near Victoria, British Columbia, the enchanting Butchart Gardens, a National Historic Site of Canada, is a destination not to be missed. This breathtaking garden spans over 55 acres, showcasing a vibrant array of flowers, lush greens, and an extensive variety of plant species.
Visitors can wander through the beautiful gardens, take a ride on the carousel, or even enjoy High Tea at the Dining Room Restaurant (reservations recommended). The stunning beauty and serene atmosphere of Butchart Gardens make it a must-visit location on your Pacific Northwest bucket list.
Explore Victoria, the capital city
The capital city of British Columbia, Victoria, is a fantastic place to discover, boasting a rich history and fascinating attractions. Founded by the Hudson's Bay Company in 1843, Victoria became the capital of British Columbia in 1871.
From visiting the Royal BC Museum to strolling through the beautiful Butchart Gardens, there's so much to see and do in this charming city. Some popular attractions in Victoria include:
The Royal BC Museum
Butchart Gardens
Craigdarroch Castle
Inner Harbour
Beacon Hill Park
Fisherman's Wharf
The best time to visit Victoria is during the summer months when the weather is warm and sunny, providing the perfect atmosphere to enjoy the city's beauty and charm.
Adventure in Tofino for surfing and whale watching
Situated on the rugged west coast of Vancouver Island, Tofino is a haven for adventure lovers. Famous for its surfing and whale watching opportunities, this coastal town offers jaw-dropping scenery and an abundance of wildlife. Just a short distance away, you can also explore the stunning Cannon Beach.
The best time to surf in Tofino is during the fall and winter months, from September to March, when the waves are bigger and more consistent. For the best whale watching experience, head to Clayoquot Sound, the Tofino Inlet, or Wickaninnish Beach, where you can witness the magnificent creatures in their natural habitat.
Olympic National Park
Situated in the picturesque state of Washington, Olympic National Park is a sanctuary for those who love the outdoors. This diverse park features everything from rugged Pacific coastline to temperate rainforests and alpine mountains.
Whether you're hiking to Hurricane Ridge, exploring the magical Hoh Rainforest, or relaxing at Sol Duc Hot Springs, Olympic National Park offers a variety of thrilling outdoor adventures that will leave you in awe of the Pacific Northwest's beauty.
Hike to Hurricane Ridge
Offering fabulous views of the Olympic Mountains, Hurricane Ridge is the most easily accessed mountain area within Olympic National Park and a popular winter spot for hiking, snowshoeing, and skiing. Experience the breathtaking views and fresh mountain air as you hike to the ridge, taking in the incredible scenery that surrounds you.
The stunning panoramic views of the Cascade Mountains from the ridge are sure to leave a lasting impression and make your visit to Olympic National Park and Moon National Monument truly unforgettable.
Discover the Hoh Rainforest
Located on the Olympic Peninsula in western Washington state, the Hoh Rainforest is one of the largest temperate rainforests in the U.S. This lush, green wonderland receives up to 170 inches of rain each year, making it a truly unique and awe-inspiring destination.
Wander through the forest, taking in the sights and sounds of this incredible ecosystem, and marvel at the ancient trees, moss-covered branches, and vibrant ferns that call the Hoh Rainforest home.
Relax at Sol Duc Hot Springs
Unwind at the tranquil Sol Duc Hot Springs after a day of hiking and exploring Olympic National Park. With a rich history dating back to the early 1900s, the hot springs offer three outdoor soaking pools, a sauna, and a steam room, all filled with natural hot spring water heated to temperatures ranging from 98 to 104 degrees Fahrenheit.
Relax and rejuvenate in the soothing waters, surrounded by the park's natural beauty, and let the day's adventures melt away.
Oregon's Scenic Wonders
With an abundance of scenic wonders and a diverse range of landscapes and attractions, Oregon provides the ultimate Pacific Northwest experience. Some of the highlights include:
Wandering through the mesmerizing Painted Hills
Marveling at the pristine waters of Crater Lake National Park
Exploring the awe-inspiring rock formations at Smith Rock State Park
Prepare to delight in the breathtaking beauty that awaits you in Oregon.
Whether you're looking for a relaxing getaway or an adventure-filled vacation, Oregon has
If we're limiting it to a single destination you'll have to just pick one of these (I'd recommend Crater Lake) but you can't really choose wrong.
Wander through the Painted Hills
Located in Wheeler County, Oregon, the Painted Hills are a geologic marvel truly worth beholding. Known for their vibrant and varied colors, these hills are a result of different layers of volcanic ash and minerals, creating a landscape that appears almost otherworldly.
Visitors can experience the unique landscape by hiking, biking, or horseback riding on the various trails throughout the area. Witnessing the beauty of the Painted Hills is an absolute must-see for anyone looking to explore the unique geology and vibrant colors of the Pacific Northwest.
Marvel at Crater Lake National Park
Situated in southern Oregon, Crater Lake National Park houses the deepest and clearest lake in the United States. Formed over 7,000 years ago by the collapse of a volcano, the pristine waters of Crater Lake offer breathtaking views and a serene atmosphere.
Explore the park's natural and cultural history by participating in ranger-led programs, such as guided hikes and boat tours, or simply take in the magnificent scenery from one of the many viewpoints around the lake.
Explore Smith Rock State Park
An extraordinary destination in Oregon, Smith Rock State Park offers a variety of outdoor adventures for thrill-seekers and nature enthusiasts. Some of the activities you can enjoy at the park include:
Rock climbing
Hiking trails
Fishing spots
Scenic viewpoints
Whether you're looking for an adrenaline-pumping experience or a peaceful hike surrounded by stunning scenery, Smith Rock State Park has something for everyone.
Whether you're an experienced climber or simply looking to take in the awe-inspiring landscape, Smith Rock State Park is a must-visit destination on your PNW bucket list.
Washington Wine Country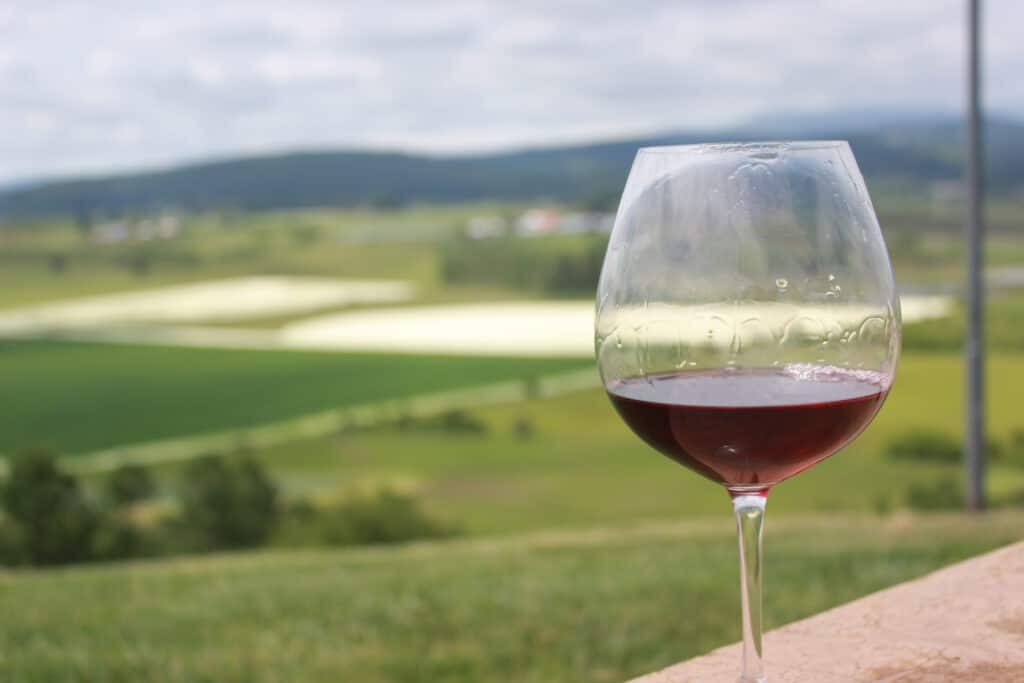 Boasting delicious wines and picturesque vineyards, Washington Wine Country is the quintessential destination for wine aficionados and food enthusiasts. From tasting wines in Woodinville Wine Country to touring the Red Mountain AVA and attending the annual Auction of Washington Wines, prepare to savor the incredible flavors and experiences that Washington Wine Country has to offer.
Whether you're looking for a romantic getaway or a fun-filled weekend with friends,
Taste wines in Woodinville Wine Country
In the Seattle metropolitan area, Woodinville Wine Country houses an array of wineries, tasting rooms, and wine bars for an unforgettable wine tasting journey. Sample a wide range of wines, including Cabernet Sauvignon, Sangiovese, and red blends, while learning about the unique terroir and winemaking techniques of the region.
A visit to Woodinville Wine Country, including a stop at the Blue Grouse Estate Winery, is sure to delight your senses and leave you with a greater appreciation for the art of winemaking, especially during the Skagit Valley Tulip Festival.
Tour the Red Mountain AVA
Noted for producing high-quality red wines like Cabernet Sauvignon, Merlot, and Syrah, the Red Mountain AVA is a wine-growing region nestled in the Yakima Valley of Washington State. With over 40 wineries and vineyards to explore, including Col Solare, Kiona, and Terra Blanca, the Red Mountain AVA offers a unique and memorable wine tasting experience.
The best time to visit is during the summer months when the vineyards are in full bloom, providing the perfect backdrop for sipping and savoring the region's finest wines.
Attend the annual Auction of Washington Wines
Organized by the Northwest Wine Benefit Foundation, the annual Auction of Washington Wines is a charity event fostering growth and awareness of the Washington state wine industry. Featuring exclusive wine lots and experiences from Washington's top wineries, the auction raises money for local charities and organizations.
Since its inception, the event has raised over $55 million, benefiting Washington State University's Viticulture & Enology Program and other organizations. Don't miss this opportunity to taste and bid on some of the finest wines Washington has to offer while supporting a great cause.
British Columbia
Known for its diverse and awe-inspiring landscapes, British Columbia offers endless opportunities for adventure and exploration. From driving the scenic Sea-to-Sky Highway to hiking in Garibaldi Provincial Park and skiing or snowboarding at Whistler Blackcomb, your journey through British Columbia's stunning landscapes will leave you with memories that last a lifetime.
Drive the Sea-to-Sky Highway
Stretching from Vancouver to Whistler, British Columbia, the Sea-to-Sky Highway is a scenic drive offering captivating views and outdoor activities en route. Stop at the Stawamus Chief, a 2,227ft granite dome overlooking the city of Squamish, and take in the incredible views of Howe Sound and the surrounding mountains.
Don't miss the chance to ride the Sea to Sky Gondola, which offers an awe-inspiring view of the area and allows visitors to traverse a suspension bridge for an added thrill.
The Sea-to-Sky Highway is a must-drive route for anyone looking to explore the natural beauty of British Columbia.
Hike in Garibaldi Provincial Park
Situated on the coastal mainland of British Columbia, Garibaldi Provincial Park is famed for its stunning alpine meadows, vibrant wildflower blooms, and towering glaciers. The park offers a variety of hiking trails, ranging from easy to difficult, making it the perfect destination for hikers of all skill levels.
Whether you're looking for a leisurely stroll through the park or an intense trek to the summit of a mountain, Garibaldi Provincial Park has a trail that's perfect for you.
Ski or snowboard at Whistler Blackcomb
One of the largest ski resorts in North America, Whistler Blackcomb is a winter haven for both skiers and snowboarders. With a vast array of slopes and terrain to choose from, Whistler Blackcomb caters to all skill levels, from beginners to experts.
In addition to skiing and snowboarding, visitors can also enjoy a variety of other winter activities, such as snowshoeing, ice climbing, and snowmobiling. No matter your skill level or preferred winter sport, Whistler Blackcomb is sure to provide an unforgettable experience.
San Juan Islands
The serene San Juan Islands, an archipelago nestled between the Washington state mainland and Victoria, BC, provide a perfect retreat from the city's hustle and bustle. With charming towns like Friday Harbor, outdoor adventures such as:
kayaking around Orcas Island
hiking in Moran State Park
whale watching in the Salish Sea
biking along scenic trails
exploring the historic lighthouses
And the enchanting bioluminescent waters of Bioluminescent Bay, the San Juan Islands provide a peaceful retreat for those looking to unwind and reconnect with nature.
Explore Friday Harbor
Offering a slower pace and a rich history, Friday Harbor is a charming and historic seaport town on San Juan Island. Some things to do in Friday Harbor include:
Strolling through the town's picturesque streets
Visiting the Whale Museum
Learning about the area's fascinating past at the San Juan Historical Museum.
Friday Harbor is also the perfect base for exploring the surrounding islands, with plenty of opportunities for whale watching, kayaking, and hiking in the nearby area.
Kayak around Orcas Island
Noted for its stunning views and rich wildlife, Orcas Island is an ideal destination for those passionate about kayaking. The best time to kayak around Orcas Island is between May and September when the chances of spotting orca whales and other water-dwelling creatures are highest.
Paddle through the tranquil waters, taking in the stunning scenery and observing the diverse marine life that calls this island home.
Witness the bioluminescent waters of Bioluminescent Bay
Bioluminescent Bay is a magical natural phenomenon where certain bays or lagoons emit a stunning glow at night. Caused by microorganisms that produce light when disturbed, the bioluminescent waters create a truly unique and enchanting atmosphere.
The best way to witness this captivating spectacle is by booking a tour with a local guide, who can ensure you make the most of this once-in-a-lifetime experience.
Seattle
A vibrant city in the Pacific Northwest, Seattle boasts a range of iconic attractions sure to delight and inspire visitors. Some of the must-see sights and experiences in this thriving metropolis include:
Pike Place Market
Space Needle
Chihuly Garden and Glass
Museum of Pop Culture
Seattle Art Museum
Seattle Great Wheel
Seattle Aquarium
Olympic Sculpture Park
With so much to offer, Seattle is a destination that should not be missed.
And for a truly unique Seattle experience, why not rent a hot tub boat on Lake Union and soak in the city skyline from the water?
Visit Pike Place Market
For anyone exploring Seattle, the visit wouldn't be complete without a stop at Pike Place Market. Here are some reasons why:
It is one of the oldest and largest continuously operating public markets in the United States.
There are hundreds of stalls selling everything from handmade crafts to fresh salmon and stunning flower arrangements.
The market is bustling with activity and has a vibrant atmosphere.
There's something for everyone at Pike Place Market.
Don't forget to check out the famous fish-throwing show, the farmers market, and the craft market, all of which contribute to the lively atmosphere of Pike Place Market.
Ascend the Space Needle
An iconic observation tower in Seattle, the Space Needle soars to a height of 605 feet and provides a breathtaking 360-degree view of the city. From the top, visitors can enjoy stunning views of:
the city skyline
Mount Rainier
the Olympic and Cascade Mountains
Elliott Bay
Easily accessible by car, bus, or light rail, the Space Needle is an essential stop for anyone looking to experience the best of Seattle's attractions.
Summary
In conclusion, the Pacific Northwest is a treasure trove of stunning landscapes, thrilling outdoor adventures, and unforgettable experiences. From the majestic peaks of Mount Rainier National Park to the tranquil waters of the San Juan Islands, this incredible region offers something for everyone. So pack your bags, hit the road, and embark on the ultimate PNW bucket list adventure. Happy exploring!