Portland Travel Guide
Michelin Star Restaurants In Portland • Day Trips To The Oregon Coast • What Mountains Can You See From Portland? • Worst Neighborhoods In Portland • Politics In Portland • Islands Near Portland • Best Lesser-Known Beaches In Oregon • Oregon Beach Camping • Best Small Towns Near Portland
Nestled between the Pacific Ocean and the Cascade Mountains, Portland, Oregon, is a vibrant city with a unique blend of natural beauty, artsy enclaves, and delicious culinary experiences. Known for its eco-friendliness, microbreweries, and coffee culture, Portland charismatically intertwines the charm of a small-town atmosphere with the innovative spirit of a metropolis.
And it's completely not true that Portland is just Seattle's dirty little brother…Portland is its own kind of loveably strange with its own quirks.
So as you embark on your Portland adventure, there's an extensive array of activities and sights to immerse yourself in. From exploring the stunning Columbia River Gorge to wandering around Powell's City of Books or savoring mouth-watering bites from the city's famous food carts, the possibilities for a memorable trip are endless. Venture into Portland's quirky neighborhoods, lush parks, and bustling downtown to truly experience all the City of Roses has to offer.
Whether you're a foodie, an outdoor enthusiast, or an art aficionado, you'll find plenty to see and do in the beautiful Pacific Northwest city of Portland, Oregon. With a welcoming atmosphere and a myriad of attractions, ready yourself for an unforgettable getaway packed with marvelous discoveries and enchanting, memorable experiences.
Table of Contents
Essential Portland Information
Climate and Best Time to Visit
Portland, Oregon, also known as the City of Roses, is located in the northwestern region of the US. The city experiences a temperate climate with cool and rainy winters and warm, dry summers. The rain can sometimes persist from late September well into June, making outdoor activities a bit challenging during this time.
However, the best time to visit Portland is between June and September when the city offers pleasant weather and a range of outdoor festivals and events. During these months, you can enjoy an average temperature of around 70°F (21°C), making it ideal for exploring the city and its surroundings.
However, not all of us have the luxury of visiting whenever we want. If you're sandwiching a trip to Portland in between scout camp and a dance recital, here's what to expect during whichever part of the year you can visit.
Late Spring (May to June)
Late spring is an ideal time to explore Portland, as the city bursts into life with blooming flowers and warming temperatures. The city's famous International Rose Test Garden, home to over 10,000 rose bushes, reaches peak bloom in June, making it the perfect opportunity to stroll through the fragrant garden and snap stunning photographs. Additionally, May and June offer a variety of outdoor events and festivals, such as the Portland Rose Festival, which features parades, live music, and waterfront activities.
Summer (July to August)
Summers in Portland are marked by pleasant temperatures, with highs typically ranging from the mid-70s to mid-80s Fahrenheit, and relatively low humidity. This is an excellent time to explore the city's many outdoor attractions, including Forest Park, the Oregon Zoo, and the picturesque Columbia River Gorge. Summer evenings are perfect for enjoying outdoor dining at Portland's renowned restaurants or catching a movie at one of the city's outdoor cinemas. Keep in mind that summer is the peak tourist season, so expect higher accommodation rates and busier attractions.
Early Fall (September to October)
Early fall offers a slightly cooler but still comfortable climate, with temperatures ranging from the mid-60s to mid-70s Fahrenheit. As the summer crowds dwindle, you'll find shorter lines at popular attractions and better deals on accommodations. The fall foliage in and around Portland is truly breathtaking, making it an ideal time for scenic drives or hikes through Forest Park. Additionally, autumn brings the popular Feast Portland, a multi-day food and drink festival that showcases the city's culinary talents and local ingredients.
Getting Around In Portland
Getting around Portland is relatively easy due to its efficient public transportation system. The city boasts an international airport, the Portland International Airport (PDX), which serves as a main hub for travelers.
The following are some of the main options for transportation in Portland:
TriMet Public Transit: TriMet operates buses, light rail (MAX), and streetcars, providing efficient services throughout the Portland metropolitan area.
Biking: Portland is an extremely bike-friendly city with numerous bike lanes and bike-sharing options, making it easy to explore the city on two wheels.
Car-sharing and rentals: If you prefer to drive, there are multiple car-sharing services like Zipcar and car rental companies located throughout the city.
Regardless of the season or mode of transportation, Portland offers countless opportunities for exploration and enjoyment. With its unique attractions and vibrant culture, there's always something new to discover in this Pacific Northwest gem.
We always either driver our personal car or rent a car in Portland if we're going to be there for more than a day or two as many of the things we want to do (outdoor things) are far enough apart that Ubering gets expensive.
Staying Safe In Portland
Even with the rise of homelessness and crime, I don't consider Portland to be a dangerous city. However, you should be aware of where you are and have a plan to be somewhere safe (or at least well-lit and touristy) when it starts getting dark.
Violent crime is lower than the national average, but theft, larceny, vandalism, car theft, and assault are more prevalent in the Downtown area, Hazelwood, and Northwest neighborhoods.
To ensure a safe visit, plan your route in advance, stay in well-populated areas, secure your valuables, avoid engaging with individuals exhibiting erratic behavior, and use secure parking facilities. By taking precautions and using common sense, visitors can enjoy a safe and enjoyable stay in Portland.
Top Attractions and Activities
If you're looking for activities within a specific category, Portland runs the entire gamut of available activities. From food to culutur to the outdoors, we've got it all! Let's take a look:
Outdoor Adventures and Nature
Portland is known for its vast array of outdoor activities, thanks to its beautiful natural surroundings. One popular destination is the expansive Forest Park, where you can enjoy miles of hiking and biking trails. For a breathtaking view of the city and surrounding landscape, head to Pittock Mansion.
Gardens lovers should not miss the Portland Japanese Garden and the International Rose Test Garden, both located within Washington Park.
Arts, Culture, and Museums
Art enthusiasts can explore the Portland Art Museum, which features a diverse collection of artwork, including contemporary, Native American, and Asian pieces. The Oregon Museum of Science and Industry is a great destination for families, offering interactive exhibits and the chance to explore a real submarine.
For a more immersive cultural experience, the Lan Su Chinese Garden offers a tranquil oasis in the heart of the city, while fans of the quirky comedy show "Portlandia" can see iconic locations featured in the television series on a guided tour.
Shopping and Dining
No trip to Portland would be complete without sampling some of the city's unique eats. The iconic Voodoo Doughnut is a must-visit for a taste of its inventive doughnuts, while the Portland Saturday Market (March through December) offers a variety of food trucks and local vendors selling handmade crafts and other souvenirs.
For a more upscale shopping experience, visit the chic boutiques and well-known stores available in the trendy Pearl District. Finally, indulge in Portland's blossoming food scene by dining at popular restaurants that showcase the city's focus on farm-to-table cuisine and local, sustainable ingredients.
Now, if you're looking for a specific list of the best things to do in Portland, I've got that too! Just be aware that some of these are a bit off the beaten path so, if these are all you do, you may miss some of the more touristy attractions…
My Favorite Things To Do In Portland
Oh and had a hard time narrowing it down (there's a lot to do in Portland) so this list may be a bit exhaustive. Or maybe just exhausting…
Indoor Activities
1. Powell's City of Books
For bibliophiles, a trip to Powell's City of Books is a must. This iconic bookstore spans an entire city block, housing over a million new and used books. With its endless shelves, cozy reading nooks, and knowledgeable staff, you could easily lose track of time in this literary haven.
2. Portland Japanese Garden
The Portland Japanese Garden is a serene oasis in the heart of the city. Offering beautiful landscapes and authentic Japanese architecture, it's a perfect spot to find some tranquility amidst your busy itinerary. Enjoy a peaceful stroll through the meticulously designed gardens or take part in a traditional tea ceremony.
3. Oregon Museum of Science and Industry (OMSI)
OMSI is a must-visit destination for anyone interested in science and technology. With its hands-on exhibits, planetarium, and submarine tours, the museum provides an engaging and interactive experience for visitors of all ages. Don't miss the opportunity to spark your curiosity and ignite your imagination.
4. Portland Art Museum
The Portland Art Museum is home to an impressive collection of art from both local artists and those from around the world. Featuring works from European masters, Native American artists, and contemporary creatives, the museum offers a diverse and inspiring experience. Check out their rotating exhibits for a fresh perspective on the art world.
5. Washington Park
Covering more than 400 acres, Washington Park is a beautiful green space perfect for outdoor enthusiasts. With miles of hiking trails, the International Rose Test Garden, and the Oregon Zoo, and the World Forestry Center Discovery Museum this park is the ideal spot to spend a sunny day in Portland.
6. International Rose Test Garden
With over 10,000 rose bushes representing more than 650 varieties, the International Rose Test Garden is a fragrant and colorful paradise. Visit during the summer months to see the roses in full bloom, and don't forget to stop by the Shakespeare Garden, which features plants mentioned in the Bard's works.
7. Lan Su Chinese Garden
Lan Su Chinese Garden is an exquisite Ming Dynasty-style garden in the heart of downtown Portland. The tranquil space offers a glimpse into Chinese culture and history through its intricate architecture, koi-filled ponds, and traditional tea house.
8. Pittock Mansion
Built in 1914, the historic Pittock Mansion offers stunning views of the city and surrounding mountains. Tour the beautifully restored rooms and learn about the lives of Henry and Georgiana Pittock, who played a significant role in shaping Portland's early history.
9. Portland Saturday Market
Since 1974, the Portland Saturday Market has been a beloved weekend tradition. Browse the stalls of local artisans, sample delicious food, and enjoy live music at this vibrant and bustling market. It's a perfect spot to find unique gifts and souvenirs to take home.
10. Portland Timbers and Thorns
FC Soccer fans, rejoice! Catch a match featuring the city's professional soccer teams, the Portland Timbers (men) and Thorns FC (women). Feel the electric atmosphere as you cheer on your favorite players and get swept up in the excitement of the game.
11. Voodoo Doughnut
No trip to Portland would be complete without a visit to the iconic Voodoo Doughnut. Known for its eclectic decor and quirky doughnut creations, this beloved bakery is a must-try. Indulge in one (or more) of their delicious and inventive treats, like the Bacon Maple Bar or the Voodoo Doll doughnut.
Just be prepared to wait in line for up to an hour as everyone else in the world will be there too.
And, while this might be an unpopular opinion, I'll share it if you're limited on time and don't know if it's worth it….it's not. The doughnuts are good but you can get doughnuts just as good (or better) elsewhere without the wait. It's the experience people are after.
12. Portlandia Statue
Pay a visit to the second-largest hammered copper statue in the United States (who keeps track of these things??), the Portlandia Statue. This majestic sculpture, inspired by the city's seal, embodies the spirit of Portland. Don't forget to snap a photo with this iconic piece of public art.
13. St. Johns Bridge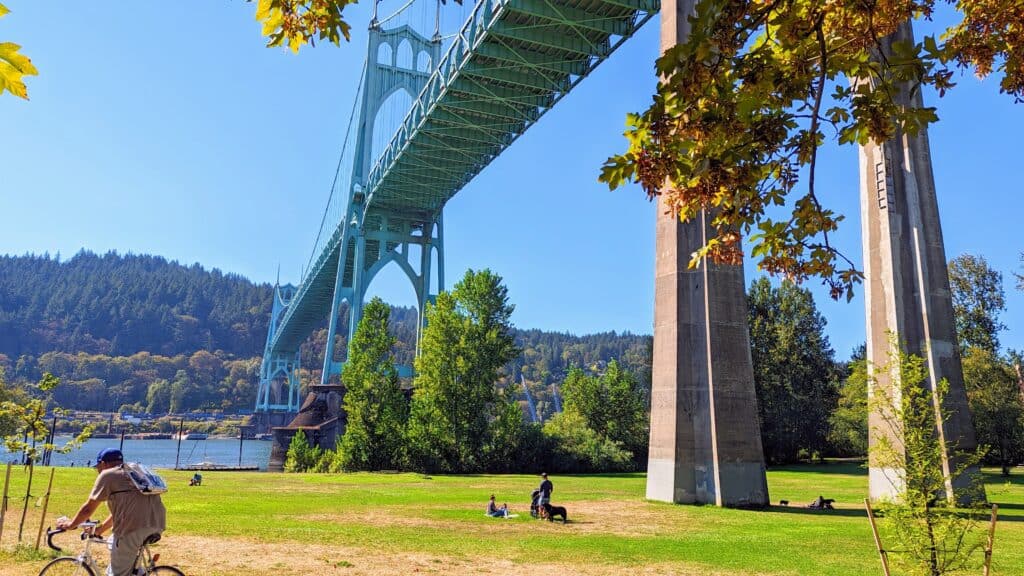 The stunning St. Johns Bridge spans the Willamette River and offers breathtaking views of the surrounding area. With its elegant gothic architecture, the bridge is a favorite spot for photographers and a picturesque location for a leisurely walk or bike ride.
14. Oregon Zoo
Located in Washington Park, the Oregon Zoo is probably my second favorite zoo in the PNW (behind Woodland Park Zoo). It is home to over 2,000 animals representing 215 species. Here, you can learn about wildlife conservation efforts while exploring exhibits featuring elephants, penguins, and more. Don't miss the chance to see the zoo's many rescued animals, who have found a loving home in Portland.
15. Hawthorne District
The eclectic Hawthorne District is a lively neighborhood known for its vintage shops, artisan boutiques, and diverse dining options. Spend an afternoon strolling through this bohemian haven, and don't forget to visit the historic Bagdad Theater (and pub) for a movie and a slice of pizza.
16. Pioneer Courthouse Square
Known as "Portland's Living Room," Pioneer Courthouse Square is a bustling urban plaza that hosts numerous events and activities throughout the year. Grab a bite at one of the surrounding food carts, people-watch, or catch a live performance in this vibrant public space.
17. Tom McCall Waterfront Park
Running along the west bank of the Willamette River, Tom McCall Waterfront Park offers scenic views, walking paths, and a variety of outdoor activities. Rent a bike and explore the park, or enjoy one of its many events, like the annual Waterfront Blues Festival or the Portland Rose Festival.
18. Alberta Arts District
The Alberta Arts District is a vibrant neighborhood showcasing the creative spirit of Portland. Discover colorful murals, unique shops, and bustling galleries as you wander the streets. Don't miss Last Thursday, the district's monthly art walk, where local artists and performers showcase their work.
19. Oaks Amusement Park
Oaks Amusement Park is a charming, vintage amusement park perfect for a fun-filled day with the family. Enjoy classic rides like the roller coaster and carousel, or try your hand at mini-golf and arcade games. The park also features a roller-skating rink for some nostalgic entertainment.
Outdoor Activities
1. Multnomah Falls Hike
Embark on a 2.6-mile round-trip hike to the iconic Multnomah Falls, the tallest waterfall in Oregon, standing at an impressive 620 feet. The well-maintained trail leads you to the Benson Bridge, offering a breathtaking view of the falls, before continuing to the top for an even more stunning panorama. Be sure to bring your camera!
2. Mount Hood
As the highest peak in Oregon at 11,250 feet, Mount Hood offers numerous trails and hikes for various skill levels. Experience the beauty of the Timberline Trail, a 41-mile loop around the mountain, or the family-friendly Mirror Lake Trail, which features a serene alpine lake. Mount Hood also offers skiing and snowboarding in the winter months, making it a year-round destination for outdoor enthusiasts.
3. Cannon Beach
Cannon Beach is a picturesque beach town known for its stunning views of the 235-foot Haystack Rock, intricate tide pools, and miles of sandy beach. It makes a great day trip from Portland where you can enjoy beachcombing, kite flying, and surf lessons, while exploring the quaint shops and galleries in the town. The annual Sandcastle Contest is a popular event, attracting both locals and tourists alike.
4. Columbia River Gorge Hike
Explore the breathtaking Columbia River Gorge with a scenic hike that offers multiple trails and waterfalls to discover. Some highlights include the enchanting Oneonta Gorge and the 176-foot Horsetail Falls. Don't miss the opportunity to hike the historic Eagle Creek Trail, which provides an up-close experience of the awe-inspiring canyon walls and lush greenery.
5. Forest Park Hike
Delve into the lush greenery of Forest Park, the largest urban forest in the United States, boasting over 80 miles of trails. Popular hikes include the Wildwood Trail and the Maple Trail Loop. The park provides a serene escape from the city, with its towering trees, babbling streams, and diverse flora and fauna.
6. Willamette Valley Wine Tasting
Embark on a tour through the picturesque Willamette Valley, renowned for its world-class Pinot Noir wine and scenic vineyards. Visit charming wineries, sample exquisite wines, and learn about the region's unique terroir. Some notable vineyards that I would recommend to first timers include Sokol Blosser Winery, Domaine Serene, and Argyle Winery.
7. Sauvie Island
Sauvie Island, a large island on the Columbia River, is a popular destination for its wildlife refuge, sandy beach, and seasonal pumpkin patch. Birdwatchers will delight in the diverse species that call the island home, while families can enjoy picking fresh fruit at the island's many U-pick farms during the harvest season.
8. Mount St. Helens
Hike to the summit of the famous Mount St. Helens, an active stratovolcano with a fascinating history surrounding its 1980 eruption. Learn about the volcanic event and its impact on the environment while taking in the stunning views of the surrounding landscape. The area offers numerous trails and visitor centers to suit a variety of interests and skill levels.
9. Powell Butte
Experience the beauty of Powell Butte Nature Park with a scenic hike or bike ride through its diverse landscape. The park offers panoramic views of the city and the surrounding mountains, including Mount Hood, Mount St. Helens, and Mount Adams. Explore the park's network of trails that meander through meadows, forests, and wetlands, providing a peaceful retreat from the city.
10. Portland Waterfront Park
Located along the Willamette River, Portland Waterfront Park is a scenic park featuring a walking path, bike trail, and outdoor concerts in the summer. Enjoy a leisurely stroll along the river
Now, the things you do will, of course, be influenced by where you choose to stay. Or maybe you're one of those people who don't really care where you stay and choose your lodging based on what you want to do.
Either way, I've got recommendations.
Where To Stay In Portland
Choosing a hotel location in Portland, Oregon, largely depends on your preferences and interests.
Downtown Portland is often recommended for first-time visitors due to its central location, ease of access to public transport, and a plethora of noteworthy museums, galleries, food trucks, and street markets. It's also home to some of the city's most iconic sights, like the "Keep Portland Weird" mural.
For those on a budget, the Old Town area, which lies adjacent to the Willamette River, is a good choice. This eclectic district offers a blend of history, culture, and gastronomy, with cheaper accommodation options but still great proximity to the city center​.
Most hotels in Portland are located in these areas, but depending on your preferences, you might also consider hotels in other areas of the city. For example, if you prefer a more residential neighborhood, Northwest Portland might be more suitable, or if you are interested in the arts and shopping, the Pearl District could be a good fit.
Luxury Option: The Nines
For those seeking a luxurious stay in the heart of the city, The Nines, a Luxury Collection Hotel, is a premier choice. Located in downtown Portland, The Nines offers its guests a unique, sophisticated experience, starting from the moment they step off the elevator. Instead of stepping into the bustling streets, guests are welcomed into a light-filled atrium eight stories above the ground. This atrium, filled with dramatic custom art installations from the hotel's substantial collection, serves as the hotel's lobby and provides a tranquil respite from the city's hustle and bustle.
The hotel's amenities include an on-site restaurant, Urban Farmer, where guests can enjoy a glass of local Willamette Valley wine. For those who love to mix luxury with a bit of entertainment, The Nines has one of the best rooftops in downtown Portland and hosts a stylish, fast-moving crowd. The hotel's art-forward aura provides plenty of entertainment, whether you choose to explore the city or enjoy the premises​.
Family-Friendly Option: McMenamins Kennedy School
McMenamins Kennedy School is a unique, family-friendly accommodation option in Portland. This converted WWI-era elementary school has been saved from demolition by the McMenamin brothers, known as the region's quirkiest development duo. The school's classrooms have been transformed into comfortable guest rooms, complete with queen beds, private bathrooms, and full-sized chalkboards, maintaining the charm of their previous function.
The old school auditorium is now a cozy lounge area, lined with sofas and overstuffed chairs, where families can relax and watch movies while enjoying popcorn, pizza, and pints. The former teachers' lounge has been converted into a saltwater soaking pool, providing a fun and unique way for families to unwind after a day of sightseeing. The McMenamins Kennedy School offers a unique experience that both kids and adults will love, making it the perfect family-friendly stay in Portland​.
Budget Option: The Society Hotel
The Society Hotel is a great option for budget-conscious travelers who don't want to compromise on style or location. This hotel, first built in 1881 by the Portland Seamen's Friend Society, was originally known as The Mariners Building. It served as a boarding home dedicated to helping sailors stay on the straight and narrow and avoid the infamous Shanghai Tunnels. The hotel was renovated in 2013, and many historical items uncovered during the renovation are on display throughout the building, adding a unique charm.
Not just favored by history buffs and high-end hostelers, The Society Hotel is a hit among young adventurers looking for affordable yet stylish accommodations in downtown Portland. The hotel staff are always ready to assist guests in finding their way around the city and offer excellent recommendations for restaurants, bars, live music, late-night eats, food carts, and clubs. They even have a wall board filled with handwritten suggestions for exciting and unusual things to do in the city, making this hotel a great base for exploring Portland on a budget​ (meaning less than $150/night).
Best Places To Eat
Portland has a million places to eat (probably literally) and I attribute it to the legalization of marijuana in the state. Not really…but there are a lot of food trucks.
Speaking of food trucks, any sort of street food is probably your best bet if you want the best food possible for the money. You can get heaping amounts of excellent food from pretty much anywhere in the world if you're in the right spot in Portland.
While there are a lot of great restaurants still in Portland, Covid was extremely brutal to the city's food scene so several places that I used to recommend can lo longer be included here. I'll do my best to eat everything I can next time I'm in Portland for an extended trip and expand this list.
However, if you're looking to make your meal times a bit more of an event, any of the following are solid options.
Le Pigeon
This exquisite fine dining establishment is known for its innovative French-inspired cuisine crafted by Chef Gabriel Rucker. With a focus on locally-sourced ingredients, Le Pigeon offers a frequently changing menu to keep guests excited and engaged. The intimate, dimly-lit dining room creates a romantic ambiance, and the open kitchen allows guests to witness the culinary magic firsthand. Make sure to reserve a table in advance, as this highly sought-after dining experience tends to book up quickly.
Nong's Khao Man Gai
This beloved food truck has become a Portland staple, garnering a loyal following for its mouthwatering Thai chicken and rice dishes. Founder Nong Poonsukwattana's recipe for khao man gai (poached chicken and rice) is a comforting and flavorful dish that has captured the hearts of both locals and tourists alike. Due to its popularity, Nong's has expanded to multiple locations throughout the city, including a brick-and-mortar restaurant.
Pine State Biscuits
Known for their heavenly homemade biscuits, Pine State Biscuits is a favorite among Portland locals. The menu features a variety of mouthwatering biscuit sandwiches, like the Reggie Deluxe, which includes fried chicken, bacon, cheese, and gravy. The welcoming, casual atmosphere makes it an ideal spot for a laid-back meal or a quick, satisfying bite on-the-go. With multiple locations throughout Portland, it's easy to satisfy your craving for these scrumptious Southern-inspired treats.
I'll also throw in a few other recommendations here, if you're looking for the best coffee in Portland, you can find it at Heart Coffee in Woodstock (just tell them I sent you…just kidding, they have no idea who I am). If you're looking for the best alcohol or craft beer, head to Ecliptic Brewing on Oak Street.
3 Day Portland Itinerary
Day 1: Downtown and Pearl District
Start the day with breakfast at Mother's Bistro & Bar in the downtown area.
Visit the Portland Art Museum to see its collection of contemporary and modern art.
Take a stroll through the South Park Blocks, a beautiful park in the heart of downtown.
Head to the Pearl District for lunch at one of the many popular restaurants, such as Andina or Deschutes Brewery.
Spend the afternoon shopping at the boutiques and galleries in the Pearl District, including Powell's City of Books, the world's largest independent bookstore.
End the day with dinner and drinks at the iconic Jake's Famous Crawfish, which has been serving seafood since 1892.
Day 2: Eastside
Start the day with breakfast at Screen Door, known for its Southern-style breakfast dishes.
Visit the Portland Japanese Garden, a beautiful and tranquil oasis in the middle of the city.
Take a walk or bike ride along the Eastbank Esplanade, which offers stunning views of the city skyline.
Have lunch at one of the many food carts at the Alder Street Food Cart Pod.
Visit the Oregon Museum of Science and Industry (OMSI), which features interactive exhibits and a planetarium.
End the day with dinner and drinks at Tusk, which offers modern Middle Eastern cuisine.
Day 3: Northwest Portland and Washington Park
Start the day with breakfast at Besaw's, a popular brunch spot in Northwest Portland.
Visit the International Rose Test Garden in Washington Park, which features over 10,000 roses.
Take a hike through the Hoyt Arboretum, which has over 12 miles of hiking trails and over 2,000 species of trees.
Have lunch at the iconic food cart pod on 10th and Alder streets, which offers a variety of international cuisine.
Visit the Pittock Mansion, a historic home with stunning views of the city and surrounding mountains.
End the day with dinner and drinks at Le Pigeon, a French-inspired restaurant known for its innovative dishes.
Portland Visitor FAQs
What is the best way to get around Portland?

The best way to get around Portland is by using public transportation like the MAX light rail system, buses, and streetcars. Alternatively, you can rent a bike through the city's Biketown bike-sharing program, walk, or use rideshare services like Uber or Lyft.
What is the weather like in Portland, and what should I pack?

Portland's weather is characterized by mild, wet winters and warm, dry summers. Expect rain from October through May. Pack layers, waterproof clothing, and comfortable shoes for exploring. In the summer, include sun protection and lighter clothing.
What are the best neighborhoods to explore in Portland?

The best neighborhoods to explore in Portland include the Pearl District, Alberta Arts District, Hawthorne, Mississippi Avenue, and Nob Hill, each with their unique shops, restaurants, and attractions.
Where can I find the best coffee in Portland?

The best coffee in Portland can be found at Stumptown Coffee Roasters, Heart Coffee Roasters, Coava Coffee, and Barista, among other local favorites.
What are the best parks and outdoor spaces to visit in Portland?

The best parks and outdoor spaces in Portland include Forest Park, Washington Park, Tom McCall Waterfront Park, and Mount Tabor Park.
What is the nightlife like in Portland?

Portland's nightlife offers a variety of bars, clubs, and live music venues. Popular areas include Old Town, the Pearl District, and Hawthorne Boulevard.
Where are the best places to go shopping in Portland?

The best places for shopping in Portland include Pioneer Place, Powell's City of Books, and unique local boutiques in neighborhoods like the Pearl District and Hawthorne.
What is the public transportation system like in Portland?

The public transportation system in Portland is efficient and user-friendly, with the TriMet MAX light rail, buses, and streetcars connecting various parts of the city.
What are the best museums or art galleries to visit in Portland?

The best museums and art galleries in Portland include the Portland Art Museum, Oregon Museum of Science and Industry (OMSI), and the Museum of Contemporary Craft.
Is it easy to find vegan or vegetarian food options in Portland?

It's easy to find vegan and vegetarian food options in Portland. Some popular spots include Harlow, Blossoming Lotus, and Bye and Bye.
What are the best places to take photos in Portland?

The best places to take photos in Portland include the International Rose Test Garden, the Portland Japanese Garden, Pittock Mansion, and the iconic St. Johns Bridge.
Conclusion
In conclusion, Portland, Oregon is a gem nestled in the Pacific Northwest that combines the charm of a small town with the vibrancy of a bustling metropolis. It's a city that unabashedly embraces its quirky side, making it a truly unique travel destination.
From the stunning beauty of its outdoor landscapes like Forest Park and Mount Tabor, to its dynamic food scene, with food trucks and world-class restaurants that cater to every palate, Portland never ceases to captivate and engage. The city's dedication to the arts, sustainable living, and local business are mirrored in the personality of its neighborhoods, each of them a unique testament to Portland's eclectic character.
Whether you're an avid cyclist, a lover of craft beers, an enthusiastic foodie, a nature enthusiast, or an art connoisseur, Portland has something to offer. It's a city that truly stands out for its innovation and creativity. Its residents are friendly, its cultural offerings are diverse and its natural surroundings are stunning.
So, as we wrap up this guide, we encourage you to embrace the local mantra of "Keep Portland Weird" and let your curiosity guide your exploration of this wonderful city. Your Portland adventure awaits!