Have you ever gone to a new place and been confused by a bit of local slang? It can feel like that Star Trek: The Next Episode where Picard ends up on the planet with the guy who just keeps saying "Darmok and Jalad at Tanagra".
Every place has its own references and slang terms that are completely incomprehensible to outsiders unless you have someone there to explain what they mean.
Having lived in Seattle for quite some time, I'm pretty familiar with some local words and expressions you might not have heard, but will be useful if you come to town and someone tries to give you directions.
Here's a guide to some terms you're likely to hear if you come to visit Seattle on your next vacation, which you definitely should do, but that's an article for another time.
17 Common Seattle Slang Words
1. Vitamin R
If you're studying chemistry or medicine, you might be confused about "Vitamin R" but don't worry, it won't be on any of your tests.
Vitamin R refers to Rainier, one of the most popular and cheapest domestic beers. It is no longer brewed in the city (or even the state) after the company was sold first to Stroh's, then to Pabst.
Example: I really need a beer after work, but payday isn't for a few days, so I'm loading up on Vitamin R until I can get the good stuff.
2. SoDo
This is a common name for a Seattle neighborhood and a popular stop on the Link Light Rail System operated by Sound Transit.
It was originally short for "South of the Dome," a reference to the Mariners' stadium The Kingdome. However, the stadium was demolished in 2000 to make way for the stadium now called T-Mobile Park.
Baseball fans will likely be familiar with the phrase "SoDo mojo," which was used by the Mariners during their playoff runs from 1995 to 2001.
In recent years, the meaning has changed to "South of Downtown," since downtown continues to exist.
Example: If you want to go to Tacoma, take the light rail to SoDo, walk over to the bus stop, and get on the 574 Express.
3. Pill Hill
This is not a reference to street drugs that a musician allegedly took in Ibizia.
Pill Hill is a nickname for First Hill, one of the seven hills of Seattle. It earned the nickname because of the many medical facilities, hospitals, and clinics that can be found in the area. It is a term used mostly by older residents.
Example: My back is killing me! I'm going to head up to Pill Hill and see what the doctors say.
4. I-5
This one isn't strictly a slang term since it's the official nickname of Interstate 5, but it's on this list for a very important reason.
Locals only refer to it by this name. If you call it "The Five," locals will give you a dirty look and assume you are from California.
Example: The traffic is terrible on I-5, so I'm just going to take the light rail to the airport and then take a bus to Federal Way.
5. The Mountains are Out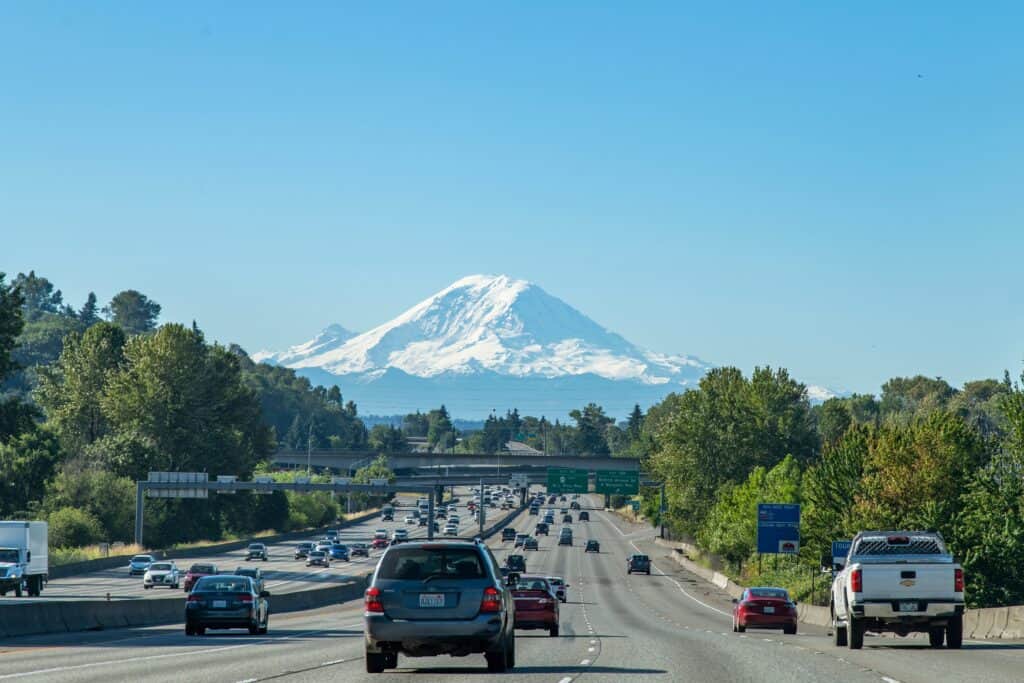 This is a common term in all of the Pacific Northwest but is most commonly heard in Seattle and Portland.
This term means that it's a clear enough day (meaning no rain) that the residents can see the mountains from the city.
It can also be used in the singular i.e., "The mountain is out" to refer to Mount Rainier.
It's typically used by residents in a happy way, especially at the end of a long spell of rain or gray mist.
However, many of the newer residents use this phrase without any idea of what mountains they're talking about or what mountains can be seen from the city. Educate yourself!
Example: The mountains are out, so I'm thinking I might go hike up Mount Rainier until I get tired.
6. U-Dub
U-Dub is the nickname commonly used for the University of Washington, which has its own light rail stop as of about a year or two ago.
Similarly, the surrounding area is referred to as "The U-District," which contains many hangouts for college students.
Example: We're going bowling tonight at the Garage Bowl; we'll meet you at the U-Dub Station at 7:00 if you want to join us!
7. The Seattle Freeze
This term doesn't refer to the cold weather but rather the cold disposition that many Seattleites tend to have towards others.
The phrase has been used for over 100 years by a local newspaper and informal surveys suggest it's a real phenomenon.
A survey by a local insurance company a few years back showed that 40% of people in the city stated that making new friends was "not important" to them.
Example: I've been working at Amazon for a week and my coworkers keep giving me the Seattle Freeze. I haven't had a single non-work conversation.
8. Dick's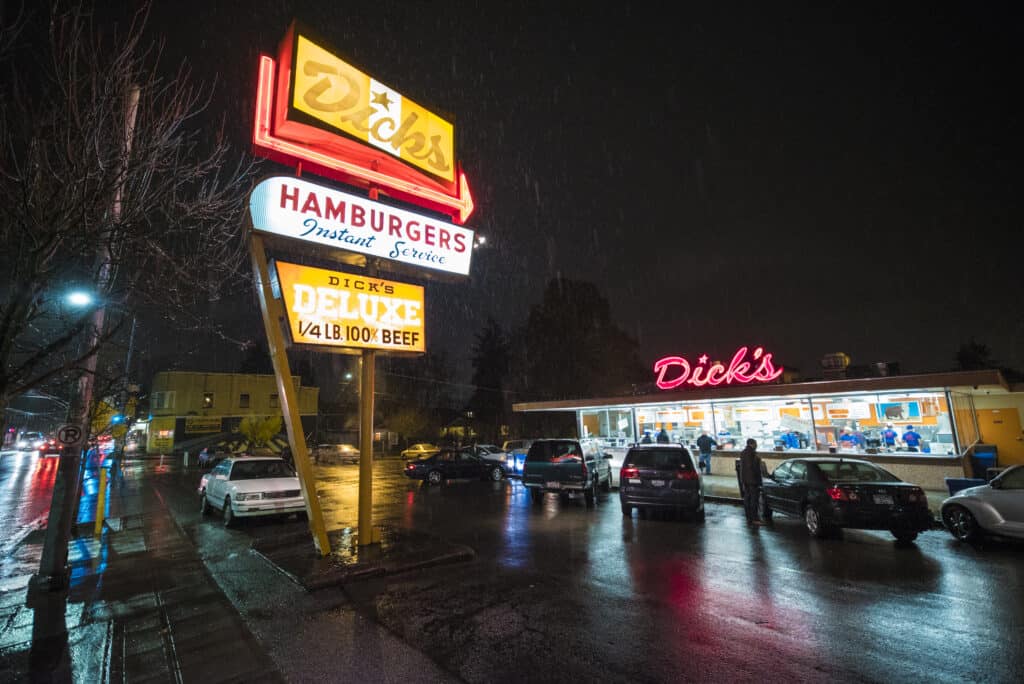 Not a reference to the sporting goods store or…anything else that might come to mind. I'm a family-friendly writer so I'll leave it there.
Dick's Drive-In is a famous hamburger stand in town that sells plain cheeseburgers for $2.60 that are very filling and delicious. They also sell fries and milkshakes at low prices.
Example: I've only got about $8 until tomorrow, so I'm going to take the light rail to U-Dub and get a bag of Dick's.
9. SLUT
Again, this is family-friendly writing here, so I'll skip the opening bit and just say this one definitely causes a lot of confusion to visitors.
It stands for South Lake Union Train, the streetcar that travels a little over a mile from downtown to the SLU district.
Example: "We're at Lake Union Park, so take the light rail to Westlake and then ride the SLUT down here. We'll meet you at the station."
10. Filthy
As part of the city's history with grunge music and the associated culture, the word "filthy" is used by locals to refer to something good.
It's the local version of "bad" being used to mean "good" in the 80s and songs by Michael Jackson.
Example: Dude, that Nirvana shirt is FILTHY! I wish I had been old enough to see Cobain in concert.
11. Seattle Tuxedo
Speaking of grunge, a "Seattle tuxedo" is used to refer to a flannel shirt, which is very popular in the city.
Flannel is the fabric and plaid is the pattern, in case you sometimes mix them up as I used to before I moved to Seattle.
Example: The restaurant isn't that fancy, you'll be fine if you wear a Seattle tuxedo and some nice pants.
12. Pre-Funk
If you want to go out to the bar and save some cash, you'll want to be pre-funk by yourself or with some friends by having a Vitamin R or a mixed drink.
In other places, the term "pregame" or "tailgate" is used, even if it's not strictly having a beer outside an event while leaning against the back of a truck.
Example: We're going to hit the bars for Bill's birthday tonight around 9:00, so you can come over to pre-funk around 7:00.
13. Fill Me Up with Leaded
This is not a reference to gasoline, which wouldn't make sense anyway as leaded gas has been illegal in the United States since 1996.
It is used to order a cup of regular black coffee with no cream, sugar, or anything else added.
Example: I'm not feeling fancy today and just want some caffeine, so fill me up with leaded.
14. Softies
In most other places, a softie or a softy is an affectionate person, like Humphrey Bogart calling someone "an old softie" in one of his movies.
In Seattle, it refers to Microsoft employees, which the area has a lot of as their corporate headquarters is in nearby Redmond.
Example: Yeah, Tim's a softie now. He's an assistant to the Executive Vice-President of Software Development.
15. Yakimaniac
This is a term, used sometimes as an insult but not always, to refer to residents of Yakima.
Example: It's Sunday and all of the Yakmimaniacs are driving up to watch the Seahawks lose to the Rams.
16. 12th Man or 12s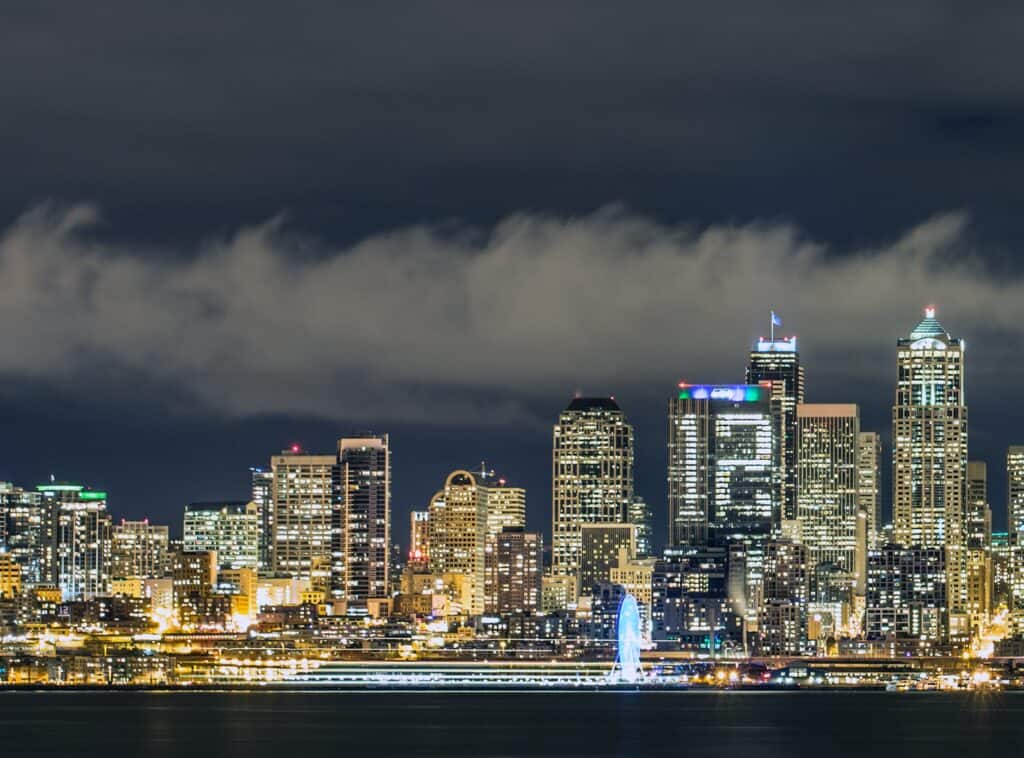 If you've ever watched a Seattle Seahawks football game, you've probably seen people in the crowd wearing "12th Man" merchandise. Women can also be 12th Men, based on the shirts I've seen for sale.
American Football has 11 players on the field for each team, so the term implies that the fans are the "12th man" on the field, supporting the team.
This is particularly confusing to fans of other teams as having an actual 12th man on the field would constitute a five-yard penalty.
Example: I've got my '12th Man' hat and I'm headed down to the stadium tonight. I hope we don't lose to the Rams again.
17. Jojos
I've heard this one in other places but I've also gotten weird looks when I ask for them in others, so it makes the list.
A jojo is a potato wedge or a wedge fry that is often dipped in ranch or another condiment. They're commonly found in the hot case at a deli.
Example: I'm in a rush for lunch, so I'll just go to the Safeway deli to pick up some jojos and chicken tenders.
Final Thoughts
These are just a few of the major slang terms you're likely to hear while in the Seattle metro area.
Luckily there isn't much of an accent in the PNW so you should be able to understand most of these one you know the words themselves.
Now that you're familiar with these, you'll be ready to fit in with the locals on your next visit! Just don't take it personally if you get the Seattle Freeze while you're here. It has nothing to do with you and I'm sure you're a great person.
Just don't ever call it "the five" and everything will be okay.