I'll admit it, I hate traveling anywhere that I don't have access to a car.
The inconvenience of using public transportation or crawling into someone's (probably smelly) Uber is enough to make me want to just stay at the hotel.
However, I also hate driving in Seattle.
All the hills, the one-way streets (that I always turn the wrong way onto…), and the traffic make it an altogether unpleasant experience.
So what's the solution? Well, probably just suck it up and deal with one or the other so I can still experience Seattle.
But which is the lesser of the two evils?
Well, after this past trip, I'm happy to report that doing Seattle without a car really isn't that bad! It's set up in a way that you can spend an entire day in an area without spending a bunch of money or time getting around.
And, if you find the right hotel, being carless in Seattle is even easier.
So, here's what I did to make doing Seattle without a car a great experience.
Table of Contents
Renting a Car in Seattle
First off, I'll have to give a plug to actually renting a car. For many people, this is still the way to go. If you plan on taking a trip outside of the city or covering lots of ground (such as heading to Bremerton or seeing the troll) then you'll probably want your own car.
Once you get out of downtown the roads let up and you just have to deal with hills and sidestreets that jet off in odd directions.
However, it's not just driving and renting a car that you'll want to consider. There's my other Seattle nemesis….parking.
Either there is nowhere to park or you have to pay roughly a bajillion dollars. Even if we have a rental car we'll often Uber if we're going to a museum or somewhere that will take a few hours and is likely to have limited parking.
I will say that renting a car in Seattle is an easy and convenient way to explore the city and its surroundings. However, if you don't have a car, there are still plenty of other options for getting around without one.
Getting Around Without A Car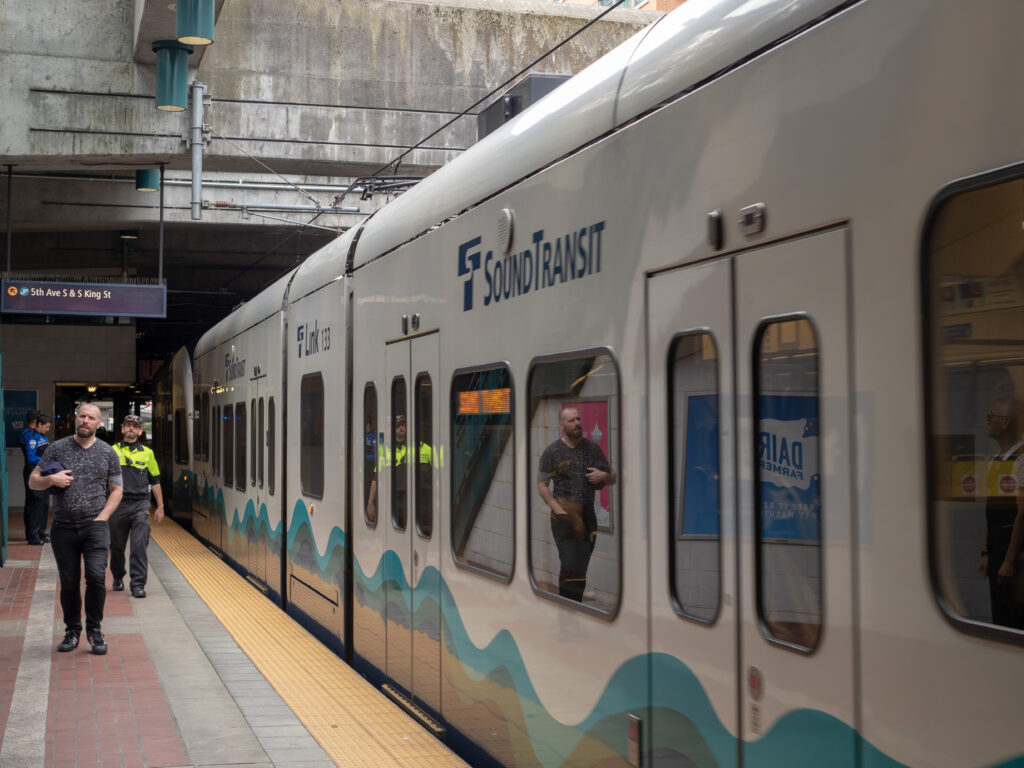 If you're planning a trip to Seattle and don't have access to a car, there are still plenty of ways to get around the city.
Public transportation is one of the most popular options for visitors without their own vehicles. The King County Metro Transit system operates buses throughout the city, as well as light rail services that connect downtown Seattle with Sea-Tac Airport and other nearby destinations.
You can purchase tickets or passes at kiosks located in many stations, or use your smartphone to pay for fares using an app like OneBusAway.
Ride-sharing services such as Uber and Lyft are also available in Seattle, making it easy to get from place to place quickly and conveniently.
If you prefer something more active, consider renting a bike from Pronto Cycle Share – they offer 24/7 service at dozens of locations across the city.
Or just explore on foot!
Many attractions in downtown Seattle are within walking distance of each other – perfect for those who want an up-close look at all this vibrant city has to offer.
For longer trips outside of town, Amtrak offers train service between cities throughout Washington State (as well as some international destinations).
There are also several bus companies operating out of Seattle that provide regular routes between major cities like Portland and Vancouver B.C.
Greyhound is probably the best-known among them but there are several others worth checking out too.
No matter what type of transportation you choose while visiting Seattle without a car, how you layout your trip is going to be the major factor in whether your vacation sucks or not.
So let's talk about some of the easy things that you can do without a car that will make your trip memorable.
Day Trips From Seattle Without A Car
Bainbridge Island
If you're looking for a day trip from Seattle without a car, Bainbridge Island is an excellent option.
Located just across the Puget Sound, this picturesque island offers plenty of activities and attractions to explore.
The easiest way to get there is by taking the Washington State Ferry from downtown Seattle (you can just walk on).
Once on the island, visitors can enjoy strolling through charming waterfront towns such as Winslow or Poulsbo, exploring local parks and beaches, or visiting one of several wineries and tasting rooms in town.
The ferry terminals in all of Washington are typically located centrally enough that you can spend a day walking (or biking) around without feeling the need to get a car or catch a bus.
Snoqualmie Falls
Another great day trip destination near Seattle without a car is Snoqualmie Falls. This stunning waterfall cascades 270 feet into the Snoqualmie River below and has been featured in many films over the years including Twin Peaks.
To get there without a car you can take King County Metro bus route 209 which departs from downtown Seattle every hour during peak times (weekdays). From there it's about a 20-minute walk to reach the falls viewing area where you can admire its beauty up close.
Mount Rainier National Park
For those who are looking for something more adventurous than just sightseeing around town, Mount Rainier National Park is another great option for a day trip from Seattle without a car.
While getting to Mount Rainier itself requires driving or taking public transportation, visitors can still experience some of its beauty by taking advantage of nearby trails that offer spectacular views of Mt Rainier along with lush forests and meadows full of wildflowers in summertime months.
For example, Paradise Inn Trail at Longmire provides easy access to breathtaking views while also being accessible via public transit – simply take Pierce Transit Route 500 directly to Longmire.
Things To Do In The City Without A Car
The Pacific Northwest is a great place to explore without a car. Seattle, in particular, has plenty of attractions that can be reached by foot or public transportation.
One of the most iconic places to visit in Seattle is Pike Place Market. This historic market offers an array of fresh produce and seafood, unique crafts and souvenirs, as well as delicious restaurants and cafes. You can easily reach this destination by taking the bus or light rail from downtown Seattle.
Another must-see attraction in Seattle is the Space Needle. This 605-foot tall observation tower provides stunning views of the city skyline and beyond from its 520-foot high observation deck. To get there you can take one of several buses that stop at the base of the tower or hop on a monorail for a quick ride up to its entrance gate.
If you're looking for some outdoor activities while visiting Seattle without a car then head down to Waterfront Park located along Elliott Bay near downtown Seattle's Pier 57 (now Miner's Landing) area. Here you'll find miles of trails perfect for walking or biking with scenic views overlooking the Puget Sound and Olympic Mountains in the distance plus plenty of spots for picnicking along with access to kayaking rentals if desired.
Lastly, don't forget about nearby Ballard Locks where visitors can watch boats pass through locks connecting Lake Union with Puget Sound – definitely worth checking out if time permits.
Where To Stay Without A Car
If you're looking to explore the Pacific Northwest without a car, there are plenty of great places to stay. Seattle is home to many hotels and other accommodations that are conveniently located near public transportation or within walking distance of popular attractions.
First off, if money isn't a concern, my overall recommendation is to stay at Inn at the Market which sits just over Pike Place. You'll be central to many activities and have a great lodging experience as well.
There are dozens of other historic options closer to downtown if that's what you're looking for but I'd recommend Hotel 1000 which is located downtown just outside the business district.
For those who prefer a more intimate experience, consider staying in one of Seattle's charming bed and breakfasts. Many offer unique amenities such as complimentary breakfast or access to nearby parks and trails. Plus, most B&Bs provide easy access to downtown via bus or light rail for an affordable price.
If you're on a budget but still want the convenience of being close to all the action, look into hostels in Seattle's Capitol Hill neighborhood. Here you'll find comfortable beds at reasonable prices with convenient access to restaurants, bars, shops, and museums—all within walking distance.
For travelers seeking something even more unique than traditional lodging options, try out one of Seattle's houseboats. These floating homes offer spectacular views from your own private deck along with cozy interiors perfect for relaxing after a day spent exploring the city by foot or bike.
Finally, if camping is more your style then head over to Discovery Park where you can pitch your tent right next door to some stunning beaches overlooking Puget Sound. The park also offers plenty of hiking trails for outdoor enthusiasts looking for adventure away from the hustle and bustle of downtown life.
No matter what type of accommodation suits your needs best while visiting Seattle without a car—from luxury hotels down through budget-friendly hostels—you are sure to find something that fits both your taste and pocketbook here in this vibrant city full of possibilities.
FAQs in Relation to Do You Have to Have a Car in Seattle?
Can I get around Seattle without a car?
Yes, you can get around Seattle without a car. Public transportation is available throughout the city and surrounding areas. The King County Metro Transit operates buses, light rail, and water taxis to help you navigate the city. You can also use ride-sharing services such as Uber or Lyft for quick trips within the city limits. Additionally, there are bike share programs that allow you to rent bicycles from various locations throughout Seattle. With these options at your disposal, getting around Seattle without a car is easy and convenient.
Do you really need a car in Seattle?
No, you do not need a car in Seattle. Public transportation is widely available and efficient, with buses, light rail, ferries, and streetcars all providing convenient access to the city's many attractions. Additionally, ride-sharing services like Uber and Lyft are also popular options for getting around town. With so many alternatives to driving yourself, having a car in Seattle is an unnecessary expense that can be avoided.
What is the best way to get around in Seattle?
The best way to get around Seattle is by public transportation. The city has an extensive bus system, light rail, and commuter train services that make it easy to explore the area. Additionally, there are ride-sharing options like Uber and Lyft available for those who prefer a more personalized experience. For visitors wanting to take in the sights of Seattle from a different perspective, renting a bike or scooter is also an option. With so many choices available, getting around Seattle can be done quickly and conveniently.
Do most people in Seattle have a car?
In Seattle, most people do have access to a car. According to the US Census Bureau, in 2022 over 70% of households in Seattle had at least one vehicle available for use. This is higher than the national average of around 65%. Public transportation is also widely used and accessible throughout the city, with buses and light rail services connecting many areas. Additionally, ride-sharing services such as Uber and Lyft are popular among locals for getting around town quickly and conveniently.
Conclusion
While it may not be super convenient, visiting Seattle without a car is totally doable.
There are plenty of things to do, places to stay, and day trips you can take without having your own vehicle.
So if you're wondering "do I have to have a car in Seattle?", the answer is no – but it certainly helps.
Personally, I'll still rent a car most of the time I'm in the city but that's simply because I don't want to lug my two little kids onto a bus (or put car seats in an Uber). Plus, we tend to escape the city after a couple of days and head to the coast.
But you'll have to do what works best for our trip! I will say that it's nice if I'm in the city for just a night or two by myself to not have to worry about getting a car, parking a car, returning a car, or having a crazy bum dance on top of it (which happened to my father in law). But that's a story for another time.