Everyone romanticizes small-town life. That is, everyone does except for those of us that grew up in small towns.
Sure, there are the annual festivals, the quirky characters, and the quaint shops. But, other than that, there's usually just a whole bunch of boredom, the smell of cows, and 40+ hour workweeks for sub-average pay.
Forks, Washington is the perfect example of this. The tiny little town (population around 3,500) received a huge boost of interest from The Twilight Saga. However, many people who end up visiting are a bit disappointed. There's no Twilight Museum, no werewolves, and (most importantly) no Edward Cullen.
Having spent a fair amount of time in and around Forks I thought I would do my best to help you adjust your expectations a bit. It is possible to have a great trip to Forks, it just might not be what you think.
Even though it comes with all the beauty of the PNW, Forks is still just a standard blue-collar logging town with a bit of a tourism problem.
My 9 Favorite Things To Do In Forks, Washington
Tucked away in the Pacific Northwest corner of the continental United States, Forks is the kind of place where everyone knows everyone and life moves at a slower pace. And while it may not be the first destination that comes to mind when planning a vacation, there are a couple of interesting things in the town that make it worth the trip.
While you could probably just drive down the main street and find all of these on your own we'll go through, what I think, are the top attractions in Forks (for both Twilight fans and non-fans).
First off, you'll want to stop by the Forks Chamber of Commerce (a visitor's center of sorts) where you can get a free map and an informational pamphlet about Forks. This will show you spots of interest like Carlisle's parking spot at the Forks Community Hospital or where you can find Forks High School.
Just don't expect to be led to any cool filming locations that you'll recognize from Twilight films as the movies were mostly filmed in nearby cities such as Port Angeles.
Now that we're past that, let's talk about a few of the real landmarks and attractions that you'll want to see.
1. Olympic National Park
While not technically in the town of Forks, the Olympic National Park is, without a doubt, the most iconic attraction in the area. Straddling the line between urban and true wilderness areas, Olympic National Park is one of the most popular tourist destinations in Washington state. People who come up the Olympic Peninsula coast from the south often use Forks as a jumping-off point to explore the park.
Olympic National Park boasts nearly one million acres of old-growth forests, mountain peaks, rainforests, and coastline. You can enjoy hiking and biking trails, camping and backpacking trips, as well as scenic drives.
If you're looking for iconic Pacific Northwest beauty, this will be your paradise. Just don't forget a camera.
2. Hoh Rainforest
The Hoh Rainforest is part of Olympic National Park but is worth a separate mention. If you're not in the area for long, this is the spot that you'll want to head to.
The Hoh Rainforest and is one of the largest temperate rainforests in the United States and is often featured in the photography of Washington State.
Here you'll find yourself in a totally different world with moss hanging from branches, mushrooms, waterfalls, and everything you'd expect from a tropic wonderland (minus the heat).
3. Visit The Beach
The Olympic Peninsula has some of the most spectacular beaches in the Pacific Northwest (second only to southern Oregon).
Within a quick drive of Forks, you can enjoy 3 different incredible beaches and a dozen less-known ones.
The three that you don't want to miss are:
La Push
Rialto
Ruby Beach
Each one of them comes with its own history and perks so let's talk about each one in turn.
La Push Beach: La Push Beach is a beautiful sandy beach with towering cliffs and crashing waves. It's a great place to go for a walk or just sit and enjoy the view. Visitors can also enjoy hiking, fishing, and swimming (if you can stand the cold water…).
La Push Beach is also a popular spot for whale watching. Every year, thousands of gray whales migrate along the coast of Washington state and La Push is a great place to see them. However, even if you strike out on gray whales you can see orcas, seals, and sea lions.
Rialto Beach: Rialto Beach is a great place to relax and enjoy the ocean view. It's also a popular spot for beachcombing and looking for agates and driftwood. One of the reasons that Rialto Beach has become so popular with beachcombers is due to the abundance of sea glass that can be found in the tidepools.
The beach is also known for its rock formations, which were created by lava flows from nearby volcanoes. Visitors can explore the tidepools at low tide, or hike along the coastline to get a better view of the waves and the rocky shoreline.
Ruby Beach: On Ruby Beach, visitors can find a variety of colorful rocks and shells washed up on the beach, as well as an abundance of driftwood. The area is also home to a variety of wildlife, including bald eagles, seals, and otters. Ruby Beach is a popular destination for hikers, photographers, and nature lovers alike. The beach is accessible via a short hike from the parking area, and there are several trails that wind through the surrounding forest. Although it can be crowded on nice days, Ruby Beach is definitely worth a visit.
Tree Root Cave (include Directions)
No mention of the beach attractions near Forks would be complete without a mention of Tree Root Cave, also known as the Kalaloch Tree of the Tree of Life.
Located near the Kalaloch Campground, the Tree of Life is a massive tree that seems to be crossing a canyon, leaving its roots exposed and hanging above the head of passersby.
If you're looking for a nice walk on a beautiful beach there are a few ways to get to Tree Cave. Both take a similar amount of walking so you'll have to just decide which one sounds better to you!
From Kalaloch Campground
The easiest way to get to the Tree of Life is from the Campground. Even if you're not camping you can use this route. Simply park in the campground's parking lot and take the trail down to the beach. Once you're on the beach, turn right and head to the northern end of the campground. It'll take you a couple of minutes but you'll soon see the tree off to your right.
From Kalaloch Lodge
If you're staying at the lodge you can get to the tree without heading to the campground, just be prepared for about a half-mile walk.
To get there simply take the stairs to the beach and walk north past the campground. It was about a 20-minute walk for us but we did have two little kids that wanted to look in every tidepool.
4. Visit The Town's Museums
For such a small town Forks actually boasts an impressive number of museums.
If you're sick of seeing treeing (or, more likely, it's raining…) there are a couple of places where you can spend some time inside. None of them are large enough to spend a day (or even half a day) at but all of them are worth seeing!
Forks Timber Museum
Forks is located in the heart of Washington's timber country and you can learn more about the entire industry at the Timber Museum.
The museum tells the story of the state's logging industry, from its early days in the nineteenth century to its present-day role in the global economy. Visitors can see how loggers lived and worked in the early days of the industry when they were often required to spend months at a time in remote camps.
The museum also includes exhibits on the science of forestry, the art of lumbering, and the history of sawmills and paper mills. In addition, the museum offers a variety of educational programs for both children and adults.
John's Beachcombing Museum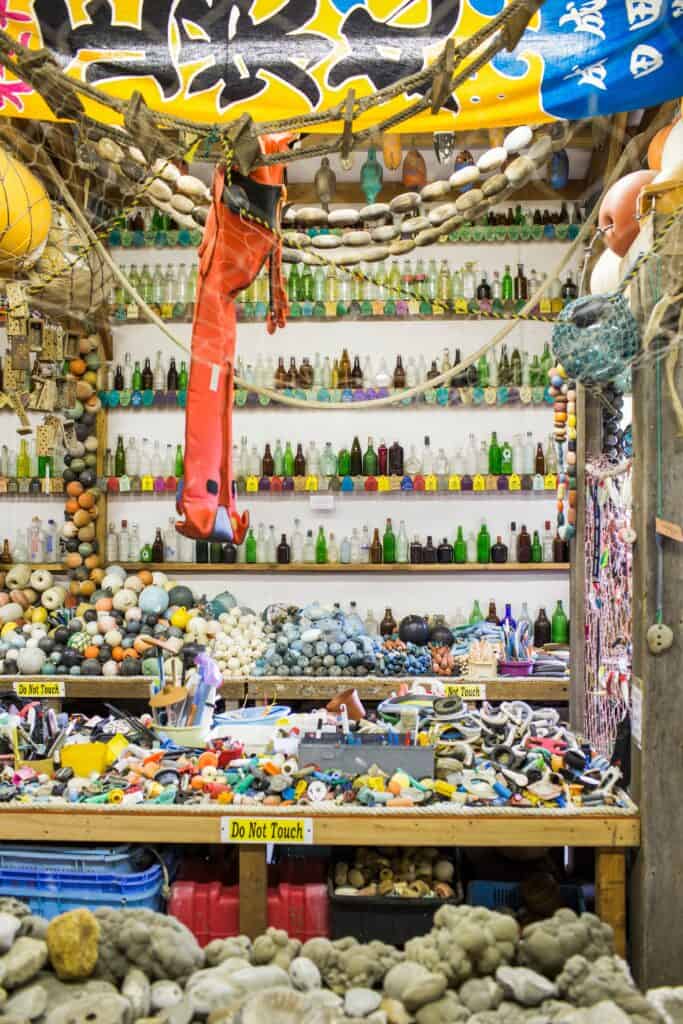 Since Forks sits on the Olympic Peninsula it is surrounded by pristine beaches that are perfect for combing. And that's where John's Beachcombing Museum comes in.
Started in the early 1990s by local beachcomber John Hillis, the museum is now home to over 10,000 items, all of which have been found on the beaches of Forks.
The collection includes everything from sea glass and shells to driftwood and sea creatures. Visitors can explore the museum's many rooms, which are filled with fascinating displays.
And best of all, admission is free!
Forever Twilight in Forks Collection
The Forever Twilight in Forks Collection museum in Washington is a must-see for any fan of the Twilight series. The small museum houses an extensive collection of memorabilia from the films, including props, costumes, and set pieces.
It's all run by volunteers and their hours are quite sporadic so be sure to check that they're open before heading there!
Although, that advice could apply to everything else on this list as well. In small tourist-driven tours be sure to check that your chosen activity is available, especially if you're there in the off-season.
6. Get A Bite To Eat
There are a few gems in and around Forks if you're looking for food but most things are about what you'd expect from a small town off the beaten path. In other words, they're not very good and probably aren't open when you need food anyway.
However, there are a few options that I can, in good conscience, recommend:
River's Edge Restaurant – If you've got some time and want to make dinner more of an event, head to La Push Beach and enjoy a meal at River's Edge. This will be extra special if you are here at sunset and can enjoy the view.
Home Slice Take N Bake – If you're in any sort of hurry, pizza might be Forks' best offering to the world. This small unassuming place (okay, it's a house…) can offer excellent handmade pizzas to take with you to bake, or, more likely if you're traveling, you can have them bake it for you in their wood-fired oven.
Now if you're a fan of the Twilight series, you'll want to drive the 60 miles to Port Angeles to check out Bella Italia Ristorante, the location of Edward and Bella's first date.
The restaurant has become something of a pilgrimage site for fans of the books and movies. The owners of Bella Italia have embraced their connection to Twilight, and they even offer a special "Twilight Menu" with items like the "Bella Pizza" and the "Edward spaghetti." Whether you're a die-hard fan or just curious to see what all the fuss is about, Bella Italia is worth a visit.
7. Lake Quinault
While Lake Quinault obviously isn't in Forks itself, it's still one of the biggest draws in the area and you'll likely pass this direction on your way to or from Forks.
Nestled in the Olympic National Forest, Lake Quinault is a true hidden gem.
Surrounded by towering evergreens and pristine wilderness, the lake is a popular destination for hiking, fishing, and camping. However, its most iconic feature is the magnificent Quinault Lodge. Constructed in 1926 from massive logs harvested from the surrounding forest, the lodge is truly a sight to behold.
Inside, guests can enjoy a cozy fire in the lobby, or take in stunning views of the lake from one of the many Adirondack chairs on the front lawn. Whether you're looking for an exhilarating outdoor adventure or a peaceful place to relax, Lake Quinault is sure to please.
For those looking for a fun-filled outdoor adventure, kayaking on Lake Quinault is the perfect activity. Set in the stunning Olympic National Park, the lake features crystal-clear waters and gorgeous mountain views.
Kayakers of all skill levels will enjoy exploring the lake's many coves and hidden beaches. Best of all, Lake Quinault is home to a variety of wildlife, including eagles, ospreys, and otters. So whether you're hoping to get some exercise or simply take in the beautiful scenery, kayaking on Lake Quinault is sure to provide an enjoyable experience.
8. Get A Picture With The Sign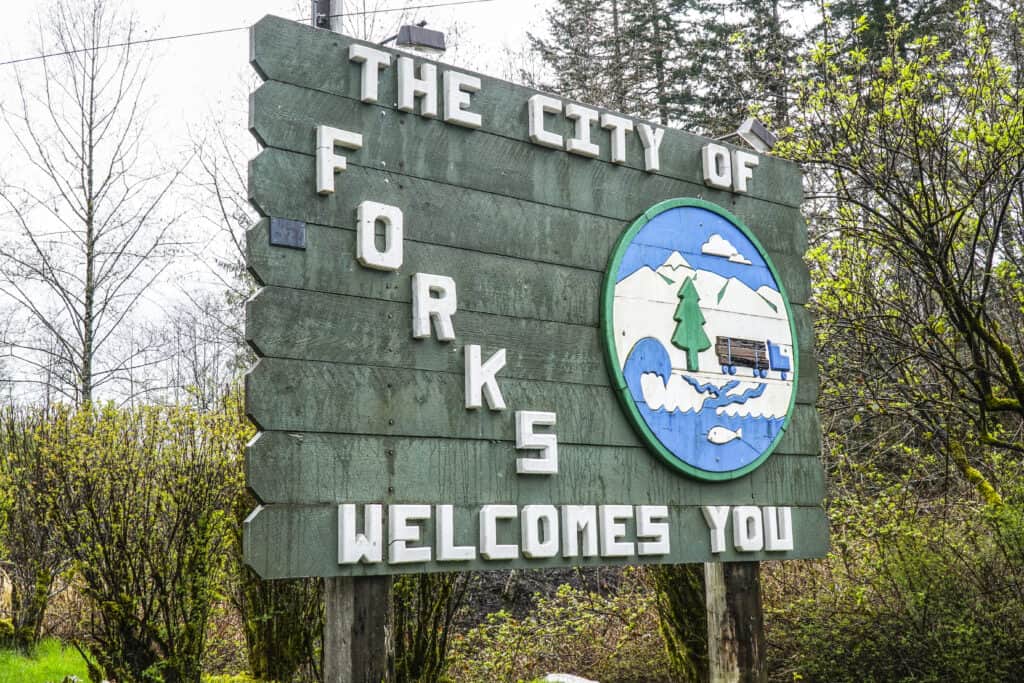 Whether you care about vampires or not getting a picture with the massive wooden Forks sign is a tradition. The sign is on the right as you enter the town and you can simply pull off to the side of the road and run back for a quick picture.
9. Spend Time On The Quileute Indian Reservation
The Quileute Nation is located just outside of Forks, Washington.
Visitors to the reservation can learn about the history and culture of the Quileute tribe, as well as see some of the tribe's traditional dwellings. The Quileute tribe has a rich oral tradition, and many of the tribe's stories are told through dance and song.
While there isn't a large structure tourist scene, the Quileute tribe welcomes visitors to their reservation and is happy to share their culture with outsiders.
Final Words
Now, I must admit, there are a couple of things in Forks that we didn't hit on this list.
However, they're all things available anywhere in the Pacific Northwest (such as seeing all the local art galleries or getting some local coffee/brews).
Forks is a unique and enjoyable place as long as your expectations are running out of control before you arrive. If you expect a fun small PNW town with great outdoor views and a few interesting activities you'll have an enjoyable day.