Tunnel Beach – General Information
Open: Year-round
Type Of Beach: State Recreation Site
Approach: Medium Difficulty
Main Activities: Agate Hunting, Tidepooling
Popularity: Low to Moderate
Services: Bathrooms
Accommodations: Tillamook (Lodging), Oceanside Beach State Recreation Site (Camping)
Have you ever spent all week planning a trip to the beach, only to find that it's way too crowded and there's not enough room? It's the worst, right? That's why I like to visit the hidden gem beaches on the Oregon Coast, especially unusual ones like Tunnel Beach near Tillamook.
In 1926, the Rosenberg family owned a resort in nearby Oceanside (which they also founded) and decided that they wanted their visitors to have more space on the beach. The only problem was that there was no way to access it through the rocks.
They then decided to carve out a tunnel through the rocks, which still stands today, allowing not just resort visitors but everyone to access this amazing beach!
What to Expect
Tunnel Beach is about 300 yards long (or 1/6th of a mile), making it much shorter than Oceanside Beach, which is about three miles. That's the main reason for the difference in popularity between the two.
The tunnel itself is about 125 feet long, although it can be pretty dangerous without proper lighting. You'll want to bring a flashlight, a headlamp, or even a cell phone light. You'll also want to watch out for falling rocks, which are rare but do happen.
Once you get onto the beach, you'll find a great spot for tide pooling, agate hunting, and incredible views of the series of beautiful islands known as Three Arch Rocks.
Where is Tunnel Beach Located?
This particular beach can be a nightmare to locate online, with Google Maps listing it as being in the ocean, a search on Bing Maps for "Tunnel Beach, Oregon" brings up Tunnel Beach in the United Kingdom, and Mapquest doesn't list it at all!
Tunnel Beach is sometimes listed as part of Tillamook, although it more properly belongs to the city of Oceanside, whose founders created the tunnel themselves.
It is at the northern point of the Oceanside Beach State Recreation Site, which is one of Oregon's 256 official state parks.
Getting to the Beach
There are several ways to get to the beach from Oceanside Beach State Recreation Site. There is a parking lot close to the tunnel, although it only has about eight or nine spaces, which can make it difficult to find a spot on a nice day.
However, it is also possible to park at the beach in Oceanside and walk north for just under half a mile. This may be an easier solution if you don't mind a little bit of a walk.
When the tide is super low, it's actually possible to walk directly on Oceanside Beach around the Maxwell Point cliff face to Tunnel Beach, although this bypasses the actual tunnel, which is one of my favorite parts.
Things to Do on the Beach
Rockhounding and agate hunting are two of the most popular activities here, as it is a great spot to find green, blue, and yellow jaspers, clear agates, marine fossils, quartz, and even zeolites. As it is less popular, you'll have less competition.
Agate hunting is more common in the winter, as strong King tides wipe away the top level of sand on the beach, revealing treasures that would otherwise remain hidden.
It is also a great location for wildlife spotting, particularly for marine creatures that live in the protected waters off the coast of Oregon. It is the only known location in the Pacific Northwest to see baby Stellar sea lions.
Bird watchers will also love this beach, as many seabirds can be seen here, including tufted puffins, cormorants, storm petrels, and common murres.
Where to Stay
Oceanside Beach State Recreation Area has an excellent campground and is located less than a mile from Tunnel Beach. There are also several RV parks in the area if you'll be driving over.
For backwoods camping, hiking, or nature walking, the Tillamook National Forest is an excellent location and is only a few miles away from the beach.
If you'd prefer to stay in a hotel, Airbnb, traditional bed and breakfast, or something similar, Tillamook is only about ten miles away and will be slightly less expensive than staying in Oceanside.
Other Activities in the Area
Lost Boy Beach is nearby, although it is only accessible during the rare super-low tides that are only found once a month in late spring and early summer. Walking from Short Beach is much easier as well.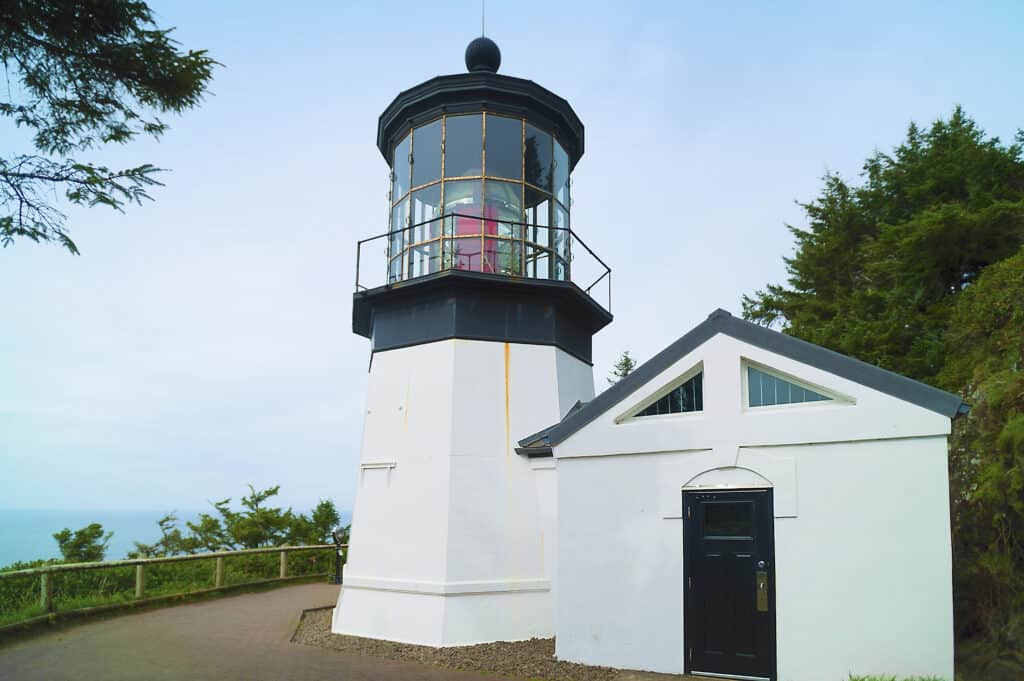 Cape Meares Lighthouse is just a few miles up the highway and has many trails, hiking spots, and, of course, free admission from April to September of the titular lighthouse.
For non-beach activities, the Tillamook Air Museum inside the airport has an amazing collection of planes and other aerial crafts. It's also reasonably priced at $11 for an adult, $7.50 for youths aged seven or older, and $3.50 for children six or younger.
The Tillamook State Forest is another great hiking location that offers backcountry camping and the ability to enjoy nature in its purest form. A nice hike followed by a relaxing trip to the beach is an excellent combination.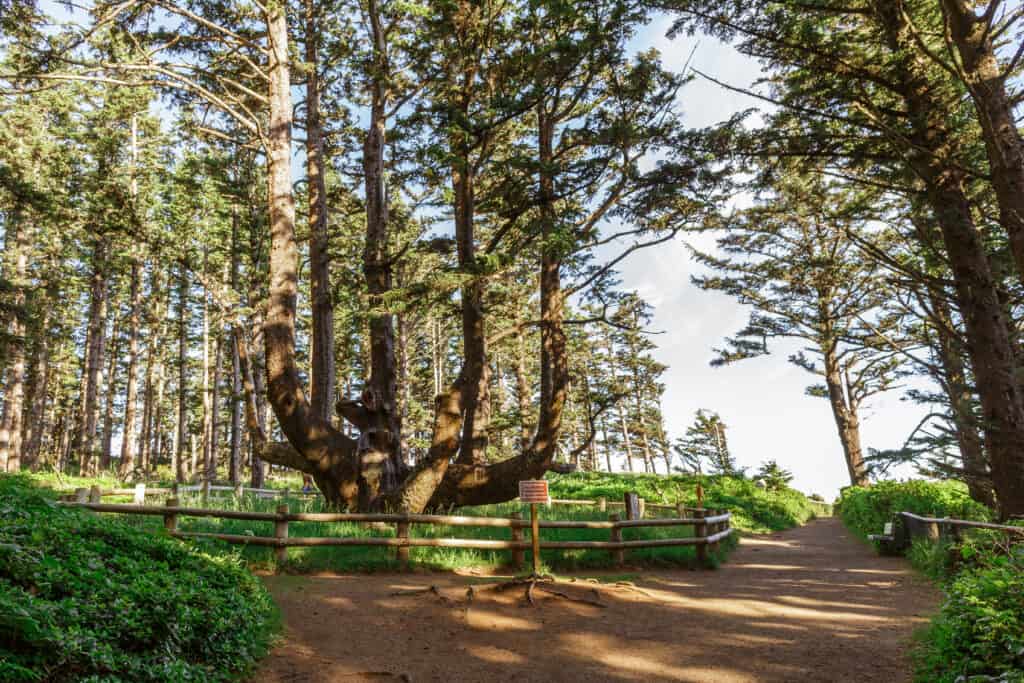 Another great stop in the Cape Meares area is the famous Octopus Tree, a 105-foot tall Sitka spruce tree with multiple trunks, considered one of the best roadside attractions in the state.
Final Words
If you're looking for a hidden gem away from the big crowds near Tillamook, Oregon, Tunnel Beach is an excellent choice. The tunnel itself is such a unique attraction that it makes the beach a must-stop on any trip to the coast.
At high tide, there's not much of a beach and the tunnel itself can be hazardous during storms, with falling rocks and flooding being common occurrences. You'll want to exercise caution and check the tide schedule before coming out.
You won't want to miss this amazing secluded beach during your next trip to the Oregon Coast. Start planning your next vacation today!