Seattle Travel Guide
Where to Stay in Seattle • Best Luxury Hotels • Family Hotels • Cheap Hotels • Best Hostels • Airport Hotels • Luxury Restaurants • Tiki Bars & Nightlife • Visiting Pike Place • Seattle Without A Car • Best Views In Seattle • Rain In Seattle • Cruise Ports • Seattle Slang Guide • Best Airport Food • Safety In Seattle • Why People Love Seattle • Whales In Seattle • Best Seattle Beaches • Indoor Activities
Whether you're planning a quick weekend trip or an extended vacation, Seattle has something to offer everyone. Seattle is a vibrant city full of things to do, see and explore. Whether you're looking for museums, historical sites, parks, and markets or the exciting nightlife and amazing food scene, the Emerald City has it all!
Table of Contents
Where To Stay
If you're looking for the perfect place to stay while visiting Seattle, look no further than staying close to Pike Place Market. As the city's oldest public market and one of its most iconic landmarks, it is the perfect base from which to explore all that Seattle has to offer.
Located along the Elliott Bay waterfront, this nine-acre historic district is home to more than 200 craftspeople, farmers, merchants, and service providers who come together daily to bring fresh seafood, fruits and vegetables, flowers, and specialty foods to shoppers.
Not only will you find great produce here but plenty of other souvenirs too; from handmade jewelry and art pieces to items from local businesses that make up this vibrant marketplace.
Staying near Pike Place is also convenient as it provides easy access to public transportation like buses, light rail trains, and water taxis. That means it won't take much time at all to get anywhere in the city whether it's downtown or out into the suburbs.
As far as actual hotels, let's check out a few of my favorite options at different price points (or you can simply book a few nights at Inn at the Market just down the street from Pike Place and skip this section)….
Best Luxury Options
For those looking for the ultimate luxurious stay in Seattle, there is no shortage of options to choose from. From luxury hotels offering incredible views, grand suites, and impressive amenities to high-end boutique accommodations, Seattle has something for just about everyone.
1. The Fairmont Olympic Hotel
One top-notch hotel located near some of the city's main attractions is The Fairmont Olympic Hotel. This iconic property offers prime access to places like Pike Place Market, Pioneer Square, and the Space Needle, not to mention its own mini art gallery featuring works from local artists on a show! Inside guests will find plush decor with classic furnishings and amenities like a rooftop terrace overlooking downtown, a fitness center with state-of-the-art equipment, and a heated outdoor swimming pool.
2. Four Seasons Seattle
The Four Seasons Hotel at 99 Union St is another amazing option; boasting beautiful boutique rooms with floor-to-ceiling windows providing stunning views of Elliott Bay or the city skyline. Guests can also enjoy an indoor lap pool onsite along with two distinct restaurants that each serve up delicious meals made using locally sourced ingredients.
3. The Westin Seattle
The Westin Seattle (a Marriot Hotel) is also a great choice when seeking out indulgent stays in town; providing guests access to nearby destination areas like Pioneer Square and the shopping mecca that is Pacific Place. As part of this hotel you'll find thoughtful extras like a 24/7 fitness studio equipped with cardio machines and free weights plus an onsite bar serving up craft cocktails inspired by Northwest flavors – perfect for ending your day with a nightcap!
4. Inn at the Market
Finally, one last luxe place worth mentioning (again) is Inn at the Market which can be found directly inside Pike Place Market itself! This upscale boutique property boasts panoramic views of Puget Sound from many of its guestrooms making it easy for travelers to soak up all that Seattle has to offer right outside their door. Plus there are also plenty of other extras such as a complimentary wine hour every evening where visitors can mingle with other guests while enjoying signature crafted beverages.
Best Option For Families
When looking for family-friendly places to stay in Seattle, there are a variety of options available for all types of budgets. Although if you have the money for it, any of the above luxury stays are also excellent family options. At least, they are if you have well-behaved kids so I don't have to deal with them…
1. Hotel 5
Those hoping to experience maximum thrift while still getting terrific accommodations should consider staying at Staypineapple's Hotel 5 located downtown.
This four-star property offers charming rooms equipped with modern appliances and stylish decor – plus their price tag won't break the bank either! Typical rates here start at just around $127/night, making it a perfect option for those who don't want to break the bank but still enjoy some of the more luxe features like air conditioning, a small fitness center, and even a complimentary continental breakfast every morning.
2. Silver Cloud Hotel – Broadway
The Silver Cloud Hotel Seattle Broadway is also another great pick when on the hunt for reasonably priced suites tailored for families. Not only does this excellent inner city location provide easy access to places such as Pike Place Market but also comes complete with plenty of onsite family-friendly features. These include complimentary Wi-Fi throughout your stay and free shuttle service to nearby attractions like Seattle Center (where guests can explore attractions like the iconic Space Needle) plus an indoor pool and whirlpool spa making soaking up some sun or taking a dip much easier than ever before! Rates here typically start around $134/night which makes it one of the best values around without compromising on quality or comfort.
3. Knights Inn & Suites Seattle
For those wanting to take advantage of further savings, Knights Inn & Suites Seattle is…well…let's just say that you'll have a safe place to sleep. However, they also offer here too including outdoor swimming pools, free continental breakfast served every morning, spacious guest rooms equipped with cable TV, and spacious living areas. Some rooms also come with basic cooking facilities so if you're feeling creative then you can whip up your own meals while eliminating potential costs associated with eating out.
Best Budget Option – (Hostels)
If you're traveling by yourself (or just without kids) then staying in hostels can be a solid option for keeping costs down in Seattle.
There are surprisingly few options for a city of Seattle's size and transient reputation but the options available are quite good.
1. The Green Tortoise Hostel
The Green Tortoise caters to backpackers and budget travelers alike so expect to find not just private rooms and dorms here but also free Wi-Fi throughout your stay, complimentary continental breakfast every morning plus access to a quiet lounge area that's perfect for relaxing and catching up on some work or leisurely reading. As an added bonus this place is also located near Capitol Hill so it's easy enough to pop out and take advantage of all the area's entertainment options if desired. Rates typically start from around $40/night making it a solid option for those who don't want to break the bank.
2. Hotel Hotel Hostel
The Hotel Hotel is another (actually, the only other) great pick; offering guests an array of amenities such as cozy single rooms complete with quaint decor, small kitchenettes with basic cooking facilities (so no need to worry about eating out) plus free Wi-Fi throughout their stay along with discounted rates at many popular local restaurants. Prices here typically start from around $35/night making it one of the more affordable places available.
If neither hostel is up to your standards, the other cheap(ish) option is to look for a room (or bed) on Airbnb where you can also get weekly or monthly discounts.
Best Things To Do
1. The Space Needle
The iconic Space Needle is an instantly recognizable piece of Seattle's history. The observation tower stands at 520 feet and, with an elevator ride to the top, visitors can get a stunning view of the city skyline and beyond. On clear days, views can reach up to 80 miles away! There are also two revolving restaurants (well, a lounge and a restaurant that should be reopening "any time now") at the top where you can grab a bite while taking in all that Seattle has to offer from up high.
2. The Fremont Troll
One of Seattle's must-sees is the Fremont Troll located in the North-end neighborhood waterfront beneath Aurora Bridge. This five-ton sculpture was created from molds of air cannons, car parts, and other recycled materials by four local sculptors. Taking a picture with this urban icon is all part of experiencing what makes Seattle special. Along with uncovering this hidden gem, there are many other unique works of art scattered throughout Fremont that make the area worth exploring (such as the very strange statue of Lenin…)
3. Ballad Locks
A trip to Ballard is not complete without visiting Ballard Locks – one of Seattle's largest tourist attractions. Here you can watch ships as they slowly traverse through fish ladders that connect Lake Union with Puget Sound and unlock them into different bodies of water using locks on either side! It's truly incredible how these massive boats navigate their way above and below ground level between fresh and saltwater – giving viewers an exciting show each time they pass through!
4. Water Ferries
Water ferries are one of many ways locals travel around town to feel connected with nature on a daily basis. With every ferry route leading away from downtown Seattle towards destinations like Bainbridge Island or Vashon Island, visitors will find themselves surrounded by majestic views unique only to these islands – making it easy to escape reality for just an hour or two each day! Visitors can even bring their own bikes along for some added adventure when exploring these areas even further once arriving at their destination!
5. Alki Beach
Alki Beach offers breathtaking views, picnic spots perfect for sunny summer days, and plenty of beachside activities. The beach is an ideal place for sightseeing because it overlooks downtown Seattle making it almost possible to take in both mountains, Elliott Bay, and ferries as well as captivating sunsets! Not only that but also Alki has some great cafes like Salty's on Alki offering delicious seafood dining options right by the beach- perfect after catching some rays!
6. Pike Place Market
Without a doubt, Pike Place is a must-see if you're in the city. In addition to being the home of Beecher's and the original Starbucks you'll get to see the famous "flying fish" and visit dozens of popup stalls and specialty shops. On top of all that, the market offers stunning views of the Elliott Bay waterfront that make it a perfect spot for just relaxing and enjoying the scenery. Make sure you include Pike Place Market on your next visit to Seattle!
7. Argosy Cruises
For an unforgettable waterfront experience hop aboard one of Argosy Cruise's classic vessels These intimate yet luxurious vessels offer a variety of tours passengers choose from including evening cruises, full moon cruises, champagne cruises, and also exploratory cruises of Lake Union & Lake Washington. You'll love the breathtaking views passing major landmarks, bridges, islands, and cityscapes while having educational expert tour guides narrate the trip.
8. Take a Wine Tour
What better way to explore one of America's top wine regions than by taking a tour? The Woodinville Wine Country offers unique tastings and tours where you can sample wines from over 90 wineries in the area while learning about the history and production of each winery. You will leave with newfound knowledge as well as discovering delicious wines to try.
9. The Underground Tour
Believe it or not, Seattle is built on top of a city…itself. Seattle used to exist about 40 feet lower than it does now and you can still walk several of the streets that are located just below the current sidewalks.
The Underground Tour provides visitors with an interactive experience about Seattle's past. During the tour, guests will take a journey through underground streets designed back in 1889 that were left abandoned after the great fire occurred in 1892. An experienced guide will show visitors the secrets behind some of Seattle's most legendary buildings and recount stories from people during these precarious times.
10. The Great Wheel
Take your adventure up high at Pier 57 and Miners Landing by visiting The Great Wheel. This Ferris wheel is 175 feet tall with 42 enclosed gondolas offering amazing views of Puget Sound, Elliott Bay, Mount Rainier, and the downtown skyline. It's more a scenic view than a thrill ride so even I didn't get sick!
11. Waterfront Park
If you want to take in some scenery then check out Waterfront Park, located on the Elliott Bay waterfront. Here you can find plenty of green space, picnic tables and benches, and breathtaking views of the Puget Sound. Take a leisurely stroll along the pier or sit back and relax on the beach – whatever your preference. Depending on when you visit there are often art installations, open-air markets, and other experiences located here.
12. Woodland Park Zoo
Woodland Park Zoo is a must-see for any animal lover visiting Seattle. The zoo offers visitors the chance to explore more than 92 acres of parkland and see over 1,000 species of animals from around the world.
From endangered Sumatran tigers to beautiful flamingos, the vast array of wildlife at Woodland Park Zoo is sure to fascinate anyone who steps foot here. And the best part is that, unlike my childhood zoo in Utah, the Woodland Park zoo doesn't feel like a depressing cement prison.
13. Seattle Aquarium
Located right on Pier 59 in the heart of Seattle (and right next to the Great Wheel), the Seattle Aquarium is an amazing place to explore the underwater world. The Aquarium also offers interactive learning experiences and educational programs for visitors of all ages. With more than 400 species of fish, sea otters, harbor seals, and adorable puffins, our kids had the time of their lives here!
14. Seattle Center
Seattle Center ins't so much an attraction but a destination. It includes the whole area where you find the Space Needle but also attractions such as renowned artist Dale Chihuly's stunning Chihuly Garden and Glass exhibition. You can wander through the colorful glass art installations while taking in incredible views of the city skyline.
This is also a great place to eat lunch as there are dozens of quick restaurants within easy walking distance (we usually choose Premier Meat Pies).
15. Museum Of Flight
If you (or your kids) are into aviation you'll be over the moon about Seattle's historic Boeing Field and the Museum of Flight. In fact, we don't care much about planes at all and we still had a great time!
From vintage aircraft to modern jets, the museum has something for everyone. Spend an afternoon taking in the displays and marveling at the sights and sounds of flight. Take a walk through the amazing Airpark, featuring interactive exhibits and hands-on activities for all ages. While you're here, make sure to stop by the Red Barn – the original home of Boeing! With over 150 aircraft and spacecraft on display, you won't want to miss out on this incredible experience at Seattle's Museum of Flight.
Best Day Trips From Seattle
Snoqualmie/North Bend
The Snoqualmie area – located only an hour east of Seattle – offers some of the most beautiful scenery in all of Washington. Start your day by taking a drive along I-90 through Snoqualmie Pass and you'll be greeted with postcard-worthy views of snowcapped peaks, pristine forests, and deep valleys. If you're in search of outdoor activities, there are miles upon miles of hiking trails nearby at Mount Si or Iron Horse State Park. If you're feeling adventurous, take a ride on the famous Snoqualmie Train– which is full-blown old-fashioned steam engine– or try your luck at the Salish Lodge & Spa casino.
Bainbridge Island
If you're seeking a more urban adventure than a countryside one, head over to Bainbridge Island – located just across the Puget Sound from Seattle via ferry boat. This quaint island is home to plenty of shops and restaurants; with everything from kitschy gift shops to upscale clothing stores.
Don't miss out on Faye's Café & Bakery for breakfast (try their infamous house-made scones!), Bloedel Reserve for breathtaking gardens, or The Giving Tree Gallery for gorgeous locally crafted gifts. The ferries back and forth leave every half hour so there's no need to rush your exploration here!
Leavenworth
Leavenworth was once just a sleepy Bavarian mountain town but it has now become a destination spot full of activities both outdoorsy and fun. Well actually, was just a dying town that transformed itself to attract tourists. But we'll leave that for another time.
Located two hours east in Wenatchee National Forest this town now has it all – think beer gardens, bratwurst stands, authentic German bakeries, and live music events throughout the year. In addition to its charming tourist attractions like alpine slides and Skykomish rafting tours, there are also plenty of hikes around Cashmere Mountain if you're looking to break away into nature for a while.
Mt Rainier National Park
We can't talk about day trips near Seattle without mentioning Mt Rainier National Park!
Located southeast in Ashford (about two hours away) Mt Rainier is the crown jewel of Washington state with its snow-capped peak towering 14,410 feet high above sea level; making it one of the highest points in North America.
There's something special about seeing this iconic peak up close during all four seasons — spring wildflowers bloom bright pink along subalpine meadows while autumn brings golden larch trees glimmering against a backdrop of white snow blankets even into summertime months.
With over 93 trails available ranging from leisurely strolls through meadows filled with wildflowers or longer paths that wind through mountain terrain this park has something for everyone's activity level… including glaciers that run thousands of feet deep down rainforest slopes (just don't forget your camera).
Best Hikes Near Seattle
If you're looking for an outdoor adventure near Seattle, then look no further than the numerous hiking trails that are available in the area!
Mount Si
Located just outside of North Bend –which is about an hour east of Seattle – Mt Si offers very easy access as well as beautiful views of some of Washington's most iconic landscapes. From its summit peak at 4,167 feet high, you can get panoramic views of the entire Snoqualmie Valley and surrounding mountain ranges. There are plenty of trails from which to choose from so whether you're a beginner or a more experienced hiker there's something here for everyone.
We recommend taking the Old Trail Loop which starts from the main parking lot and will take you through old-growth forest before arriving at its summit for breathtaking views.
Rattlesnake Ledge
One of Washington's most popular trails is Rattlesnake Ledge located just northeast in North Bend/Snoqualmie region. The hike starts out rather flat along a wide open road before branching off into a steep climb over elevation gain 922 feet up towards its ridge summit. Along this trail expect expansive views both across Lake Sammamish as well as over Snoqualmie Valley making it especially beautiful during fall foliage season when all its trees have shifted in yellow and orange leaves.
Franklin Falls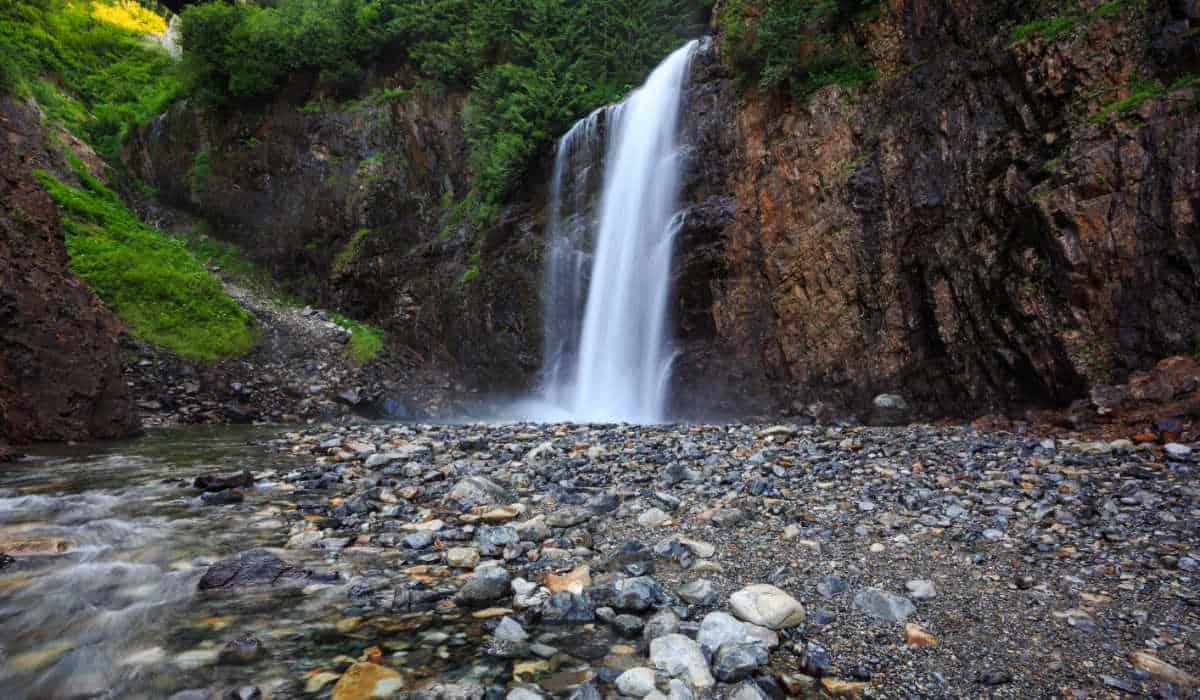 Franklin Falls is another great choice located near Snoqualmie Pass – about 45 minutes east – with stunning scenery plus a majestic waterfall that cascades down over rocky cliffs (tip: best visited during summer months).
This 2-mile hike takes you through deep evergreen forests before eventually leading up to two viewpoints overlooking the falls – both Cascade Viewpoint and Lower Franklin viewpoints offer picture-perfect photo ops!
You should check out our complete trail guide to Franklin Falls before heading out!
Best Places To Eat
From seafood to Italian, Mexican, and more – Seattle offers up some of the most delicious cuisines in the country! With such a vibrant food scene that is constantly changing it can be hard to stay on top of the best places to eat.
While I've written thoroughly about my experiences at the best restaurants in Seattle, here is the quick version of places that I don't think should be missed.
Altura
If you're looking for a truly special night out then Altura should top your list of places to go. Located in Capitol Hill this restaurant serves seasonal Mediterranean-inspired dishes created with locally sourced ingredients and often features local musicians providing live entertainment throughout dinner service. Don't forget to pair some of their amazing wine selections including many made right here in Washington.
Canlis
The iconic setting of Canlis is sure to make you swoon! I mean, it didn't me but maybe you're of a weaker constitution…
Perched atop Queen Anne Hill – which overlooks Lake Union – this fine dining establishment has an open kitchen concept where guests can watch as chefs prepare dishes like their famous Caesar salad made tableside or tasty mains like king crab mac & cheese with pancetta and mascarpone fondue. Even if you don't plan on eating here it's worth visiting just for the views alone.
Sai Sushi & Sake
Sai Sushi & Sake is one of those restaurants that locals keep going back to time and time again and, if you can get reservations, you'll see why!
This charming sushi bar serves freshly crafted rolls featuring high-quality fish prepared simply yet packed full of bold flavors like their signature Burning Man Roll made with deep-fried shrimp tempura topped with spicy mayo, wasabi, tobiko, and chili oil (yum). Rave reviews also come from its sake menu featuring significant variety from both domestic and imported breweries.
The Pink Door
If there's only one restaurant on this list that needs no introduction it's The Pink Door located downtown at Post Alley near Pike Place Market. Known best for its vintage charm decor complete with twinkle lights, burlesque performances (on certain nights), delicious Italian dishes plus plenty of vegetarian options, this place is always noisy but never ceases to excite the senses. Whether you're looking for family-style feasts or romantic dates The Pink Door is all about creating unique experiences with every visit!
Tolu
This African-fusion spot puts a creative spin on traditional recipes without straying too far from authentic flavors found throughout West African countries bordering the Sahara Desert – think couscous cooked down in buttery broth topped with succulent lamb chops alongside sweet potato fries slathered in spiced mayo. What we love most about Tolu though are its choices for vegetarians who are guaranteed not to miss out here, especially when ordering its vegan Yassa dish; sautéed squash mixed with peppers, and garlic onions served over scallion rice pilaf…
Mas Cafe
Mas Cafe features classic Venezuelan flavors from dense white corn patties filled with mozzarella cheese known as "arepas" (which can be topped off by creamy avocado slices) or comforting potato empanadas perfect as snacks while sipping down tangy cocktails made from guava juice known as "chicharitas". More adventurous foodies should consider trying their beef tongue tacos smothered in cilantro crema.
Best Time To Visit
The best time to visit Seattle is really dependent on what you're visiting for and what you plan to do. I prefer spending time in the city during the fringe seasons (spring and fall) but I also just prefer being alive in spring and fall no matter where I cam.
So let's take a look at some distinct options that will help you time your trip.
Summertime in Seattle
If you're looking for warm weather and long days, summer is the best time to visit Seattle. From June to August, temperatures hover around 70 degrees Fahrenheit during the day and dip into the 50s at night. This is also the peak season for tourism, so expect crowds at popular attractions such as Pike Place Market and the Space Needle.
If you want to avoid the crowds but still enjoy some nice weather, plan your trip for September or October. The temperatures are mild and the days are still long, but there are fewer tourists around. This is a great time to explore Seattle's many parks and green spaces. Hike through Discovery Park or bike along the Burke-Gilman Trail. You can also visit one of Seattle's many museums, such as the Museum of Pop Culture or the Chihuly Garden and Glass Museum.
Fall and Winter in Seattle
If you don't mind cooler temperatures and shorter days, fall and winter can be great times to visit Seattle. From November to February, temperatures usually range from the mid-40s to low 50s during the day and dip into the 30s at night. While there are fewer outdoor activities available during these months, there are still plenty of indoor activities to enjoy. Check out the holiday lights at Volunteer Park Conservatory or ice skate at one of Seattle's many skating rinks. You can also cozy up with a cup of coffee at one of Seattle's many independent coffee shops.
Is Seattle Safe?
When most people think of Seattle, they picture a bustling city filled with high-rise buildings, tech industry workers, and hipsters sipping locally-roasted coffee. And while that image is certainly accurate, it's not the whole story. Because nestled among the towering skyscrapers and trendy neighborhoods is a dark side to Seattle that not many people talk about. I'm talking, of course, about crime. So, is Seattle safe to visit? Let's take a closer look.
The Reality of Crime in Seattle
There are no two ways about it: crime is a problem in Seattle. In 2019, there were a total of 557 violent crimes per 100,000 residents, which is more than double the national average. What's more, property crimes are also relatively common in the Emerald City, with a rate of 2,487 per 100,000 residents. That said, it's important to keep things in perspective; while the crime rates in Seattle are certainly higher than average, they're still lower than in many other major U.S. cities.
However, the type of crime that receives the most attention is violent crime; and unfortunately, Seattle does have a bit of a reputation for being dangerous (evidenced by its long list of serial killers…). This is especially true now that the downtown area is more seedy and rundown than ever before.
Having said that, you should be fine if you take the precautions that you'd take in any other large city that you're unfamiliar with.
Simply being aware of your surroundings and carefully planning where you'll be after dark is usually enough to keep you safe on your trip.
3 Day Seattle Itinerary
Whether you're in town for business or pleasure this 3-day itinerary offers up some of our favorite spots so you can get the most out of your stay! This is a bit of an action-packed schedule so feel free to spread it out a bit if you have more time.
Day 1: Exploring Downtown and Pike Place Market
Start off your morning by making breakfast at Inn at the Market before heading outside to explore all that downtown has to offer. Take a stroll through Seattle's oldest public market – located right next door – as you admire beautiful flower displays, fresh fruits & vegetables plus ample stalls filled with locally crafted items.
Next, make sure to check out iconic sites like the world-renowned Gum Wall plus well-known city attractions such as Space Needle and Chihuly Garden & Glass. By night we recommend checking out some live music performances at The Crocodile or other Capitol Hill pubs or breweries.
Day 2: Discovering Artsy Neighborhoods
Day two should be spent exploring some of the more artsy parts of Seattle including unique neighborhoods like SoDo or Ballard known for its longstanding establishments focused on artisan workmanship such as craft beer brewing or select boutique shopping.
After lunch makes plans for visiting Fremont where impressive outdoor sculptures such as the Troll and 'Waiting for the Interurban' are located. While here don't forget to take some pictures at Gas Works Park which boasts stunning views over Lake Union plus picturesque walking trails providing quite reflective moments among its trees and grasses.
Day 3: Excursions Outside City Limits
Our final day should include a day trip outside city limits since there are many noteworthy areas within reach (don't worry you'll still be back early enough to make it back home). You can choose from any of the above options but personally, I would stick with Snoqualmie Falls or Franklin Falls as well as some other hikes in the area.
Alternatively, you could also visit the historic port town Port Townsend and be greeted by local shops, galleries, and tons of shoreline activities during the summer months (plus nearby Fort Worden State Park where excellent accommodations await if you don't want to head back to Seattle).
Seattle Visitor FAQs
Do I Need A Car To Visit Seattle?

The answer here really lies in where you stay and how you want to explore the city.

In general, however, having a car makes things easier, even if you don't use it everyday.

The only reason I wouldn't rent a car is if I was only in Seattle for a single night or I was on a super tight budget.

If you decide not to get a car, there's no lack of transportation options: public transit buses and trolleys crisscross the streets and provide links to some of the most popular tourist attractions. For areas that are farther away, Greyhound offers convenient inter-city bus services

Additionally, ridesharing apps like Uber or Lyft are available in most parts of Seattle and bicycle paths provide a healthy and scenic way to explore the city center.

We did a deeper dive into the topic of doing Seattle without a car if you want more information.
How Far Is Seattle From The Coast?

Seattle is about 80 miles from the coast. Howevever, it's a bit of a convoluted question as the city is located on Puget Sound, which is a large inlet of the Pacific Ocean.

The closest "coast" that people routinely visit is Ocean Shores. However you can dip your toe in the ocean throughout the city.
What Is Seattle Known For?

Seattle is known for its stunning natural scenery, its vibrant music scene, and its strong coffee culture. Although I guess we have to now throw political extremism into the mix.

Nestled between the Puget Sound and Lake Washington, Seattle is home to some of the most incredible views in the Pacific Northwest. The city's musical history is also rich and diverse, from folk and indie to grunge and hip-hop. Seattle is also famous for its coffee, with dozens of local cafes serving up freshly brewed cups every day.
How Often Does It Rain In Seattle?

Seattle is known as the "Rainy City" for a reason! While Seattle doesn't get a ton of rain (measured in inches) it does have a lot of misty/rainy days!

The majority of the rain usually takes place between October – May. This can range from light misting to true downpours. During these wet months, you'll often hear locals say "if you don't like the weather in Seattle, just wait 10 minutes"! On average, the rain will fall in Seattle about 155 days every year. So if you're packing for a trip to Seattle, come prepared with an umbrella and leave your sandals at home! Well, on second though, you better bring both.
Is Marijuana Legal In Seattle?

Seattle has been at the forefront of marijuana legalization in the United States.

Despite some legal challenges, Seattle has established a thriving marijuana industry and is considered a leader with regard to cannabis legalization throughout the country. Marijuana is now legally and openly sold in stores throughout Seattle, with adults 21 years and older able to purchase it with proper identification.

The city's relaxed attitude toward cannabis means that adults can partake without fear of legal repercussions and, believe me, everyone does. If you aren't familiar with the smell of marijuana just walk around the city for 5 minutes. If you smell a skunk, it's actually marijuana.

Although there are still strict guidelines around usage, tax collection, and distribution, it's clear now more than ever that Seattle has become a beacon of legalization for recreational marijuana use.
Why Is Seattle Called The Emerald City?

Seattle, Washington is affectionately referred to as "The Emerald City" due to its lush and vibrant natural landscape.

This nickname was first popularized by Seattle's former Mayor Clay E. Adams in the late 1980s, inspired by the mythical city of Oz found in the beloved Frank L. Baum book series The Wonderful Wizard of Oz. The name is undoubtedly apt – despite Seattle's daunting regular rainfall, it features a great diversity of trees, foliage, and flowers including fragrant Rhododendrons and Mountain Hemlocks that make it a veritable spectacle of emerald beauty throughout the year.
What's The Best Coffee Place In Seattle?

If you're looking for an amazing cup of joe in Seattle, then look no further than Caffè Vita. This local favorite roasts its own espresso to perfection, resulting in a flavor and aroma that's hard to find anywhere else. Not to mention, the cozy atmosphere of this establishment makes it easy to relax with your coffee companion–whether that's a friend or a book.
Why Are There So Many Homeless People?

Seattle has been a growing city for decades, however, it also holds one of the highest homeless populations per capita in America. The increase in homelessness is due to a combination of factors – from high costs of living and inadequate wages to underfunded healthcare services and a lack of social support programs.

Additionally, a large concentration of jobs within the service industry has caused housing needs to outpace available supply, pushing people onto the streets or into overcrowded shelters. Unfortunately, due to complex systemic problems within our economy, poverty and homelessness continue to exist at an alarming rate in Seattle.

While I wish I understood it better, I do understand that it's a complex issue that seems to be getting worse rather than better.
Is Downtown Seattle Safe?

While it is true that the area has seen its fair share of crime, overall it is considered to be quite secure due to the large presence of police and private security. Despite some concerns, Downtown Seattle remains a popular destination and is generally considered safe during the day, while nighttime should still be treated with caution.
Is Seattle's Tapwater Safe?

Seattle Public Utilities, which is responsible for ensuring the safety of the city's water supply, implements rigorous contaminant testing and filtration including monitoring for lead, nitrates, chlorine, and other inorganic chemicals.

Additionally, Seattle Public Utilities works closely with other agencies to monitor other issues related to quality such as turbidity levels, bacteria, and violations of national health standards. Most importantly, all data obtained from water tests are made available on their website so households can stay up to date on the city's water conditions.

So if you're visiting, don't worry the tap water is safe, even if it's not delicious.

If you're a resident here, you'll also be happy to know that hardwater isn't a thing. That's right, Seattle's water supply is surprisingly soft! It averages around 65 milligrams per liter of calcium carbonate, which places it on the softer side of the hardness scale. So while there are other cities that have harder water, Seattle is certainly not one of them.
What Do You Call Someone Who Lives In Seattle?

Someone who lives in Seattle is called a Seattleite.
Is Seattle Really That Expensive To Visit?

According to recent studies, Seattle is now one of the most expensive cities to visit in the United States. A lot of people are surprised by this because Seattle is not a city that is traditionally thought of as being expensive. However, when you take a closer look at the cost of things in Seattle, it starts to make a lot of sense. For example, the average hotel room in Seattle costs about $279 per night. That is more than double the national average! When you factor in the cost of food and activities, a trip really starts to add up.

However, you can do Seattle on a budget if you control the cost of food & accommodations while focussing more on the scenic beauty than the city's attractions.
What Mountains Can You See From Seattle?

If you're in Seattle and you look to the south, east, or north you can easily spot the Cascade Mountains. These majestic peaks are visible from all over Seattle, including from downtown. The most familiar mountains in the range are Mount Rainier and Mount Baker, both of which can be seen from many places around the Puget Sound area. On clear days, you might even spot some other mountain ranges beyond the Cascades such as the Olympic Mountains to the west or even as far away as Canada's Coast Mountains on a really clear day. Gaining elevation by either taking a ride up one of Seattle's myriad hills or heading up onto one of its nearby mountains can increase your viewing distance and allow more – and often snow-capped – mountain outlines to come into view. Nowhere else in America will you find such consistently stunning mountain views!
What Do People Do In Seattle When It Rains?

Most people in Seattle are very comfortable with the rain and a bit of wet weather doesn't put a stop to anyone's plan. Snow, however, it a different story.

If you're visiting the best advice I can give you is to bring a rain shell and an umbrella so you can continue about your plans. Because I can guarantee that the rain will ruin your plans if you let it!

Having said that, there are many indoor activities that are awesome in the rain including the Space Needle, the National Nordic Museum, or the variety of local independent theaters.
Is Seattle Walkable?

Seattle is a great city for those who like to explore by foot. Boasting over 70 miles of walking trails, many sidewalks and bike paths, it's easy to get around without relying on a car. You'll just have to plan your lodging carefully to take full advantage of your feet.

Visitors can walk to iconic landmarks such as the Space Needle and Pike Place Market, making sightseeing easy and convenient. Residents know that the network of pedestrian-friendly streets makes running errands or seeing friends simple, too. Plus Seattle's temperate climate allows walking all year long if desired.
What Should I Wear When Visiting Seattle?

Assuming you would like tips for what to wear when visiting Seattle, layers are always a good idea. The weather in Seattle is notoriously fickle and can change rapidly, so it's best to be prepared for anything. A light jacket or sweater is essential, even in the summer. comfortable shoes are also a must as you'll likely do a lot of walking exploring the city. And don't forget an umbrella! Even if the forecast says it isn't going to rain, it's always better to be safe than sorry when it comes to Seattle weather.
Additional Resources