A friend of mine from high school called me the other day and said he was looking to buy some land to build a house. He said he got a deal on a kit at Home Depot (which I didn't know they sold but it turns out, they do!) and needed a place to build it.
He said he wanted to live near Seattle so he and his wife can go into the city whenever they want but far enough away to avoid crime and some of the other things that cause people to hate Seattle. I said, "I've lived here for years; I understand completely!"
He's a computer programmer who works remotely, so being on an island wouldn't be too inconvenient since he'll never have to go into the office. After some research, he found out that plots of land on Anderson Island are a lot cheaper than he had expected.
As a big believer in the philosophy of "if it seems too good to be true, it probably is", he wanted to know what was wrong with Anderson Island that would make land so cheap. High crime? Bad weather?
Typically, when real estate costs are low like this, it means that the area isn't very popular and the prices have been lowered so it'll have a better chance of selling.
Let's start off by talking a little about the island itself and then we'll get into some of the problems with living on the island, which will explain why property there isn't in high demand.
About Anderson Island
Anderson is the southernmost island in Puget Sound and is part of Pierce County. It has a population of just over 1,000 residents, although there are a fair number of houses owned by "snowbirds" or people who use them as summer homes before going south for the winter.
The only way to access the island is by private boat or a 20-minute ride on the Pierce County Ferry System from the city of Steilacoom, which is on the eastern shores of Puget Sound and is just a few miles west of Lakewood.
It has been a popular retirement destination for over 60 years and the average age on the island is 54 years old. This is significantly higher than the average statewide of approximately 37 years old!
Approximately one-third of the island is owned by the Riviera Homeowners Association, commonly called "The Riv". It's the closest thing to a government the island has, as there are no cities or towns.
Legally, the island is considered unincorporated territory within Pierce County. Note that The Riv only controls its section of the island and their restrictions will not apply to homeowners living on the other two-thirds.
Reason #1: The Ferry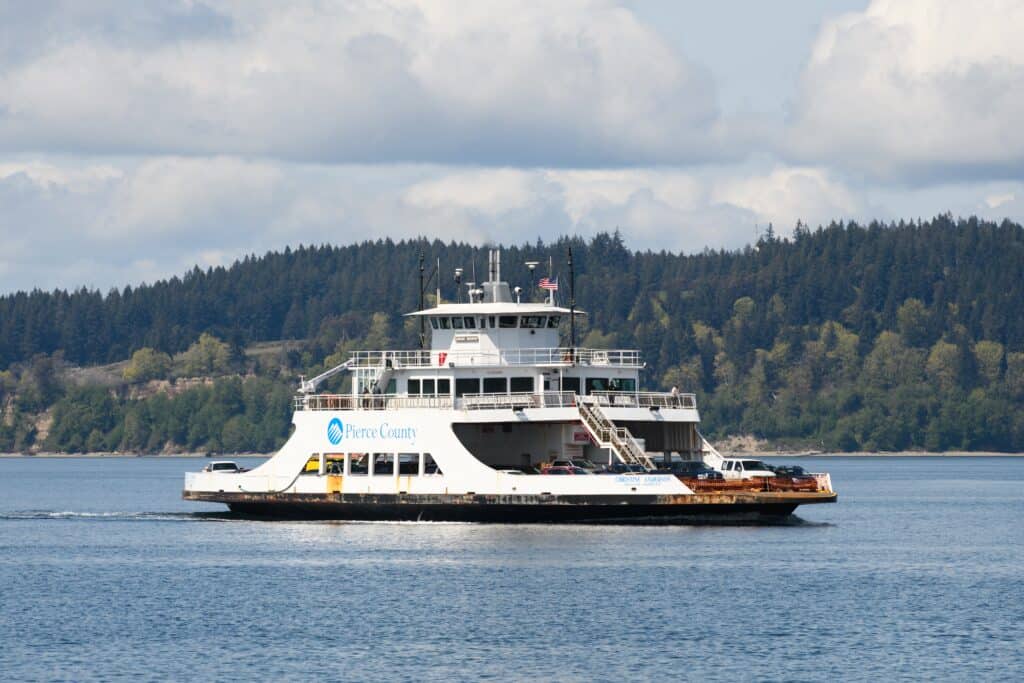 Remember how I said the only public transportation to the island was a ferry run by Pierce County? Well, before I explain the problems with it, let me take a second to dispel an outdated myth I've heard a lot, both online and in real life.
People often complain that the ferry ends at 6 PM on some days and doesn't have enough trips per day to make travel convenient. This was once true but that information is now outdated.
After negotiations between island residents and the county in 2020, the ferry's schedule was expanded to 14 trips a day in winter and 18 in summer. The last ferry leaves Steilacoom around 10 PM.
However, while increasing the number of daily trips is great, it hasn't solved all of the island's problems. The main vessel, the Steilacoom II, has a capacity of 54 vehicles and 299 passengers. On busy days, there can be up to a three-hour wait to get on the ferry!
In February 2023, the backup generator on the Steilacoom II failed and took 48 hours to be repaired. Because the backup ferry was also out of commission, there was no service to or from the island during those two days. Doesn't really make me want to live there!
Reason 2: Small Number of Services
Another myth that has been reported on various websites about Anderson Island is that there is no store on the island. This isn't true, as the General Store in the center of the island sells food, gifts, beverages, and a whole lot more.
However, it's also the only grocery store on the island. There are a couple of restaurants, the Anderson Island Cafe and the Riviera Lakeshore Restaurant. You'll also find a small museum, a gift shop, and a few campsites, but that's about it.
There are also no hospitals or urgent care facilities on the island. The island's Fire Department has an EMT on call but more serious emergency medical treatment requires a trip off the island on the Life Flight medevac float plane.
For anything else, you'll have to take the ferry and drive to Tacoma or one of the smaller towns in between.
Reason #3: Building Logistics
Finally, although Anderson is unincorporated for the most part, it is still under the jurisdiction of Pierce County, which has enacted strict guidelines and building codes for the island.
Areas owned by The Riv are even more highly regulated. For example, the HOA won't let you camp on your property while building your home. This can be an issue, especially since there are no hotels on the island. There are some Airbnb and Vrbo rentals, however.
A good number of these restrictions do serve a purpose, of course. The county doesn't want people cutting down an excessive number of trees on their property to ensure the privacy of their neighbors and to protect the island's natural beauty.
Also, if you're building a home, you'll probably have to bring it over piece by piece, which will take a long time. Unless you're buying from a company that will transfer a prefabricated home over there, of course.
Reason #4: The Retirement Community
First off, let me say that this is not an attack on the retirees who live on the island or serve on the board of The Riv. I'm not saying that what they're doing is wrong; I'm simply explaining their thought processes.
Most of the people who live on the island are older and have come there to retire. It's a rather close-knit community, although they're friendly to outsiders who don't disturb their solitude.
Because of the high number of older people on the island, everything closes around 8 o'clock, all community events end around that time, and they don't take too kindly to people having parties or making any sort of noise past that informal curfew.
Again, Anderson is their home and I have no issue with them doing it but if you're planning on moving there and want to be accepted as a member of the community, you'll probably want to start winding down your social affairs a bit earlier than you might be used to.
Summary and Final Thoughts
The main reasons that land is so cheap on Anderson Island are that the island ferry can be unpredictable, the low number of services and the lack of a hospital can make life difficult at times, and the island's large retiree population means everything shuts down around 8 PM.
However, there are a lot of good points about the island, too. If you own your own boat and aren't at the mercy of the county ferry, transportation will be less of an issue for you.
It is also beautiful and quiet, making it a great place to enjoy nature in solitude if you'd like to get away from the stresses of city life.
There are also rumors that I'm unable to confirm about the island working to restrict Airbnb and Vrbo-type rentals, as there have been issues with visitors not respecting the informal rules of the community.
If you want to stay for a few days and see if it's worth moving, it might be good to do it before that happens. You can also pitch a tent or bring an RV to one of the campsites.
Whether you decide to purchase land on the island or just come over for a visit, Anderson Island can't wait to welcome you on your next visit to the Pacific Northwest!